Looking at the ARM Top Ten customers list (for 2010) brings useful information about the volumes production generated by the chip makers involved in the wireless handset segment. Revenue for an ARM licensee comes from upfront license and royalties. Upfront license are in the few $ million range (max), when the below listed contribution from ARM' customers are in few dozen of million $ (4% of $631M makes $25M). We can reasonably guess that the contributions are made at more than 90% by royalties. Another estimate is to make the assumption that these are mostly generated in the wireless handset segment. As a matter of confirmation, you can search for Atmel or NXP in this list (both are selling ARM based micros, but are not covering the wireless handset). You don't see them? That's normal; ARM revenue in wireless handset is (still) the most important share, even if the company desires to increase their position in the embedded market (22 billion chips in 2010). According with ARM annual report for 2010:
"Our partners reported shipping over

six billion

ARM processor-based chips in 2010."
"On average there are now 2.5 ARM processor-based chips in every mobile phone handset."
As the shipments of mobile phone handset were 1,250 million in 2010, more than three billion ARM processors (not chips) have been shipped in the wireless handset segment. This is consistent with the 62% reported by ARM for unit shipment in the mobile segment. See below ARM' solution for smartphone: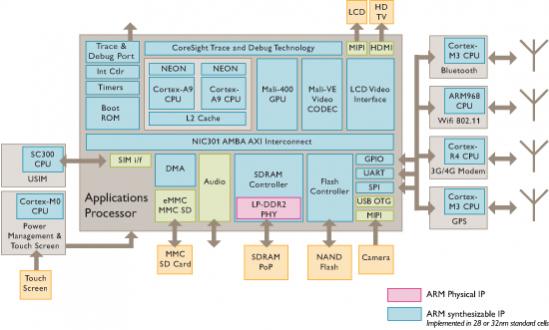 In first approximation, ARM customer list ranked by contribution should gives good information about the smartphone and wireless handset market. It also provides some big surprise!
Intel 7.0%
TSMC 5.7%
Samsung 5.7%
TI 4.6%
NEC 3.5%
ST 3.5%
ZTE 2.8%
Broadcom 2.6%
AMD 2.5%
Infineon 2.4%
Apple 2.1%
Qualcomm 2.0%
Fujitsu 1.9%
UMC 1.9%
Lenovo 1.8%
Let's address the surprise first. Intel was ARM largest customer in 2010! As I don't think Intel is using ARM core to address the wireless handset, and because Intel/Infineon deal is dated August, 30[SUP]th[/SUP] 2010 (too late to have an impact; anyway Infineon is listed), these royalties should come from another segment. If anybody knows which this segment is, please let me know!
The number 2 customers, ex-aequo, are TSMC and Samsung. TSMC result is not a real surprise, as the company is undisputed foundry leader. In fact, I am surprised not to see TSMC share being higher. My guess is that the chip makers involved in wireless handset tend to deal directly with ARM. Qualcomm (fabless) and Apple appearance in the list tends to confirm this. Samsung ranking is more interesting. This is not the foundry division, processing Apples A4 chips, which brings this revenue level: Apple is ranked as a contributor. No, this is Samsung the chip maker, challenging Intel, who generates this high level of royalties, coming from wireless handset, set-top-box, DVD and Blue-Ray players and probably more segments. See below ARM' solution for STB: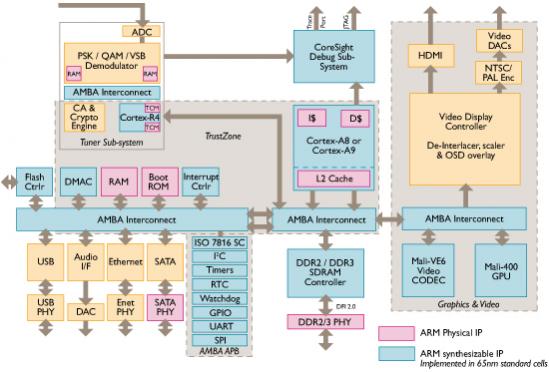 Let's have a look at the wireless handset strong players now: TI, ZTE, ST, Broadcom, Infineon, Qualcomm, NEC and Apple. Even if some of them are also playing in the consumer electronic field, marketing SoC for Set-Top-Box or DVD players/recorders (NEC, Qualcomm, Broadcom, ST), no doubt that the most important part of their contribution is coming from wireless handset. These are the results for 2010, at that time the Media Tablet shipments were marginal (in the dozens of million units, to be compared with the 1.25 billion handset shipments). Most of the contributors are playing in the wireless segment: nine out of thirteen companies and we can guess that the contributions from UMC and TSMC are generated by some chips targeting this segment as well.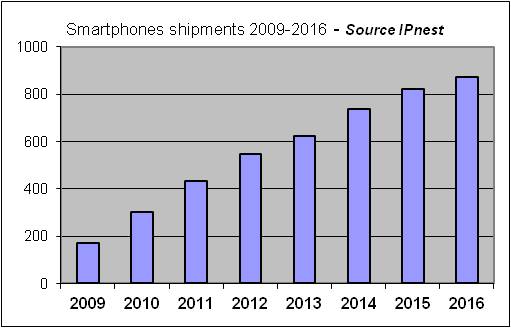 Within wireless handset segment, the contributions coming from the application processor targeting the smartphone are certainly very high: this is a 300 (million) x $25 (Apps Proc. ASP) = $7.5 billion market. I don't know the level of royalties paid by the chip makers, but a 2% level would generate $150 million contribution (or almost 25% of ARM revenues in 2010). As we are expecting a 45% growth rate in 2011, with 440 million smartphone shipment, even if ASP decrease to $20, that makes a $9 billion market… and a $180 million royalty contribution to ARM.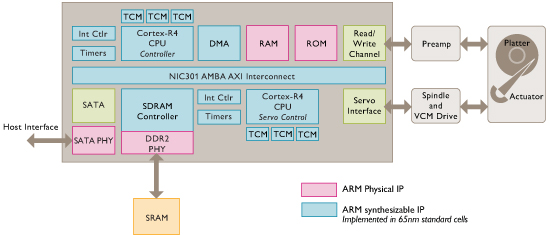 But, the real surprise is the contribution coming from Intel, AMD and Lenovo. We know that this is not the main PC processor, but these companies all target in priority the PC segment, so where are these ARM processor used? It may be used in the hard disk drive segment (see above picture), as ARM is claiming 85% penetration in this market? Any hint is welcome!
From Eric Esteve– IPNEST
Share this post via: