…or a global recession, but that's not the purpose of this blog. As everybody knows, Apple is designing and selling smartphones, only. Does it mean that only smartphones are generating profit in the mobile industry? As we have seen recently in Semiwiki, Apple makes 2/3 of profit of entire mobile industry.

Let's have a look (below) at the complete picture of Phone revenue (yellow), profit (red), smartphone market share (green) and phone share (blue) for:
RIM, Apple, HTC
LG, Samsung
Sony-Ericsson, Nokia, Motorola
The first remark is that profit curve is almost duplicating the smartphone share curve. Moreover, when the company does not market smartphones (LG or Sony-Ericsson or Motorola) the profit curve is flat… equal to zero! Nokia is an exception, as they used to have the largest smartphone market share, now declining, and their profit are impacted by the company overall strategy in the mobile phone industry (where they still have the largest share).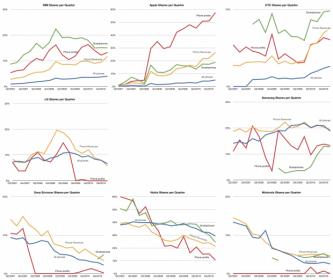 Click on the picture to see it larger, if you still can't see enough, go here
This simply means that the current profit, and the future success for the handset manufacturers is intimately linked to their implication in the smartphone, just like if the largest part (75% of the shipments), feature phones and entry phone, did not count at all… at least in term of profit.
I have spent some time to survey MIPItechnology, and so far MIPI has been only used in the smartphone, so I had to look carefully at this handset segment. When I started the survey back in September 2010, the available figures for 2009 was 173 million smartphone. At the beginning of 2011, we had access to the 2010 figure: 304 million units! 75% year to year growth on such a market, where you count by hundred millions, it is something we never saw before in the electronic industry… That push me to build the forecast for the next five years, I share with you today:

Interesting, but what is the impact on our industry, SC (and EDA, Foundry and IP)?
Like the PC can be determined by the processor it integrates, smartphone can be characterized by the Application Processor it uses. If you have a look at OMAP5, you can see that it integrates two processor cores (Cortex M4 from ARM), plus a graphic processor core (SGX544 from Imagination technologies), an audio processor, a DSP core, tons of Interface IP (USB2, USB 3.0, MIPI CSI, DSI, DigRF and LLI, SATA, LPDDRn and many more) as well as IP functions for memories, internal interconnect and many more. Such a SoC is also a challenge for EDA tools (you have to deal with a lot of clock domains and be able to manage the power down states for all the functions), has to be processed on the latest technology nodes – from foundry or IDM – hopefully by dozen of million units when the SoC is successful. To summarize, Application processor is at the technology edge, both for EDA and manufacturing, requires building real partnership with IP vendors… and are sold at a small fraction of a CPU ASP: say $15 to $25. But more than 400 million will be sold this year, which is more than the overall number of CPU sold in PC segment.
As this market is served by a dozen of companies (Qualcomm Inc., Texas Instruments Inc., Samsung Electronics Co. Ltd., Marvell Technology Group Inc., and Nvidia Corp., ranked as the top five, respectively, of sellers of smartphone applications processors in the first quarter, according to a new report by Strategy Analytics and others, including the yet to be known Chinese start-up), the direct sales impact for IP and EDA should be –mathematically- higher than for the single two AMD and Intel. Especially if you take into account the time to market impact, forcing the companies involved into Application Processor design to outsource as many IP as it make sense. I am far to minimize their strengths when saying their design know how is first based on "IP integration" and "design for low power". If it was so easy to do, Intel would now dominates this market too… which is not the case!
Another forecast is worth to look at, made by ABI research for the total Application processor market evolution up to 2016: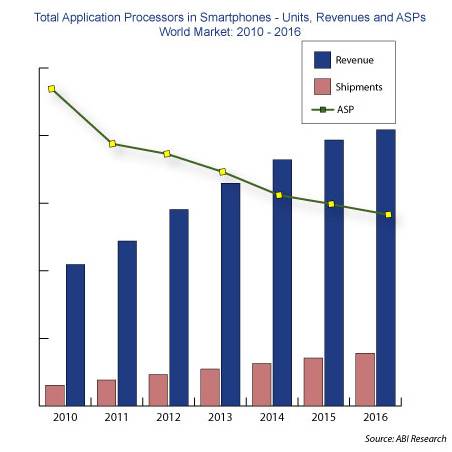 If in Q2 2011 Apple has made 2/3 of the profit for the entire mobile industry, shipping 20 million smartphones out of a market of slightly more than 100 million in Q2, we can say that most of the profit in the handset industry are coming from smartphone, even if they only represent 28% of the handset. This is only the beginning of the story, as the smartphone shipments has grown last year (2010) by 70%, for a 20% share of the handset market, and will continue to grow during the next five years with a 26% CAGR. This means that in 2016, we can expect just less than 900 million smartphone to reach the market, or, in other words, almost half handset will be smartphone at that date. This will generate a market for Application processor growing at the same rate, in units, and a bit less in value, due to the price erosion. There will be a direct impact on EDA and IP sales, as these SoC are ever more challenging and complex to design and the mobile industry demand in Time to Market impose to outsource ever and ever more IP.
Eric Esteve from IPnest

Share this post via: