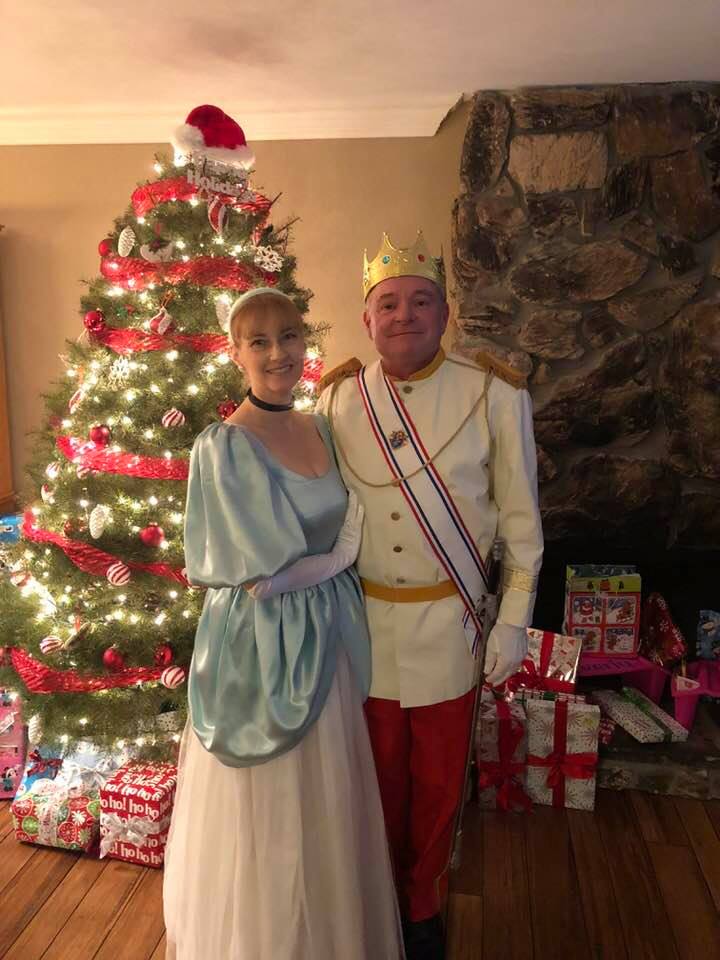 This has been an amazing year for me both personally and professionally. Personally we are now empty nest and have our first grandchild. SemiWiki is prospering, a company that I have been involved with for ten years (Solido Design) had a very nice exit, and my time promoting semiconductor stocks to Wall Street paid off with the PHLX Semiconductor index (SOX) gaining an astounding 40%.

The SOX tracks 30 technology companies most of which are semiconductor. My top ten SOX companies are: Cypress Semiconductor, NVIDIA, Microchip, TSMC, Qualcomm, Broadcom, Skyworks, Xilinx, Microsemi, and Marvell. I also promote EDA and IP companies which did quite well. Synopsys started the year at $60 per share and ended at $85+. My favorite IP company CEVA started at $32 and ended at $46+.
All-in-all a great year, absolutely. More importantly, my beautiful wife and I both fit in our costumes for a Disney themed Christmas Eve costume party. Yes, my talented wife made them for us 25 years ago and they still fit! Winning!
In regards to SemiWiki, we are entering our 7[SUP]th[/SUP] year in business and we are still growing in all regards. In six years we have published 4,220 blogs and 8,563 forum discussions with 33,719 comments. As a result Alexa.com ranks us as one of the most engaging websites in our market segment:
EETimes.com
Global Rank 42,895
Rank in the US: 23,335
Pageviews Per Visitor: 1.20
Daily Time on Site: 1.53
SemiWiki.com
Global Rank 166,875
Rank in the US: 59,049
Pageviews Per Visitor: 5.8
Daily Time on Site: 10:19
SemiEngineering.com
Global Rank: 199,421
Rank in the US: 99,202
Pageviews Per Visitor: 1.4
Daily Time on Site: 1:45
DeepChip.com
Global Rank: 442,800
Rank in US: 312,567
Pageviews Per Visitor: 1.20
Daily Time on Site: 1.32
EDACafe.com
Global Rank: 754,526
Rank in US: 402,577
Pageviews Per Visitor: 2.6
Daily Time on Site: 2.15
According to Google Analytics more than 2.5 million users from 90,796 different domains have visited SemiWiki since we first went online in January of 2011. 27,874 of those domains hit us in 2017 so our audience is definitely diversifying. Of the vertical markets we track Artificial Intelligence is growing the fastest while touching all of the other verticals: EDA, IP, Automotive, Security, and IoT.
Process technology has always dominated the top viewed blog spots but this year RISC-V landed in the middle:
14nm 16nm 10nm and 7nm – What we know now
IEDM 2017 – Intel Versus GLOBALFOUNDRIES at the Leading Edge
SiFive RISC-V and the Future of Computing!
Exclusive – GLOBALFOUNDRIES discloses 7nm process detail
Three Interesting Things from TSMC!
The top forum posts were again dominated by Intel's trials and tribulations. We broke the story on ANSYS acquiring CLKDA so that also made it into the top:
Microsoft to Use ARM to Displace Intel in Cloud

AMD Naples verus Skylake EP death match
We only did one poll this year but it was a record breaker. We will definitely do more next year. If you have an idea for one let me know:
Broadcom buying Qualcomm just won't happen? (Poll)
2017 looks to be the strongest semiconductor sales year since the 30%+ boom of 2010, which followed the bust of 2008-2009. When the final numbers come in I expect a 20% increase over 2016. Moving forward, the 2018 forecasts from the professionals are still in the single digits but I am much more optimistic.
Based on the SemiWiki traffic and increase in domains the number of non-traditional chip companies is rapidly increasing. In addition to the automotive, IoT, and AI verticals, semiconductor IP is also trending in what looks to me like serious "make versus buy" traffic.
Bottom line:My personal semiconductor forecast for 2018 is low double digits (10-15%). It's going to be another great year, absolutely.
Share this post via: