You may or may not have bought HDMI-equipped device for black Friday or during year end break, but you TV set (or/and you PC) are certainly HDMI-powered, like the 750 million HDMI-equipped devices sold in 2016. In fact, cumulated shipment of HDMI-equipped devices has reached 6 BILLION since the protocol introduction in 2003! HDMI 1.0 was delivering 4.5 Gbps, enough to support 1080p standard, and HDMI 2.1 delivers more than 10x with 48 Gbps. We have to remember that HDMI protocol is unidirectional, unlike USB or PCI Express, and the function is built by using four PHY, each delivering 12 Gbps.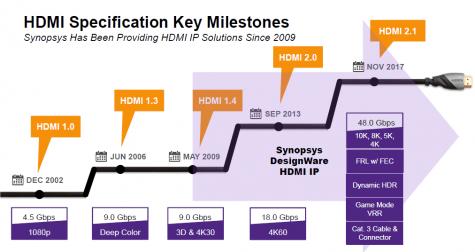 What about HDMI competition? We can forget about Diiva, born in the early 2010's (and disappearing just a couple of years later). DisplayPort, launched by VESA in 2006 could be seen as a direct competitor at that time, but HDMI was supported by much stronger marketing from Silicon Image and HDMI Licensing LLC (founded by Hitachi, Panasonic, Philips, Silicon Image, Sony, Thomson (RCA) and Toshiba). DisplayPort protocol is now mostly used to connect a computer monitor to a PC, but is not active in the consumer TV segment.
You may have heard about ThunderBolt (and if you use it you are more likely an Apple customer!). The protocol is not point to point like HDMI, but daisy chained: a single Thunderbolt port can support up to six Thunderbolt devices. Looks smart, but ThunderBolt penetration was penalized by higher price, as only high-end devices were equipped, and also by the lack of available IP as Intel didn't want to license the technology as a design IP… This was not the case with HDMI and we can see that HDMI Licensing strategy, more open compared with ThunderBolt, has allowed this huge market penetration: HDMI is now ubiquitous in the consumer/computer segments when TV is concerned.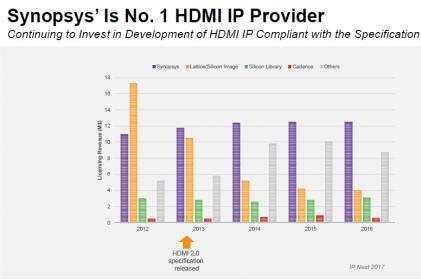 As we mention IP, it's interesting to notice the market evolution for HDMI protocol. If Silicon Image has been the undisputed leader for years since HDMI introduction, for ASSP as well as for IP sales, their IP sales went down dramatically, the IP group was sold to Lattice who eventually sold it to Invecas. And, like for most of the protocol based interface IP, Synopsys is now the clear leader, as you can see on the above figure from IPnest that Synopsys includes in their HDMI pitch (which make me proud…).
In fact, the strongest Synopsys competitor is made of internal design teams developing their own HDMI IP. It was probably not so difficult to design 1.5 Gbps SerDes for HDMI 1.0, but the last protocol release, HDMI 2.1, has to deliver 48 Gbps over 4 PHY. The solution requires using 12 Gbps SerDes to deliver 48 Gbps aggregate bandwidth for uncompressed 8K resolution at 60 Hz refresh rate. But the speed is only one part of the equation as the HDMI 2.1 solution from Synopsys also supports new Dynamic HDR, eARC, VESA DSC 1.2a and HDCP 2.2.


If we compare HDMI 2.1 with DisplayPort 1.4, both are supporting 8K video, but the difference is that HDMI allow supporting uncompressed 8K. High Dynamic Range (HDR) feature is also known as Dolby Vision and has been implemented in HDMI 2.0a (released on April 8, 2015) and DisplayPort 1.4 (released on March 1, 2016). With HDMI 2.1 standard, released on January 2017, Hybrid Log-Gamma (HLG) support had been added to the HDMI 2.0b standard, allowing now to claim Dynamic HDR support. Dynamic HDR is dynamic metadata that allows for changes on a scene-by-scene or frame-by-frame basis.
Because most of the TVs are used with soundbars, it was important to make life easier for customers, and that's one of the goals of eARC, as it simplifies connectivity and discovery between TVs and soundbars. eARC also supports most advance audio formats and highest audio quality.
To provide smoother, lag-free and more fluid gaming experience, Synopsys has implemented Enhanced Refresh Rates: Variable Refresh Rates (VRR), Quick Media Switching (QMS), Quick frame Transport (QFT) or Auto Low Latency Mode (ALLM).
No doubt that your next TV set will be HDMI 2.1-equipped!
By Eric Esteve from IPnest

Share this post via: