Webinar: Time History Analysis – Its Easier Than You Think
August 10 @ 2:00 PM

-

2:30 PM
Anticipating and Simulating Unpredictable Loads
Understanding Dynamic Structural Analysis with Altair® S-FRAME®
AEC Coffee-Break Series
Dynamic behavior is an essential structural characteristic that structural engineers should consider. The effects of dynamic loads (earthquakes, blasts, vibrations, or any time-varying loading) are often greater than static loads and can vary in magnitude at non-periodical time intervals, increasing the unpredictability and posing more risk of damage to structures.
These concise 20-minute presentations offer valuable insights and practical tips to understand how S-FRAME can help to simulate dynamic behaviors.
The topics we will cover encompass basic principles of dynamics, vibration analysis, time history analysis, employing past data to forecast your model's reaction, and interpreting the results of various analyses to understand structural behavior.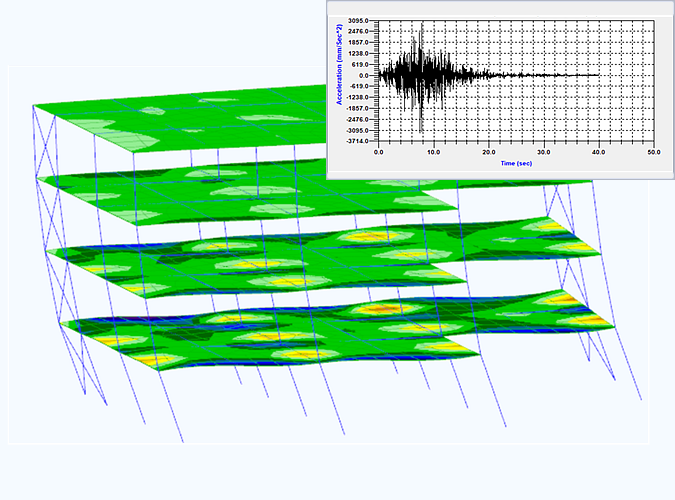 Time History Analysis – Its Easier Than You Think
August 10, 2023, 2:00pm-2:30pm
Ensuring safety, resilience, and code compliance by accurately assessing the impacts of time-varying loads on structures
Real-world conditions our structures are exposed to are not always static, so studying a structural model's response to dynamic loading is important. A time history analysis using S-FRAME can show how the structure behaves when subject to loads that vary with time. This time history analysis can be represented as one of the following:
Base Motion (Ground motion due to seismic effects)

Multi-Support Base Motion (Ground motion with different accelerograms at different supports

Nodal Excitation (impact loads, machine vibration, etc.)
This presentation discusses how to model these loads and observe a structure's response. We will discuss time step size, damping, and more.
Share this post via: