Webinar: Student Team Brake Disk Material Selection
October 10 @ 2:00 PM

-

3:00 PM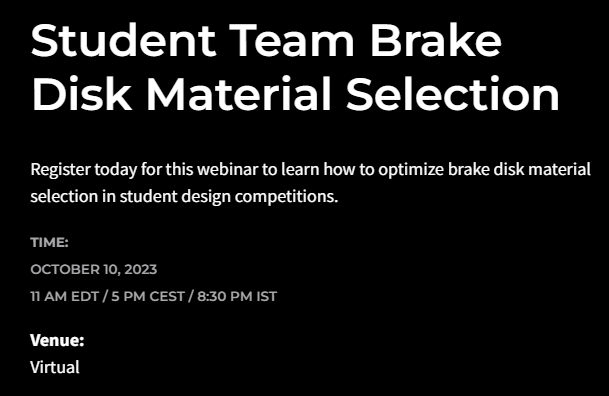 Register today for this webinar to learn how to optimize brake disk material selection in student design competitions.
TIME:
OCTOBER 10, 2023
11 AM EDT / 5 PM CEST / 8:30 PM IST
Venue:
Virtual
About this Webinar
Join our upcoming webinar to learn how to use the best-performing materials for your student design competition. Typically, teams have relied on what previous colleagues or competitors have used, a small subset of materials restricted by cost and availability.
Granta Selector gives you access to a database of over 4,000 commercially available materials and the tools to select the best-performing material based on your design criteria.
In this interactive session tailored for student teams, we'll show how you can optimize your brake design by choosing the best materials – some that you may never have even considered. You'll even learn to justify your selection in your design presentation. With seamless links to various simulation tools, you'll also discover how to virtually test your materials and designs to make a winning combination in your next competition.
What You Will Learn
See how material selection on a brake disk enhances your design:
Gain access to an industry-standard database of over 4000 materials
Learn to select materials based on multiple criteria like lightweight, stiffness, cost, and environmental impact
Justify your design decisions in the competition
Get the software, training, and additional support
Q&A
Who Should Attend
Student competition teams
Speakers
Cara Fox
Share this post via: