Webinar: QuantumATK V-2023.09 Release: Highlights of New and Enhanced Features
September 21 @ 9:00 AM

-

10:00 AM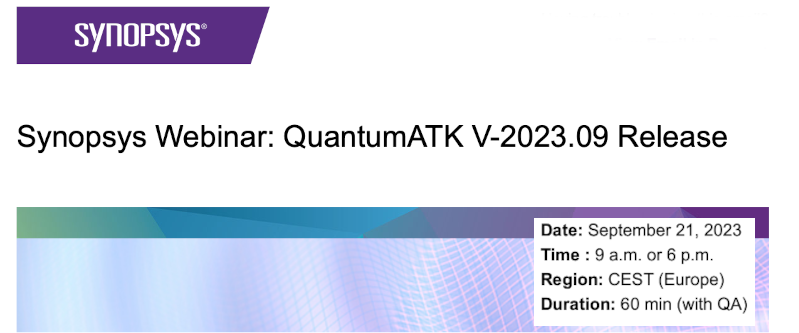 Join our FREE online event to learn about the new and enhanced features and performance improvements in the latest QuantumATK V-2023.09 product release.
– Enhanced ease-of-use of training Machine-Learned FFs with new predefined Workflow Builder blocks and templates
– New interactive Interfaces Builder for building multilayer structures
– New Accelerated molecular dynamics method for crystallization
– New Thermochemistry pyrolysis tools to predict gas phase composition in surface processing
– Integrated Charged point defect and defect diffusion simulation frameworks
– Major speedup in bandstructure simulations with Tight Binding models for up to million atoms
– Efficient and simplified deformation potential extraction for large nanostructures to evaluate electron-phonon coupling
– New analysis of spectral and thermal current/conductance in Transmission Analyzer
– More interactive IV Characteristics Analyzer and possibility to analyze inelastic current
– New Finite Bias Spin Transfer Torque (STT) Study Object & Analyzer to evaluate the write performance of STT-MRAM
– New Heisenberg Exchange Analyzer for exchange couplings and Curie temperature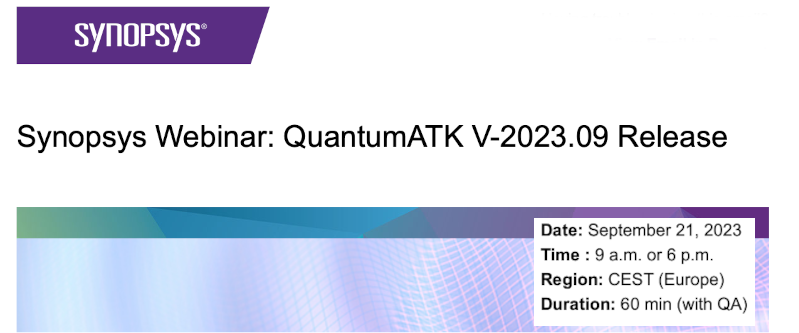 Synopsys Webinar Speakers:
– Mattias Palsgaard, Senior Applications Engineer, Synopsys QuantumATK
– Tue Gunst, Senior Applications Engineer, Synopsys QuantumATK
– Vaida Arcisauskaite, Senior Applications Engineer, Synopsys QuantumATK
– Bo Lu, Senior R&D Engineer, Synopsys QuantumATK
Learn more about the new QuantumATK V-2023.09 release here:
https://www.synopsys.com/manufacturing/quantumatk/resources/release-notes.html
You are welcome to ask questions throughout the webinar or at the end during the Q&A session.
Contact us for more information at quantumatk@synopsys.com.
Share this post via: