Webinar: Multiphysics Simulation with FEA-DEM
October 31 @ 1:00 PM

-

2:00 PM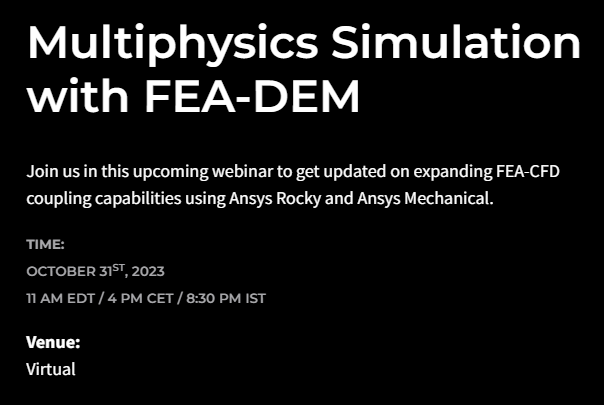 Join us in this upcoming webinar to get updated on expanding FEA-CFD coupling capabilities using Ansys Rocky and Ansys Mechanical.
TIME:
OCTOBER 31ST, 2023
11 AM EDT / 4 PM CET / 8:30 PM IST
Venue:
Virtual
About this Webinar
In this webinar, we'll demonstrate how to use high-fidelity simulation tools like Discrete Element Method (DEM) and Finite Element Analysis (FEA) to predict structural loadings, stresses, and strains to ensure the integrity of the equipment.
FEA-DEM coupling enables engineers to realistically model granular materials and their complex behaviors by including different physics in the analysis, evaluating a more comprehensive range of scenarios, and generating results closer to real life.
What You Will Learn
This webinar will cover how to couple Rocky and Mechanical, including:
Why FEA-DEM coupling?
Ansys Rocky and Ansys Mechanical integration workflow
Industry application examples
Who Should Attend
Process Engineers, Project Engineers, Product Engineers
Speaker
Leon White
Share this post via: