Webinar: Issues in Data Storage? Cyber Security, Data Privacy, AI, Boot Storage, IoT, and Mission Critical Data and Autonomous Driving
October 11 @ 10:00 AM

-

10:30 AM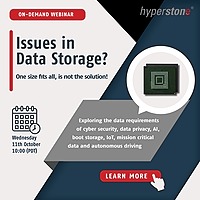 Cyber security, data privacy, AI, boot storage, IoT, mission critical data and autonomous driving, 'one size fits all' is not the solution
This webinar delves into the important process of designing/ selecting the optimal storage module to suit specific use cases. All too often, companies invest in the wrong solutions without consideration for the end applications demands. Especially in the industrial arena, system design is pivotal in ensuring an application is resilient and performant.
This webinar highlights system design intricacies while navigating the landscape of storage solutions. Addressing pivotal trade-offs encompassing reliability, security, performance, price, and endurance, the webinar provides a comprehensive framework for decision-making. By elucidating the nuanced interplay between these factors, attendees will gain insights into crafting storage strategies that align with their specific requirements. Whether in the realm of cyber security, boot drives, secure IoT deployments, or automotive systems, this session equips participants with the knowledge to navigate the multifaceted terrain of storage design, facilitating informed choices that optimize functionality, value, and a company's total cost of ownership.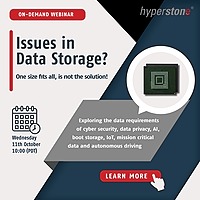 KEY POINTS: Storage Design, Industrial Requirements, Understand your Use-Case, NAND Flash, Data Storage, Data Security, IoT, Boot Storage
SPEAKER BIO: Steffen Allert is heading the Global Sales organization of Hyperstone, orchestrating the company's worldwide engagement with clients. For almost two decades now he has adeptly bridged the gap between customers and engineers, amassing a profound understanding of the intricate nuances and demands intrinsic to storage design. This experience has given many insights into navigating the conversation around trade-offs between reliability, security, performance, price, and endurance – critical for customers to ensure an optimal storage module.
*This webinar is in partnership with SemiWiki and Hyperstone.*
Share this post via: