Webinar: Altair's Next-Generation Graphics and Rendering Technology
December 12 @ 11:00 AM

-

12:00 PM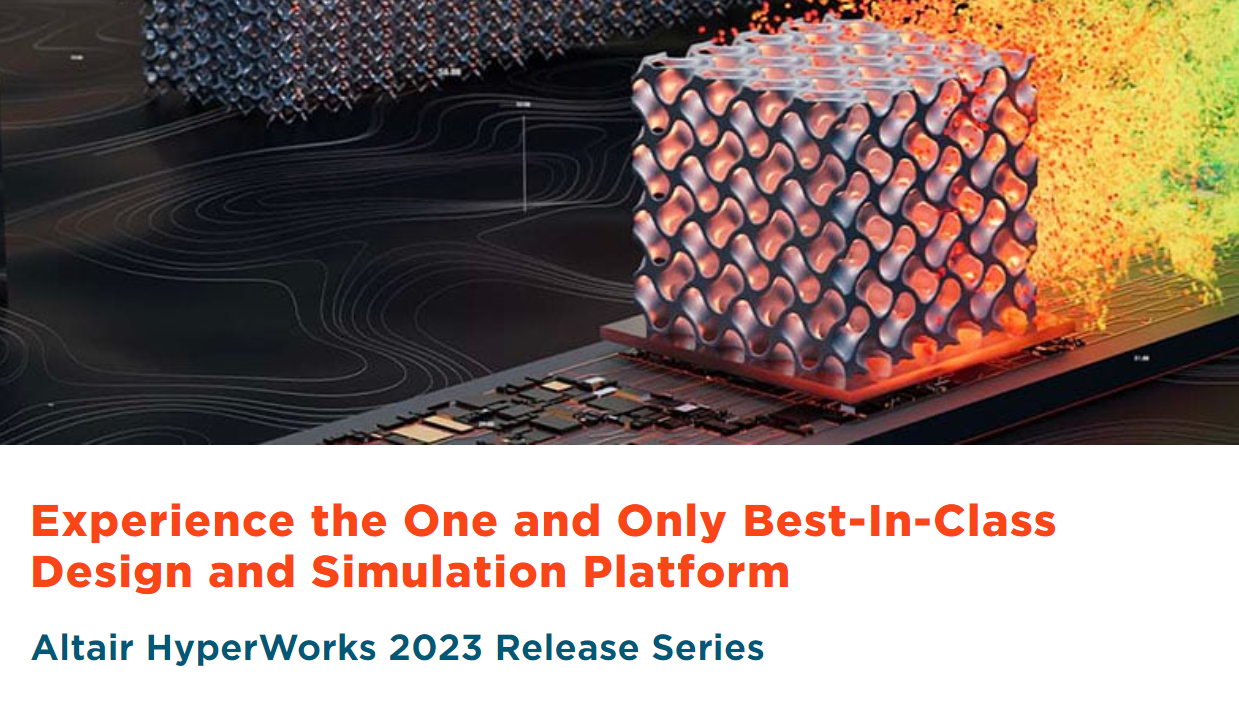 Join us for the Altair HyperWorks 2023 webinar series, where innovation meets design and simulation excellence!
Altair's latest release, HyperWorks 2023, represents a groundbreaking evolution in the world of design and simulation technology.
This comprehensive, powerful, versatile, and open CAE platform offers engineers, regardless of their expertise, a suite of cutting-edge design and simulation tools across various industries, including automotive, aerospace, electronics, and more. HyperWorks 2023 brings transformative platform-wide enhancements featuring a brand-new user experience, blazing-fast speeds, an open and programmable architecture, and AI-powered workflows. With its modern interface and Python APIs, this release empowers developers and users alike to seamlessly integrate solutions, unlocking the full technological potential of Altair HyperWorks.  
In this webinar series, Altair experts will guide you through Altair HyperWorks 2023's next-gen solutions, explore real-world applications, and provide you with firsthand experiences of the innovations that will redefine the future of design and simulation. 
For your convenience, the webinars will launch at the following times/in the following sessions:
APAC: 10:30 Mumbai / 13:00 Shanghai / 14:00 Tokyo / 16:00 Sydney 
EMEA: 10:00 London / 11:00 Paris
AMER: 11:00 Los Angeles / 14:00 New York

December 12
Elevate Your Design World: Altair's Future-Forward Visualization Technology
This webinar will introduce you to Altair's all-new rendering and visualization technology. Initially available inside Inspire, and will be the foundation for all Altair products in the future. Utilizing the latest GPU and graphics technology enables fluid graphics and larger model support. A simplified UI, new procedural material structure, and a huge library of materials, textures, and environments make it easy and intuitive for everyone to create stunning visualizations of their models and simulations. Join us to see how Altair can take your designs and presentations to the next level.
Key Takeaways:
Brand New User Experience Across the Platform: 

Explore a user-centric, AI-augmented interface designed for intuitive use and streamlined workflows.

 

Blazing Fast Speeds and Innovation with HPC Integration: 

Discover enhanced graphics performance and leverage seamless integration with Altair's powerful solvers and HPC resources for rapid, detailed design and optimization.

 

Leverage an Open and Programmable Architecture: 

Utilize Python APIs and programmable features for personalized use and seamless third-party software integration.

 

AI-Powered Simulation and Generative Design: 

Engage with democratized, AI-powered simulation and generative design, and learn how to optimize system simulations and leverage computational resources with advanced data analytics within the platform.

 
Share this post via: