The Battery Sipping HiFi DSP Offers Always-On Sensor Fusion
December 6, 2021 @ 8:00 AM

-

5:00 PM
Earbuds are one of the fastest growing market segments, which is creating the need for audio DSPs with higher performance and a smaller energy footprint. More than just being wireless speakers – earbuds, and wearables for that matter, have become a sophisticated extension of the user interface of phones and laptops, etc. I recently talked to Prakash Madhvapathy from Cadence about his presentation on their new HiFi 1 DSP at the Linley Fall Processor Conference. The HiFi 1 DSP is an ultra-low energy DSP for hearables and wearables, but also has uses that extend into laptops and other power sensitive devices.
Prakash talked about five use cases that highlight the top requirements for HiFi DSPs. First off is low power always-on keyword spotting (KWS). There are now many devices that need to support low power local keyword recognition to initiate voice control. Without efficient local support for Neural Networks, battery life and potentially privacy could be compromised. HiFi 1 has special NN instructions that aid in this task.
The next use case is long battery life. Users want to enjoy listening to music and have long phone calls without worrying about battery charging hassles. Let's face it, there is little room for batteries in earbuds and even with LC3 (low complexity communications codec) an efficient DSP is required to ensure low energy consumption. Small silicon area and cycle count optimized codecs can save static and dynamic power when the HiFi 1 is employed. Additionally, the HiFi 1 also offers optimized cache and memory access to conserve power.
HiFi 1's low power always-on sensor fusion can be applied in several ways to help reduce unnecessary phone power usage due to screen on time. Phone position detection for on-ear, face down, in pocket, etc. can help trigger switching off the phone display. It's essential that the processing cost for detection not outweigh the benefits.
The HiFi 1 DSP can also be used in laptops for controlling screen lock and unlock. This not only serves as a power savings technique but can greatly improve system security. People are notorious for walking away from their laptops without locking them. HiFi 1 can assist in detecting when the user has left and also when an authorized user is approaching.
In perhaps the most interesting use case, using AI the HiFi 1 DSP can help with context awareness in earbuds and other applications. The DSP can be used to help detect what environment the user is in and respond by adjusting volume, noise suppression, and more to help adapt. For instance, in noisy environments noise suppression can improve the listening experience.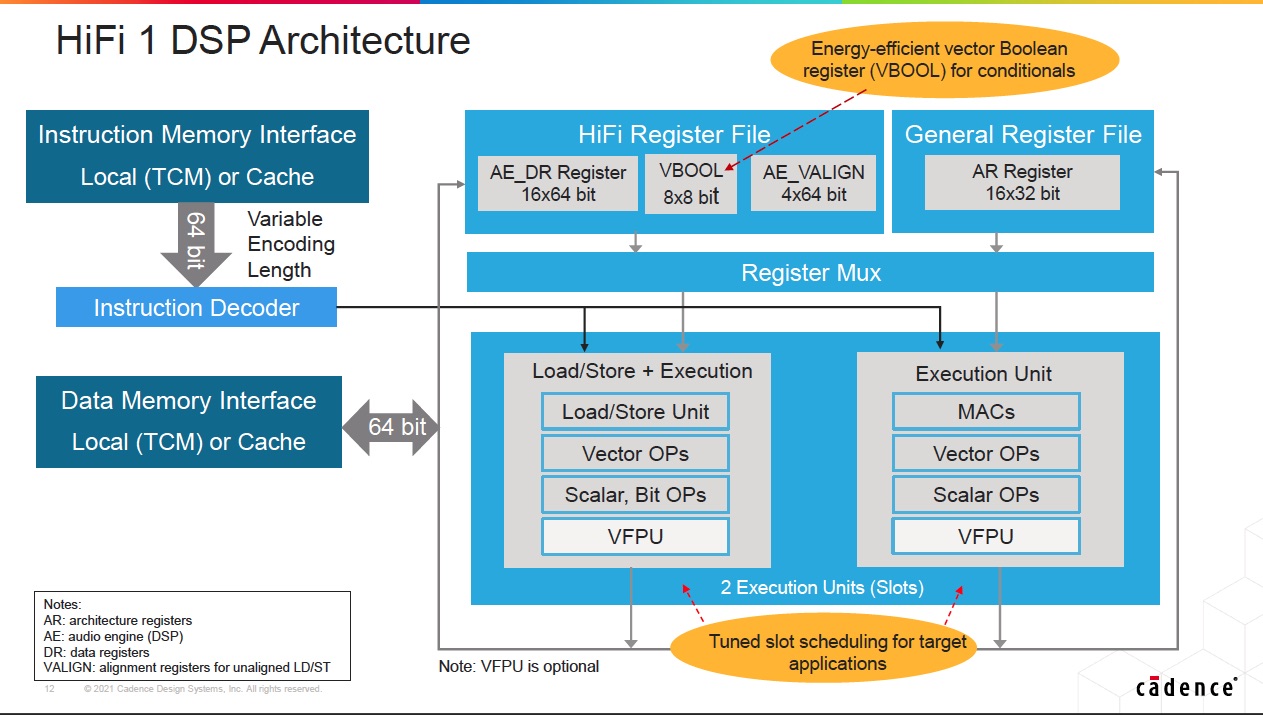 Though it is the smallest HiFi DSP that Cadence offers, the HiFi 1 offers impressive features that give it outstanding performance. Cadence designed it to be efficient for control as well, giving it a high CoreMark score. It has an optional vector FPU to help speed up conversion of algorithms from MATLAB. The NN ISA offers efficient load and store for 8-bit data, and there are instructions for efficient dot-product and convolution operations.
The HiFi 1 DSP also comes with support for VFPU operations in both of its 2 slots. There are fixed point MAC operations – one 32×32, two 32×16 and four 16×16/8×8. Conditionals are made more efficient with a Vector Boolean Register. HiFi 1 is synthesizable to 1 GHZ+ in a range of technology nodes.
The HiFi 1 DSP is the newest and smallest member of the esteemed Cadence Tensilica HiFi DSP family. Its sibling the HiFi 3 is easily the most popular audio DSP on the market. Cadence reports over 130 licensees, with more than 1.5 billion instances shipping annually in silicon. The HiFi 1 DSP is software and development stack compatible with all the other Cadence HiFi DSPs. With its excellent Bluetooth LE Audio support and DSP kernel performance it seems like a favored choice for many new wearable, mobile, IoT and even laptop applications. Full information on the architecture and features of the HiFi 1 DSP can be found on the Cadence website.
Share this post via: