Advancing Defence and Aerospace through Electromagnetic Simulation and Digital Twins
September 13 @ 3:00 PM

-

8:00 PM

Advancing Defence and Aerospace through Electromagnetic Simulation and Digital Twins
Innovations and applications for the new horizon
 September 13th, 2023| 03:00 PM – 8:00 PM IST
Venue – Hotel – Novotel Hyderabad Airport, R. Gandhi International Airport, Shamshabad, Hyderabad

In recent years, the fields of defence and aerospace have seen remarkable advancements driven by electromagnetic simulation and digital twin technologies.
While electromagnetic simulations play a pivotal role in the development and optimization of defense systems, enabling engineers and researchers to analyze and predict the performance of various defense technologies; the synergy with digital twin is accelerating the pace of innovation across the sector.
This technical conference aims to bring together scientists, experts, researchers, engineers, and practitioners to explore the latest developments, address the engineering challenges, and showcase application of electromagnetic simulation and digital twin methodologies in enhancing the design, analysis, and operation, of defense and aerospace systems.
The conference will focus on the latest advancements in:
Optimizing Antennae Installed Performance of Modern Electronic Warfare Systems
Radar and Stealth Technologies
RCS and Scattered Simulation for Radar Systems
Complex Radome Electromagnetics Simulation
Large Platforms Co-Site Interference Mitigation
Ensuring electromagnetic compatibility in complex defense systems
Spectrum Management, Radar Coverage and Radio Frequency Interference for Advanced Warfare Systems
Implementation of Digital Twin Applications in Defence and Aerospace
It is our aim to provide you with a platform to exchange ideas, establish collaborations, and stay at the forefront of technological advancements in electromagnetic simulation and digital twin applications within the defence and aerospace sector. It will foster a deeper understanding of how these technologies can contribute to improved system performance, enhanced design processes, and increased operational efficiency.
Do attend if you belong to the following august experts
Scientist, Project Director, Engineering Manager, EMC Engineer, Radar, Antenna and RF engineer from defence labs (DRDOs, OEMs and their suppliers), Defense governmental organizations (including navy, air force, army), and aerospace companies (OEMs and their suppliers).
Event Agenda –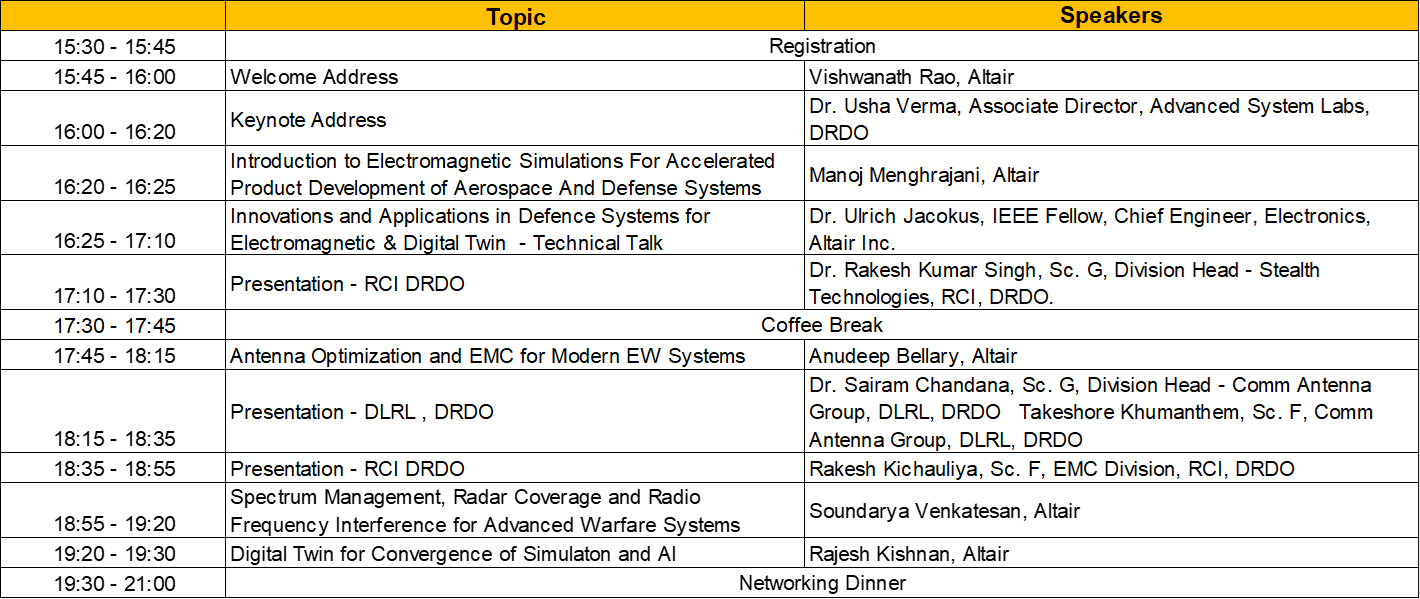 Share this post via: