AABC 2023
December 11

-

December 14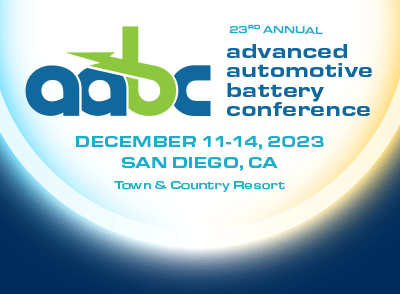 AABC was founded more than twenty years ago to review the status of automotive battery technology and provide informed glimpses into the future. The program will uncover the underlying technical and business issues that will impact the pace and path of vehicle electrification worldwide. Join us to network with chief battery technologists from leading automotive OEMs, who will share their development trends and projected battery needs, as well as their key suppliers who will present their latest offerings and roadmaps for the future.
What's Your AABC Story?
Our dynamic program is built on visionary keynotes, industry use cases, interactive panel discussions, and hands-on tutorials around the challenges and breakthroughs that will drive vehicle electrification forward. Here are just some of the OEMs and battery developers that will present: Accelera by Cummins, Amionx, Blue Solutions, BMW, BYD, CATL, Daimler, EC Power, Enovix, EnPower, Factorial, Ford Motor Co., FREYR, General Motors, LG Energy Solution, Lyten, Mercedes-Benz, Nanoramic Laboratories, Nanotech Energy, Nissan, ProLogium, Rivian, Sakuu Corp., Sepion Technologies, Skeleton Technologies, Stellantis, Toyota, Volta Trucks, Volvo & more.
Share this post via: