We all know that cars are using processors for many tasks, but it is easy to fail to comprehend just how many there are in a typical modern car. Browsing through the Infineon AURIX automotive processor application guide, you can start to see just how pervasive processors are. The AURIX processors are specifically designed for automotive and industrial applications. The subsystems are found in include:
doors, alarm, windows, locks, seats and mirrors
transmission, traction control and braking
airbags and safety
lights and blinkers
fuel injection, emission control and engine monitoring
battery management and charging for conventional and EV systems
infotainment
driver assistance and autonomous driving
navigation and communication
Each one of these systems require one or more processors. Interestingly, if asked where AI might fit in, most people would automatically choose driver assistance and autonomous driving. However, with the increasing power and utility of AI systems, there are many new applications in cars for AI based processing. Systems like engine control or traction management typically need to process huge amounts of data and perform large numbers of computations to do their jobs. Applying AI to these and other systems can dramatically improve their efficiency and even reduce the number of sensors needed. Some of these sensors are expensive, difficult to service and can be prone to failure.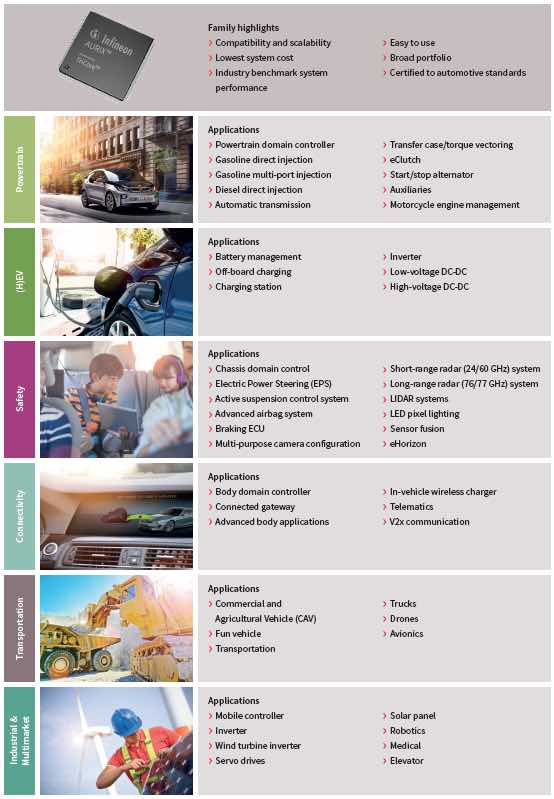 Infineon understands the value of adding AI capabilities to their proven AURIX family of processors. They have chosen to work with Synopsys to develop a Parallel Processor Unit (PPU), which integrates Synopsys' ARC® EV processor IP, for  the AURIX processor line. The addition of the PPU to the AURIX processors will greatly enhance real-time data processing capabilities. Since both Infineon and Synopsys are well versed in ISO 26262 and other automotive safety standards, end users can rest assured that safety and reliability will be paramount.
The PPU will support a wide range of AI algorithms, such as Recurrent Neural Network (RNN), Multi-Layer Perceptron (MLP), Convolutional Neural Network (CNN), and Radial Basis Function (RBF). AI use can be expanded to applications such as intrusion detection and system monitoring. If anything, more and new uses for AI will be developed in the automotive space. During the ARC Processor Summit in September Infineon gave a presentation on "System Modelling for Real-Time Automotive Applications using Deep Learning and Complex Data Processing."
By integrating the ARC EV processors in their PPU, Infineon AURIX customers will have immediate access to the comprehensive Synopsys MetaWare EV Development Toolkit for Safety, which should speed up software development for these applications.
Today we look back at cars that were developed before microprocessors and wonder at how they even worked. In the future, we'll look back at cars built without AI in their systems and wonder how difficult it must have been to build them. This is part of a larger shift in computing in general, but the automotive segment is the tip of the arrow for applying many of these new technologies. Yet, while being on the leading edge, it is also an area where there can be no compromise on safety and reliability. This makes the automotive market a fascinating crucible for creating the systems and software that will be pervasive in the future. More information about the new AURIX PPUs powered by Synopsys DesignWare ARC EV Processor IP can be found on the Synopsys website.
Share this post via: