On August 27, 2018, GLOBALFOUNDRIES (GF) announced that they were no longer going to compete in the race to the next smaller semiconductor node, at that time, the 7nm node. While surprising to some, on further analysis this move made sense. TSMC had announced its plan to invest around $25B in the 5nm technology node. GF revenue is about $6B annually. Easy decision. Winning in semiconductor manufacturing is like most businesses – you must deliver value. Since GF wasn't going to deliver the most advanced nodes how was it going to stand apart as a supplier? The answer at that time was stated as "Differentiated Offerings." At GF's recently held Global Technology Conference 2019 in Santa Clara, CA, we got a chance to see how that pivot was working. From what I heard, it appears to be going quite well.
After the keynote speeches, three GF senior vice presidents (SVPs) spoke about their team's efforts to deliver differentiated solutions to their markets. First up was Bami Bastani, SVP and GM, Mobile and Wireless Infrastructure SBU. A recurring theme was seen right away. In the keynotes we learned that GF's definition of the Innovation Equation – (platforms) x (application features) x (IP) = (specialized application solutions). So, to succeed in any market GF was going to specialize in, it would need to deliver advanced solutions for each of these areas for the applications in those markets.
Bami's area is mobile and wireless, where low power is the dominant concern. Here, GF has a terrific platform with 22FDX®, a very low power Fully-Depleted Silicon-On-Insulator (FD-SOI) process with the industry's only body-bias ecosystem. This process supports good speeds with excellent results for lower power and lower leakage. GF's 22FDX also supports an eMRAM-F low power embedded memory. This type of low power on-chip memory will be critical for AI/ML at the Edge as it provides a nice combination of power/performance/density combination for IoT devices. If you need higher performance than could be achieved in 22FDX while still maintaining lower power consumption, then there is GF's 12LP+. Here there are ongoing advanced techniques including 2.5D/3D packaging and an AI reference package. Bami also brought up GF AutoPro™ which brings features in support of ADAS, infotainment, powertrain, and other automotive subsystems.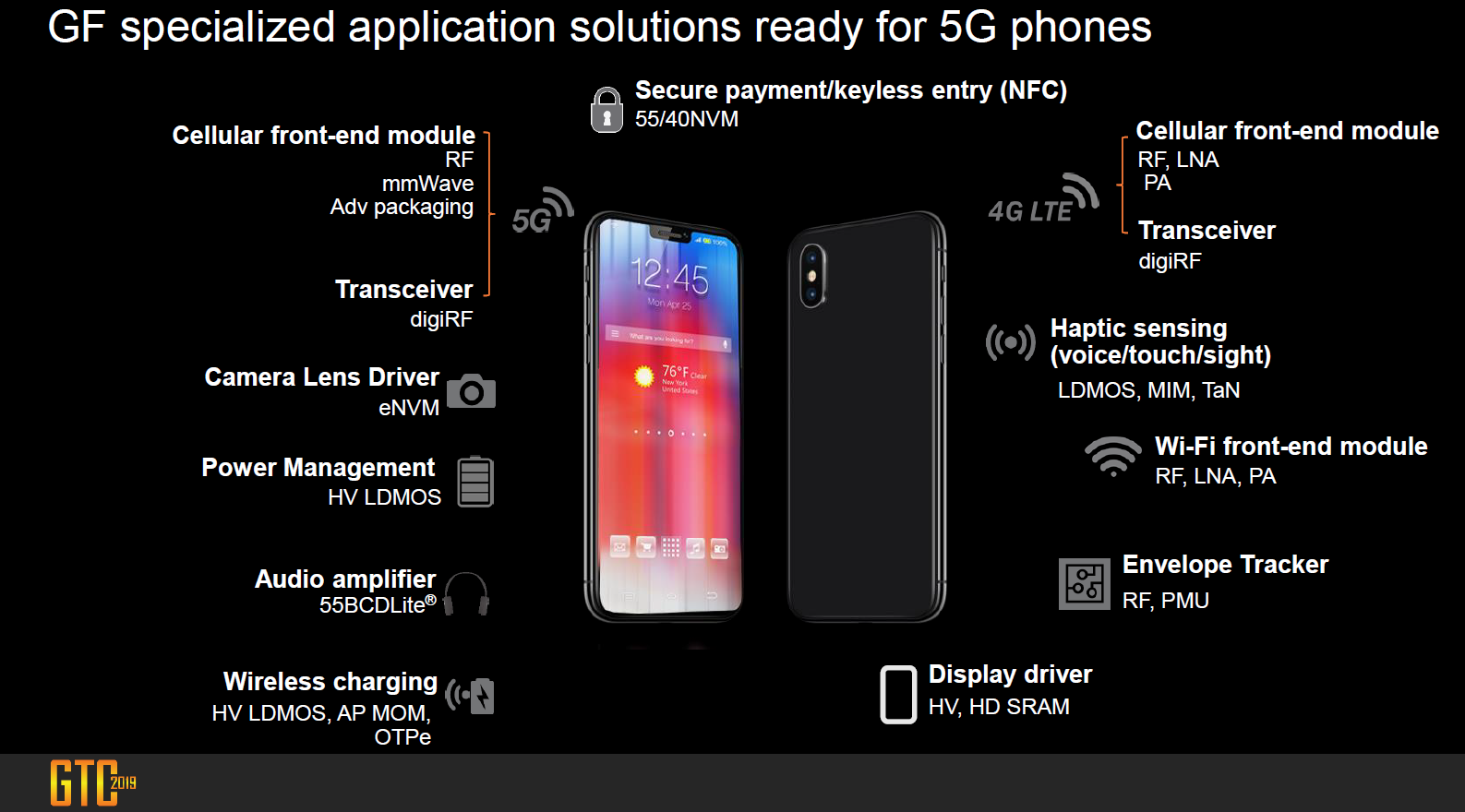 You can't discuss GF processes without talking about its work in wireless. Building on that expertise is the 22FDX® 77GHz radar transceiver. Radar usage will be growing in the automotive area, but we also cannot overlook the impact of 5G on automotive and many other application areas. While GF may not plan on building the big processor chip on the latest node, it looks like GF will provide very competitive solutions for much of the remaining electronics in 5G handsets. GF will be supporting the likely processes for wireless charging, NFC, display interfaces, and more. Of course, they will also be supporting the processes that will dominate in the base station radio and digital (baseband) components. There is clear differentiation provided by GF for these markets.
If you want to economically provide leveraged differentiation, you look for things you can do that will provide value to several different application areas. Gregg Bartlett, GF's SVP, Engineering, Technology, and Quality was up next to discuss these types of efforts at GF. As Gregg pointed out, we are moving into an era of high specialization. Generalized solutions are inefficient, both in speed and in power. This shift has led to many advances in application-specific processors. What GF is showing is that it also leads to specialized technologies – different processes for different applications. They can now show this across many different markets. The slide below is a small but interesting subset of the markets served. The number of unique processes support by GF very large.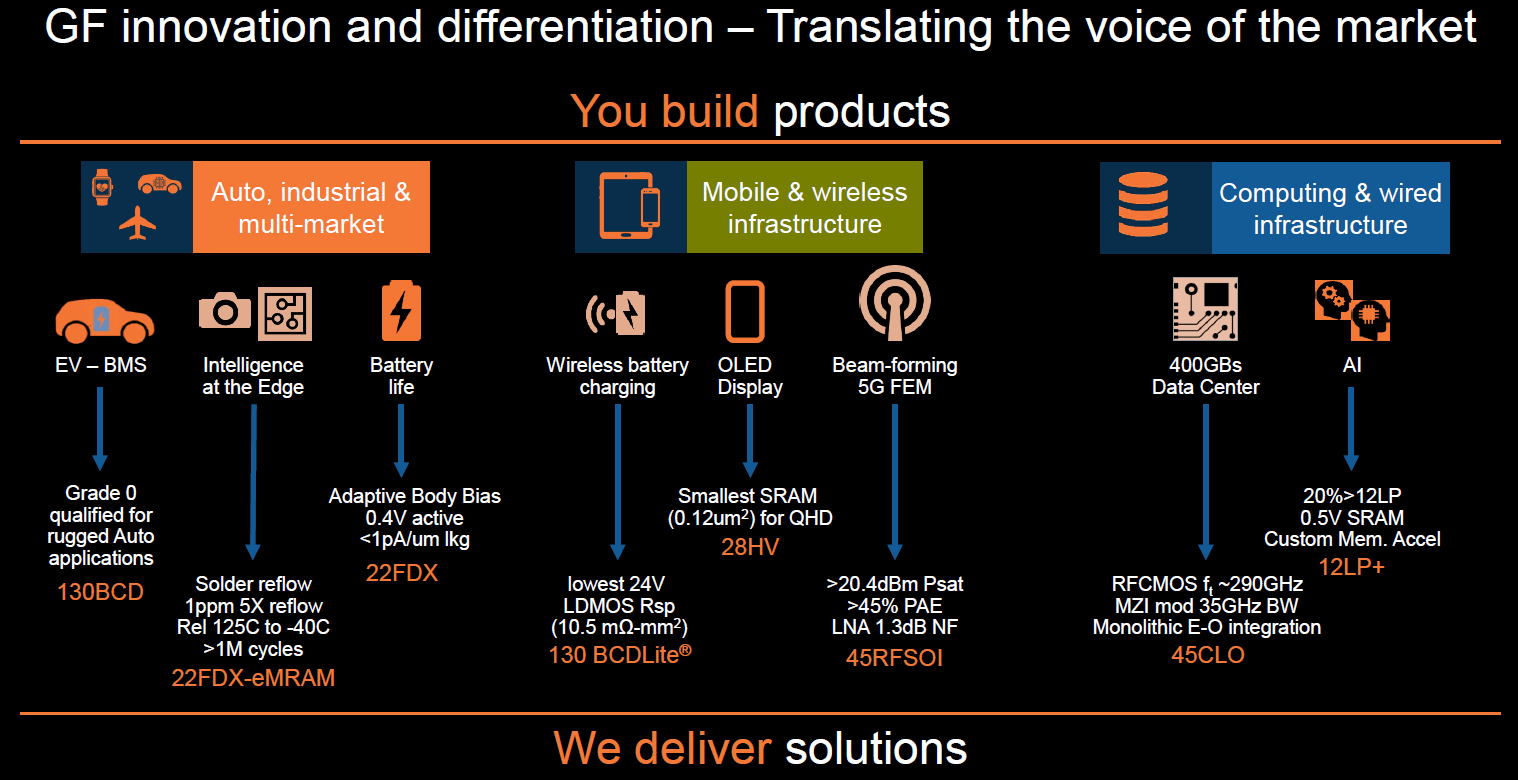 The final speaker of the morning was Mike Cadigan, SVP, Customer Design Enablement. Mike first went through the various partnership models GF uses to support its customers. These relationships include infrastructure areas such design technology co-optimization (DTCO), process design kits (PDKs), reference designs, IP/EDA ecosystem support, tape out services, and post-fab services. These are required services to enable customer success. GF has hundreds of participating partners to enable customer designs. However, GF goes further, such as its 22FDX® Body Bias solutions and use models developed with Dolphin Integration. GF has many companies supporting IoT and wearables design on its platforms. There are also collections for partners for supporting automotive designs. Quite noticeable were the prior and new solutions attributed to ARM. More on that in an upcoming blog.
It looks like the transformation of GF is going quite well, and the fruits of the transition are quite visible.  If you are looking for a semiconductor partner anything RF, wireless, low power, automotive, or wearables you should check out what GF has to offer now.
Share this post via: