Hard to believe but it's the 10th anniversary of Globalfoundries. What a journey this has been. It truly has been an honor to work with GF over the years as they invested many billions of dollars in the fabless semiconductor ecosystem and added a colorful chapter in semiconductor history, absolutely.
We have written hundreds of articles about GF that have been viewed by more than one million people. GF also has a chapter in our first book "Fabless: The Transformation of the Semiconductor Industry" which, in the 2019 update, documents the appropriately named GF pivot of 2018.
GF CEO Dr. Thomas Caulfield keynoted this year's "Future of Innovation" event. Today GF has more than 16,000 employees and $6B in revenue making them the second largest pure-play foundry and the largest "specialty foundry".
Tom made some interesting points in his opening:
World economy $85T
Electronics Industry $2T
Semiconductor Industry $475B
Semiconductor Foundry $63B
It really is interesting to know that five semiconductor foundries support the majority of an $85T world economy. Seriously, take away semiconductors and what do we have besides fire and the wheel?
It is also interesting to know that (according to LinkedIn) there are only 521,816 people worldwide who list themselves as "semiconductor related" professionals. So, congratulations to all of the hardworking semiconductor people like myself who made this miracle we call modern electronics possible.
Tom rightfully pointed out that 75% of the semiconductor devices shipping today are based on mature technologies (12nm and above) which is where the GF pivot has focused them. Tom also highlighted that the current GF output of 2.3M wafers ($6B in revenue) can be easily expanded to 3M wafers with an expected revenue of $8B. This is not a giant leap, in fact, I think that revenues will be even higher based on the platform strategy that was outlined in the presentation.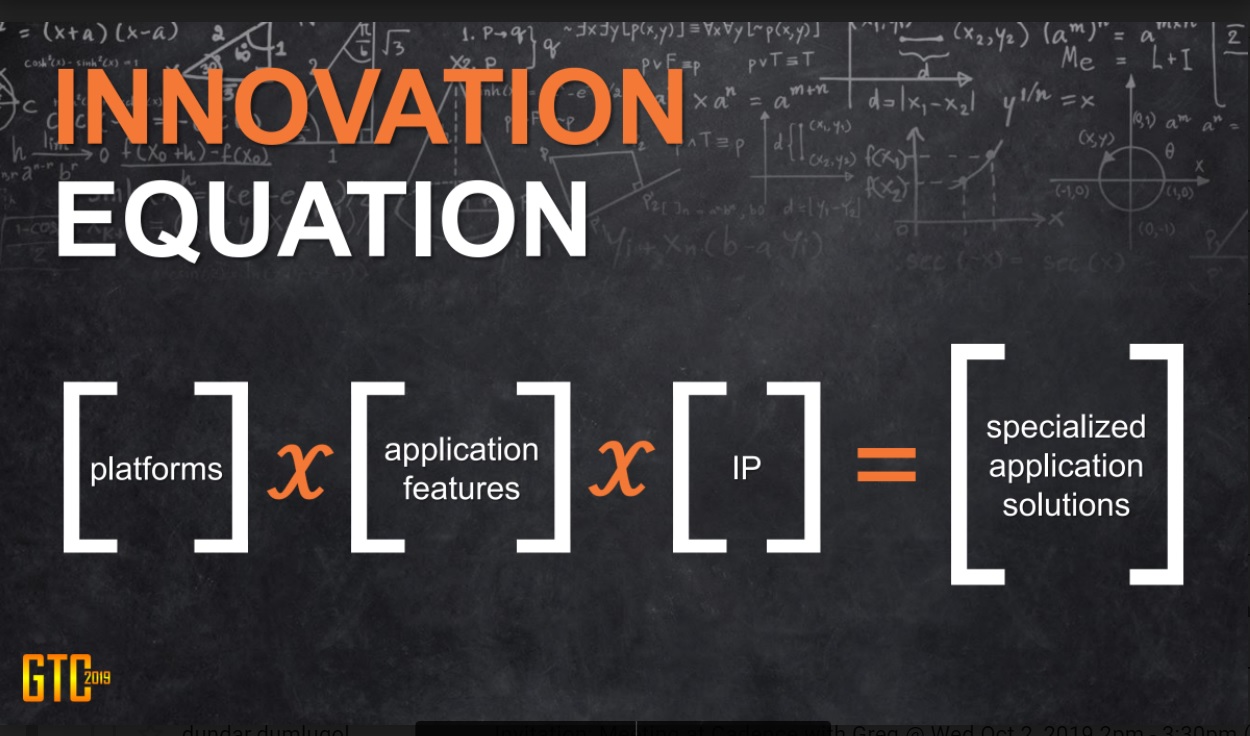 Please note that the equation in the figure above is a product (x) versus a sum (+) meaning that if any one of the variables is 0 the result is zero. This plays directly to the fabless systems companies which is the richest customer segment for the foundries.
Tom mentioned 15 different platforms utilizing 14 application features and 1,000s of silicon proven IP which will result in thousands of specialized application solutions. Again, the target here is electronics systems companies that are making their own chips.
The most interesting news out of the conference however was that GF is planning a public offering in 2022.  I'm a big fan of disruptive moves and while the GF pivot of 2018 was not what I would call disruptive, this IPO certainly will be.
A technology company IPO is definitely a rite of passage into corporate adulthood as it comes with a healthy level of transparency. Given the open media (fake news) we have today it is far too easy to become delusional from PR gone wild. Wall Street however is less easily fooled if you are playing by their rules, absolutely.
The big swing here is the legal action GLOBALFOUNDRIES filed against TSMC and some of their top customers. If the Wall Street bankers can make a silk purse out of this sow's ear some serious IPO money will exchange hands and Abu Dhabi can finally put this one in the win column.
The semiconductor industry is full of incredibly smart people and it is an honor to work amongst them. One thing I can tell you is that the moves GF has made since Tom took the helm have been rock solid so I would not bet against him, not today.
Share this post via: