Pure digital routers for IC designs have an easier task than mixed-signal routers, because mixed-signal routers have more constraints like:
Shielded buses
Differential pairs
Twisted pairs
Matched RC routing
20nm technology rules
Double Patterning Technology (DPT)
Your alternative to using a mixed-signal router is to perform manual routing, which does look beautiful and eventually gets the job done but it may add week and months to your tape out schedule.Today Synopsys announceda new mixed-signal IC router called Custom Router. I had the chance to ask some questions last week in order to satisfy my curiosity and better understand what the new technology is capable of.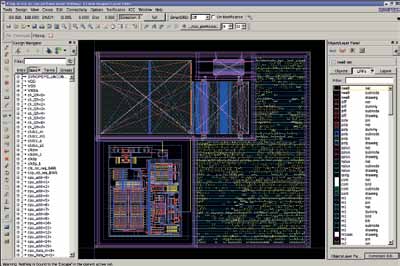 Q&A

Q: Where did this technology come from? Was it acquired? Was it developed in-house?
A: It is a combination of code from Magma (Titan SBR) and in-house developed.
Q: Is this an upgrade for free if I'm on maintenance, or do I pay extra for it?
A: It is an option (pay extra) to IC CompilerCustom Co-Design solution, which is a version of Custom Designer layout editordesigned for use with IC Compiler.
Q: What is the price range for Galaxy Custom Router?
A: We do not publish pricing.
Q: Is the routing process interactive or batch mode?
A: Both are available.
Q: Can you clarify the statement, "2 to 5X productivity improvements over manual efforts"? If it takes me 2 weeks to route by hand, then do I only get a speed up of 1 week , instead of hours or minutes?
A: We were being conservative. However that being said, custom routing isn't finished in minutes even with automatic routing. These critical signals require a lot of care. One month of custom routing done by hand might take a few days to complete with Galaxy Custom Router.
Q: Is there special PDK support required for this new router?
A: No – this works directly from IC Compiler data.
Q: Does the Custom Router work stand-alone, or only with IC Compiler? Can I use Custom Router with Cadence, Mentor or ATOP routers?
A: This version only works with IC Compiler.
Q: When using Custom Router am I getting real-time feedback on DRC and DFM correctness, or do I still have to run DRC/DFM after routing?
A: There is built in design rule checking, but as always the sign-off tool needs to be run to validate at the end.
Q: What platforms does Custom Router run on?
A: Standard Synopsys platforms
Q: Is this Beta or Production software?
A: This is the production release. It has been in use a selected partners.
Q: How many chips have taped-out with Custom Router?
A: Several chips have taped-out.
Q: Is the router in the TSMC approved flow?
A: It is not in the reference flow.
Q: What is the learning curve of Custom Router?
A: It uses familiar concepts with other shape-based routing tools.
Q: Who uses Custom Router, is it the layout designer or the design engineer?
A: Place & Route engineer or layout designer.
Q: What configuration of workstation should I consider to adequately run Custom Router?
A: It can run on the same workstation configuration as IC Compiler.
Q: How would you compare Custom Router with Pulsic (Unity), Cadence (Encounter Mixed GXL option), Mentor (Pyxis)?
A: Galaxy Custom Router works tightly with IC Compiler, so we think it is a good choice for IC Compiler users who need to speed up the routing of their custom signals.
Share this post via: