DAC is upon us again! The Design Automation Conference holds special meaning to me as it was the first technical conference I attended as a semiconductor professional, or professional anything for that matter. That was 33 years ago and I have not missed one since. This year my wife and I both will be walking the DAC floor and it would be a pleasure to meet you so be sure and say hi if you see us.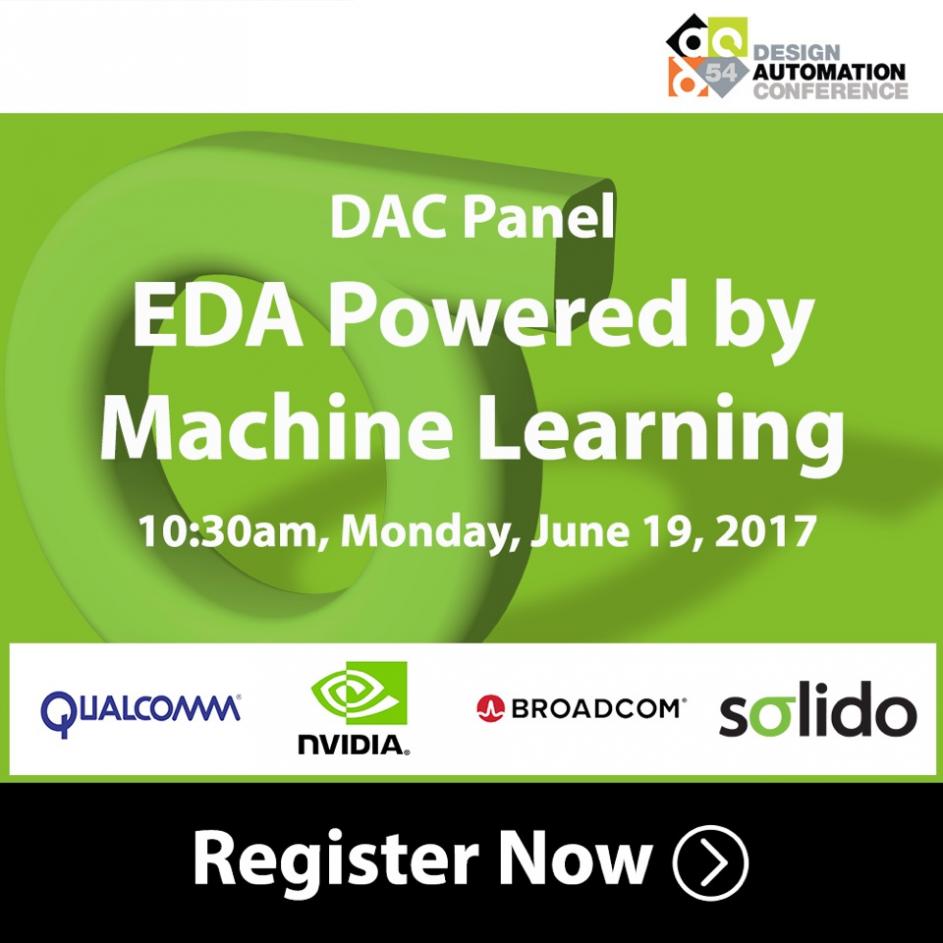 My good friends at Solido will again be giving out SemiWiki.com pens so if you were to catch me in a booth that would be the first place to look. Solido has a lot going on at DAC so be sure and get them on your schedule:
Join Solido at the 54th Design Automation Conference (DAC) (Booth #1113) in Austin, TX at the Austin Convention Center from June 19-21, 2017. DAC is the premier conference for design and automation of electronic systems, Solido will again be offering a panel discussion, networking opportunities, and 1-on-1 product demos at this year's event.
Be sure to register to attend Solido's panel discussion, "EDA Powered by Machine Learning" on Monday, June 19, 10:30am, Room 10AB, Austin Convention Center, Austin, TX.
Machine Learning is leaving its mark in a variety of fields, even EDA. This panel will focus on opportunities and examples of how this disruptive technology is addressing various challenges in semiconductor design. Discover how machine learning technologies are already providing disruptive runtime, resource, and productivity benefits in variation-aware design and characterization, and much more, with panelists Ting Ku (NVIDIA), Sorin Dobre (Qualcomm), Eric Hall (Broadcom), Jeff Dyck (Solido), and Amit Gupta (Solido) moderating.
Registration for the "EDA Powered by Machine Learning" panel can be found here: https://www.solidodesign.com/dac-2017-panel-registration/
At DAC, Solido will also be hosting 1-on-1 demonstrations showcasing Variation Designer and newly-launched ML Characterization Suite from Monday June 19 through Wednesday June 21. Variation Designer is the world's leading technology in variation-aware design for standard cells, memory, and analog/RF, providing full design coverage in orders-of-magnitude fewer simulations, but with the accuracy of brute force techniques. Solido's new ML Characterization Suite uses machine learning technologies to accelerate characterization of standard cells, memory, and I/O, reducing library characterization time without compromising accuracy.
Available demos include Variation Designer for Memory, Analog/RF, or Standard Cell Design and ML Characterization Suite Predictor or Statistical Characterizer. Registration for a 1-on-1 Solido Demo can be found here: https://www.solidodesign.com/dac-registration/
After Monday morning's panel and exploring everything DAC has to offer, set aside time to join Solido at their first DAC Rooftop Party at Terrace59 @ Speakeasy (412 Congress Ave D. Austin, TX) on Monday, June 19, 7pm. Appetizers and host bar provided. Space is limited so make sure to RSVP here: http://www.solidodesign.com/dac-2017-rooftop-party/
Share this post via: