In modern electronic industry PCBs are required to accommodate highly dense circuits with large number of components and complex routing spaces. While the complexity is increasing, the time-to-market is decreasing. In such a scenario, there is no other option than to reduce the design time by employing innovative editing options and make the design correct-by-construction for manufacturing so that the cycles between design and manufacturing are eliminated. Moreover, designs may need customized rules which should be easy to develop and use. Also, frequent changes in fabrication technologies require new rules to be developed in a timely manner. It's very pleasant to see that with rapid increase in circuit sizes and complexities, PCB tools and technologies have also evolved by a large extent.
A few days ago Cadencereleased its Allegro 16.6-2015 product portfolio that introduced several new capabilities to address modern day challenges in PCB designs, make designs more predictable, and shorten the overall design time up to manufacturing. It was a nice opportunity talking to Hemant Shah, Product Management Group Director at Cadence who explained in detail about all these new capabilities.
Allegro provides an integrated environment for electrical, physical and manufacturing verification. In Allegro 16.6, the Allegro Manufacturing Option includes DFM (Design for Manufacturing) Checker, Documentation Editor, and Panel Editor. The DFM Checker provides manufacturing analysis tools for designers to analyze and correct fabrication related issues before sending the design for fabrication, thus eliminating cycles between design and fabrication and making the design more predictable. The Documentation Editor is an intelligent documentation-authoring tool that automates the complete process for fabrication documentation. It creates the complex PCB documentation for handoff to manufacturing in a fraction of time compared to traditional way of documentation. This is streamlines manufacturing handoff eliminating unnecessary scrap and iterations with manufacturing partners. The Panel Editor automates the complex process of assembly panel documentation. It enables designers to quickly create manufacturing documents that clearly articulate the panel specification and instructions for successful fabrication, assembly, and inspection of their designs. Cadence customers have observed this efficient fabrication and assembly document generation process to be faster than traditional methods by 60% or more.
The Allegro Rules Developer and Checker provides flexibility to extend supported rule sets. It provides a 'relational geometric verification language' designed specifically for creating rules that are proprietary and custom to an original equipment manufacturer (OEM). The tool supports constraint driven flow where the rules can be viewed and executed from the Allegro Constraint Manager making it a single source for all DRCs within a PCB. This also enables designers develop new rules according to changing fabrication processes or even new fabrication technologies.
The Allegro 16.6 provides excellent capabilities for routing and tuning high-speed interfaces such as DDR3, DDR4, PCIe, and so on. These interfaces operate at high bandwidth and low voltage, and are increasingly susceptible to crosstalk. The timing closure is a significant challenge for such a high-speed interface. The routing for such high-speed interface is accomplished under complex set of electrical and layout implementation constraints.
Allegro PCB Editor has added several new capabilities to improve designers' productivity and accelerate timing closure. These include 'adding ground current return path vias to differential pairs during Add Connect', 'creating off-angle routes to avoid FR4 fiber weave coupling and achieve better impedance control', 'improved arc support in routing', and many others.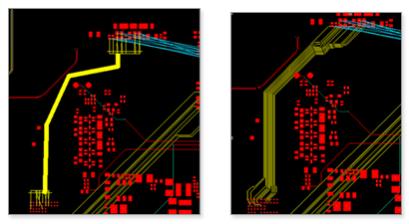 There is auto-connect routing where a designer can select a set of signals and the route engine creates flow automatically. The 'Adjust Spacing' capability allows users to compress spreading of traces in the trunk of a set of signals.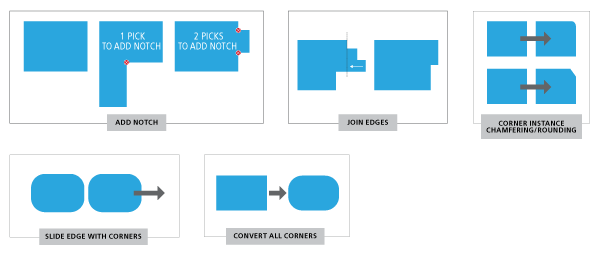 There is a powerful shape editing environment to quickly create and modify shapes and save lot of time in designing power delivery networks and other complex layout editing. Designers can add notches, join edges, slide edges with corners, move multiple segments with one command, convert corners, and so on.
Overall Allegro 16.6-2015 portfolio provides a powerful and ideal PCB design platform for modern day PCB designs that need fast turnaround to meet ever shrinking time-to-market window. To know more read the press release here.
Visit Cadence at booth #3515 at DAC 2015.
Pawan Kumar Fangaria
Founder & President at www.fangarias.com
Share this post via: