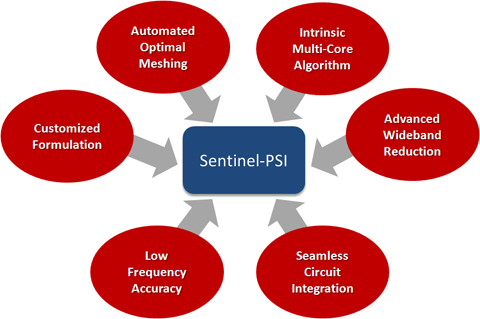 The last of the current series of webinars is on Sentinel-PSI,IC-Package, Power and Signal Integrity Solution. It will be at 11am Pacific time on Thursday 11th August. It will be conducted by Dr. Tao Su, product manager of the Sentinel products. Dr. Su has many years of experience in the EDA industry and is specialized in power integrity and signal integrity analysis for package and PCB. He received his Bechelor's degree in Electrical Engineering from Tsinghua Univ., Beijing, China, and his MS and PhD degree from the University of Texas at Austin.
This is a 3D full-wave electromagnetic solver for power and signal integrity analysis of IC package and PCBs, with the ability to perform DC (static), AC (frequency domain), and transient (dynamic) simulations from a single environment. Based on the fast finite element method (FFEM), Sentinel-PSI provides the accuracy of a conventional full-wave tool, with the unparalleled capacity to handle an entire package or board design. Sentinel-PSI is seamlessly connected to other Apache products in system-level analysis, and is linked with Sentinel-SSO to perform system-level I/O-SSO simulations.
Register for the webinar here.

Share this post via: