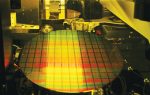 TSMC puts up solid QTR, Capex increase for 5NM and capacity increase, 5G/mobile remains driver- HPC good 7NM, 27% of revs- Very nice margins!
In line quarter-Good guide
TSMC reported revenues of $9.4B and EPS of $0.62 , more or less in line with expectations, perhaps a touch below " whisper" expectations which had been growing along with the lead times for 7NM. Gross margin was a nice 47.6%.
Q4 is expected to be between $10.2B and $10.3B with gross margins between 48% and 50%. This revenue outlook is well above current street expectations.
Large bump up in Capex
We have been talking about a logic led recovery, in chip equipment, given the strength at TSMC. TSMC bumped up their 2019 capex from $12.5B to $14 to $15B with initial outlook for 2020 to be similar to 2019.
This suggests a bit of a hockey stick like capex spend in the current Q4 of 2019.This hockey stick will show up in a better than expected guide from tool companies
We think this is likely a strong mix of not only 5NM spend but also 7NM capacity related spend given better than expected demand and long lead times currently seen by customers.
Capex intensity, currently at 40% is expected to come down in 2020 and further come down in 2021 to 30% to 35%
5G and mobile remains the big upside in demand
In our view, customers in the mobile space are all rushing to get to market first with 5G devices to try to stake a claim to market share and early dominance. This has created a strong "land rush" of orders to insure enough 5G chips to power those devices.
7NM was 27% of total sales which supports this strong demand and suggests strong pricing ability as well.
This is quite a strong ramp from the start of 7NM earlier in the year. We are sure that HPC (read that as AMD) is also clearly helping to drive demand over the top.
Smartphone was 49% of revenue with HPC at 29%.
We don't think any significant portion of sales was due to inventory build or channel stuffing as fears of trade ware related cut offs have subsided in the market.
TSMC winning on both yield and packaging
In our view, we think that TSMC is attracting more customers and thus the longer lead times as they have both better yields and better packaging technology.
We think Samsung has had more struggles with yield and coming up to speed despite (and potentially because of ) EUV implementation.
We also think that TSMC's advanced capabilities in packaging allow it to offer customers more and better options in 2.5 and 3D packaging.
As customers look for other strategies outside of Moore's law scaling, such as "chiplets", these packaging options become a critical differentiating and enabling technology. Some customers, such as AMD, are currently banking on advantages of a "chiplet" architecture.
Collateral impact on equipment companies
TSMC's report , and large capex increase, confirms our view that there is a strong near term pick up in equipment demand despite memory "sucking wind".
We think most equipment suppliers will report at least in line or likely better than expected results in the current quarter but more importantly will guide even higher going forward as orders from TSMC hit their order books.
This is very much in line with our "logic/foundry led recovery" that we have talked about for several months. While not a rip roaring semicap recovery, its better than the bouncing along the bottom that the industry has been stuck with and importantly puts an upward bias on business even though the slope may be low without memory.
The Stock – Nice quarter, but perhaps not up to the unrealistic expectations of the market
Its clear that chip stocks have been on a tear and along with the stocks, and so have expectations. Much of this in TSMC's case is a combination of Apple talking about increasing supplier orders by 10% along with the extended lead times at TSMC 7NM. We think expectations and the stock both got a little bit ahead of themselves such that when the company reported an excellent quarter, such as it did, that investors were unimpressed as it didn't blow away numbers.
We would use any weakness as an entry point to add to positions in TSMC.
They are now more dominant in foundry than ever before and if anything they are lengthening their lead over number two Samsung. Near term demand looks very good, margins are good and getting better.
Most importantly, TSMC continues to push Moore's Law forward without any visible hiccups or delays…..perhaps they make it look too easy…..perhaps they should have a one quarter "oops" to make them look human and reset investors expectation of perfect performance in technology execution.
They have a very long runway of upside in 5G , with little competition, ahead of them. They are also the "real" engine behind AMD's success and will get their fair share of the upside associated with that and other HPC business.
We like companies that have dominant or monopolistic-like positions, great execution on technology with a strong defensive "moat" . All this usually combines to show up in financial performance and future upside which we clearly have with TSMC.
We continue to be a buyer of the stock and would be more aggressive on pullbacks. Our only significant cautions would be trade and macro economic risk that all chip companies share.
Share this post via: