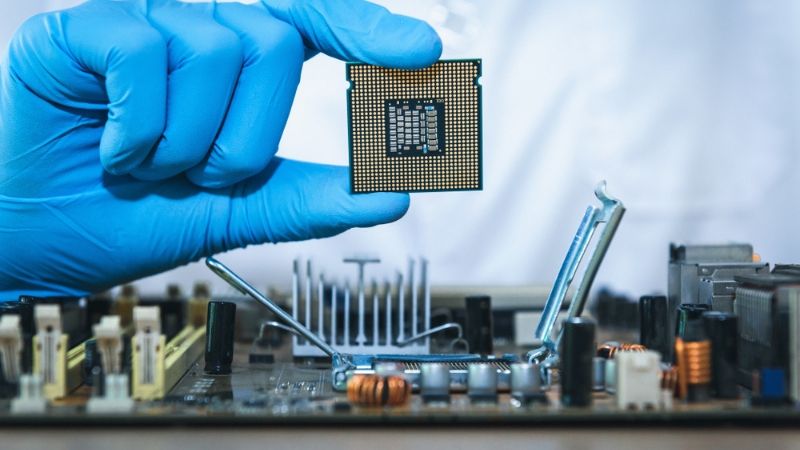 Higher Foundry/logic exposure helps-
Little or no Covid or China trade impact-
Nice quarter but even better guide-
Applied reported revenues of $4.4B and NonGAAP EPS of $1.06, nicely above street estimates of $4.2B and $0.95 in EPS. Guidance is for revenues $4.6B +-$200M and EPS of $1.17+- $0.06, versus current expectations of revenues of $4.35B.
Management sees growth into H2
Most importantly the company sees improving demand and revenues in the second half of 2020 and an equal or higher 2021. While there is still a caveat about Covid and other headwinds it sounds as if the company is not planning on any fall off in demand. In fact, it sounds like the company is assuming that memory will come back stronger than it has been as we roll out DDR5.
Applied has industry high foundry/logic exposure
TSMC has long been the house that Applied help build. Applied's relationship with TSMC has always been great and Applied has always had more than its fair share and the strength in foundry has obviously been very, very good to Applied.
China, likewise, is a place where Applied has been a long time leader and pioneer starting many years ago and it has paid great dividends as China has increased its spend over time.
Applied talked a lot about share gains but we are also sure that a good portion of the share gains come from the fact that Applieds best customers are the ones doing the spending versus the memory makers (Lam's home turf).
Share gains
Management talked about the obvious outperformance in foundry/logic but also pointed to a 25% increase in DRAM "patterning share". They also claimed to have the highest growth rate in the industry in process diagnostics (read that as a swipe at KLA, the leader in process control). Metal etch was also a special mention at a growth of 30%, with over 5000 chambers installed. Quite an accomplishment.
Covid & China Trade = No Worries
It would be hard to tell from the conference call that we are in the middle of a pandemic let alone an escalating trade war with China. China trade restrictions did even get a passing mention and Covid sounds like its over and done with as far as Applied is concerned as the company has moved to "a new way of working".  This is much the same as we heard from both Lam and KLA which also saw no ongoing Covid or China impact. ASML seems to have the only China impact we know of.
Kokusai or not
Applied remained very upbeat about the Kokusai acquisition going through even though its months late. The company said that it had all approvals except for one which we assume to be China, which remains a wild card. China will likely hold approval ransom which may get even worse given the increasing tension with the US. The only, but major, mitigating factor is the fact that Applied continues to sell China a boatload of critical semiconductor equipment to help them get to dominance in the industry.
We assume that China won't screw one of its main arms suppliers in this technology war with the US. If the worse happened and the deal fell apart, our view is that it wouldn't be a huge loss as Applied overpaid for a low tech asset just to buy business.
The Stock
Applied's stock was bit weak during the trading day but made it all back in after hours after the positive news. We would point out that most of the good news was already telegraphed by Lam and KLA and is already in the stock. Even though the company has a positive outlook the Covid and general economic risk still exists. Semiconductor stocks have been on fire and could use a little rest here. Although the Applied news was good, it doesn't motivate us to go out and buy the stock at current levels nor does it motivate us to buy related stocks.
Share this post via: