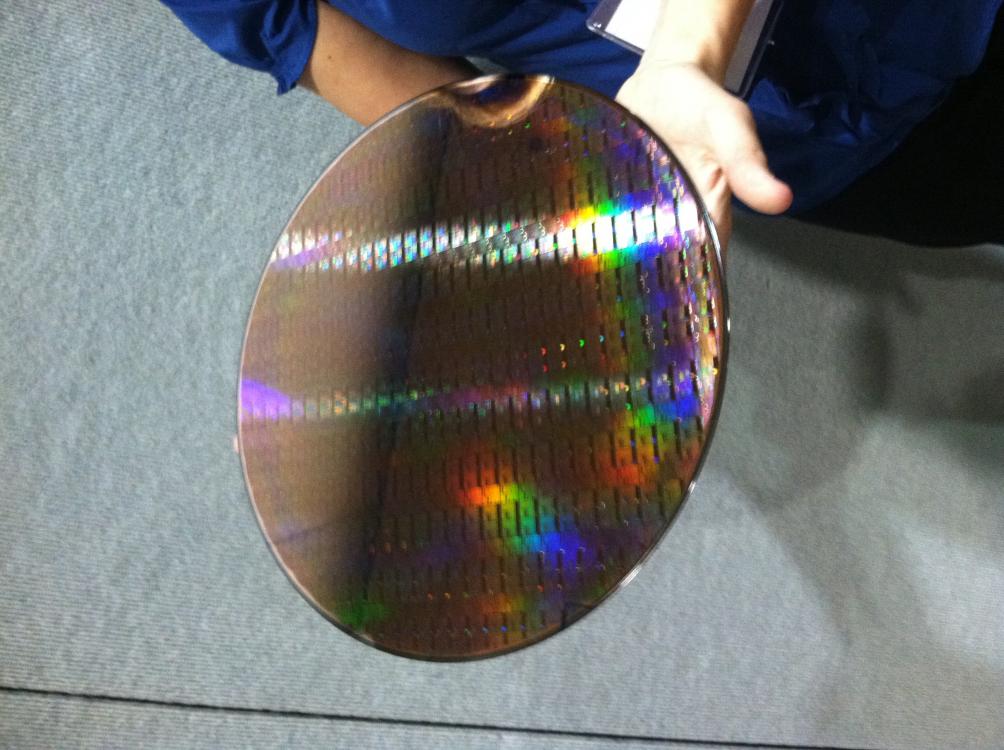 Sometime early in 2013, Intel will tape out its first production chip for 14nm and it won't be an x86 processor. It's neither necessary nor prudent to lead with a new x86 processor when the one missing element that the mobile market desperately needs is nowhere to be found: an ultra low power 4G LTE chip that fits und​er the battery life envelope of smartphones and would be warmly received in tablets, ultrabooks and notebooks as well. Intel's Eye on the Mobile Tsunami Prize is within reach once its Trigate process is ramped. More importantly the 4G LTE chip will serve as the Tip of the Spear dragging in the Atom processor and graphics solution at a lower power and better economics than what the ARM camp has on the drawing boards (the picture is an IBM 14nm wafer provided by GLOBALFOUNDRIES. Intel did not have one for public consumption.)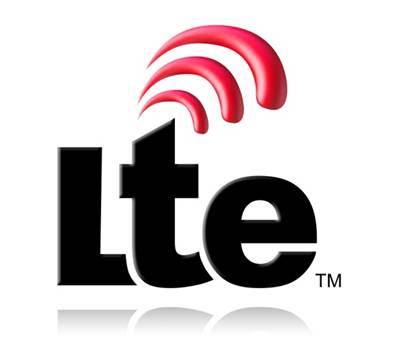 Earlier this year, during Intel's earnings conference call it was noted that CapEx was increasing to $12.5B in 2012 to enable a Fab footprint by Q4 2013 that is twice as large as what was available in 2011. Many are still wondering how it is to be filled and Apple is one of the educated guesses. Along with the CapEx announcement though was the 21% increase in R&D budget to $10.1B. The increase is so large it will consume the additional profits expected this year. More products are coming, however it seems the best bang for the buck is where the trigate process can solve a problem that the fabless vendors can't seem to fix at 28nm or 20nm (non-trigate).
The mystery seems to be solved in the unveiling of Apple's New iPAD that contains a 50% larger battery in order to handle the increased power consumption of the higher resolution Retina display and the inclusion of Qualcomm's 4G LTE wireless solution. The battery size grew from 25 Watt hours to 42.5 Watt hours causing the thickness and weight of the iPAD to grow in a direction that I am sure would not make Steve Jobs happy. A compromise was made on the iPAD to win the Screen War, however the iphone is different and not some accommodating to more weight and lower battery life. And so a dilemma unfolds as to how long and by what means will the iPhone receive 4G LTE with its much smaller battery. Unlike today's smartphone rivals who ship 4G today, Apple has to be careful not to tarnish its brand with a device that shows poor battery life.
Steve Wildstrom, a veteran PC columnist, recently wrote an article recommending that Apple skip LTE on the next version of the iPhone for reasons of battery life and the presumed lack of benefit of increased data performance. The correct platform to watch movies is the iPAD, which has the larger screen and battery to accommodate the power draw. I agree with the practical conclusions that were drawn here, however with Apple's competitors surrounding them with 4G smartphones, it will be hard due to marketing reasons alone to hold off forever.
While the buzz drones on in 2012 over 4G LTE, Intel will force march its engineers to tape out one version of 4G LTE after another until it can sample a 14nm version by no later than early summer 2013 to an anxiously awaiting market. Intel will make the argument to the larger mobile market that they have solved the power issues regarding 4G LTE with a process technology that can operate down to "near" threshold (0.7V) voltages and if a vendor is looking for a competitive edge in the smartphone market, Intel has the answer. The x86 now has a Trojan Horse Platform for undercutting ARM in the mobile space. It reminds me of a strategy penned not too long ago.
FULL DISCLOSURE: I am Long AAPL, INTC, ALTR, QCOM

Share this post via: