During the week of April 19th, Linley held its Spring Processor Conference 2021. The Linley Group has a reputation for putting on excellent conferences. And this year's spring conference was no exception. There were a number of very informative talks from various companies updating the audience on the latest research and development work that is happening in the industry. The presentations had been categorized under eight different subject matters. The subject matters were Edge AI, Embedded SoC Design, Scaling AI Training, AI SoC Design, Network Infrastructure for AI and 5G, Edge AI Software, Signal Processing and Efficient AI Inference.
Whether a self-driving automobile or one with a person behind the steering wheel, automotive safety is always a topic of wide interest. One of the presentations at the conference addressed this topic from a silicon enablement perspective. The talk was titled "Enabling Silicon Technologies to Address Automotive Radar Trends and Requirements." It was delivered by Dr. Farzad Inanlou, CTO, Radar and mmWave, AIM Business Unit, GlobalFoundries, Inc.
Automotive segment is a market that has historically been supported by a few select semiconductor suppliers. In turn there are a handful of foundries that have supported these semiconductor products. Of late, more semiconductor companies have been jumping in, attracted by projected revenue growth possibilities. This in turn has increased and accelerated foundry efforts to support this market. Two factors behind this forecasted growth are Advanced Driver-Assistance Systems (ADAS) and autonomous driving market opportunities. Converting the opportunities into profitable revenue depends on how well the application, product and market challenges are overcome.
This blog will first describe the challenges involved to establish the backdrop and then proceed to cover the salient points from Dr. Inanlou's talk.
Challenges
ADAS and Autonomous Driving Challenges
ADAS is all about sensors, sensing, analyzing, assessing, weighing options, warning and assisting driver's actions or autonomously taking action. These steps require accurate sensor data, very quick assessment of the hazard, weighing of evasive options and quick action. The sensors need to be capable of long measurement range and should be able to distinguish between signal (generated by actual obstacles) and noise. Environmental and weather conditions make this task more difficult. The sensors data are input to very complex in-car software running AI driven algorithms to decide on the critical actions to be taken. This kind of compute workload calls for high performance, low power solutions.
Semiconductor Solution Challenges
Environmental conditions vary a lot and semiconductor process should enable devices to operate under these conditions and still produce accurate results. As Edge applications, ADAS call for high performance and low power solutions. Traditional microcontroller-based solutions are not a match for this kind of compute workloads.
Automotive Market Driven Challenges
Automotive manufacturers differentiate their vehicle models not only based on performance, reliability, cabin comfort and convenience but also on the appearance and aesthetics of the vehicles. The aesthetics aspect dictates where and how the different sensors are placed on the vehicle. This in turn demands certain operating and performance characteristics as well as the form factor of the different sensors that can be used. And thorough testing of the ADAS solutions is essential to minimize chances for real-life accidents and related human casualties and property damage liabilities.
GlobalFoundries' Technology
The value of a technology is determined based on a number of criteria. Can the technology implement a particular solution, can it implement the solution easily and efficiently (area, power, performance), can it implement the solution cost advantageously, and does it have a long-term support and technology roadmap? Is the technology a core competency and focus for the supplier? The answer to all of these questions is in the affirmative for mmWave radar technology enabled by GlobalFoundries' silicon technologies.
Enabling Applications
GlobalFoundries provides three levels of industry-leading solutions to address ADAS and autonomous driving requirements of the automotive market. Refer to Figure below.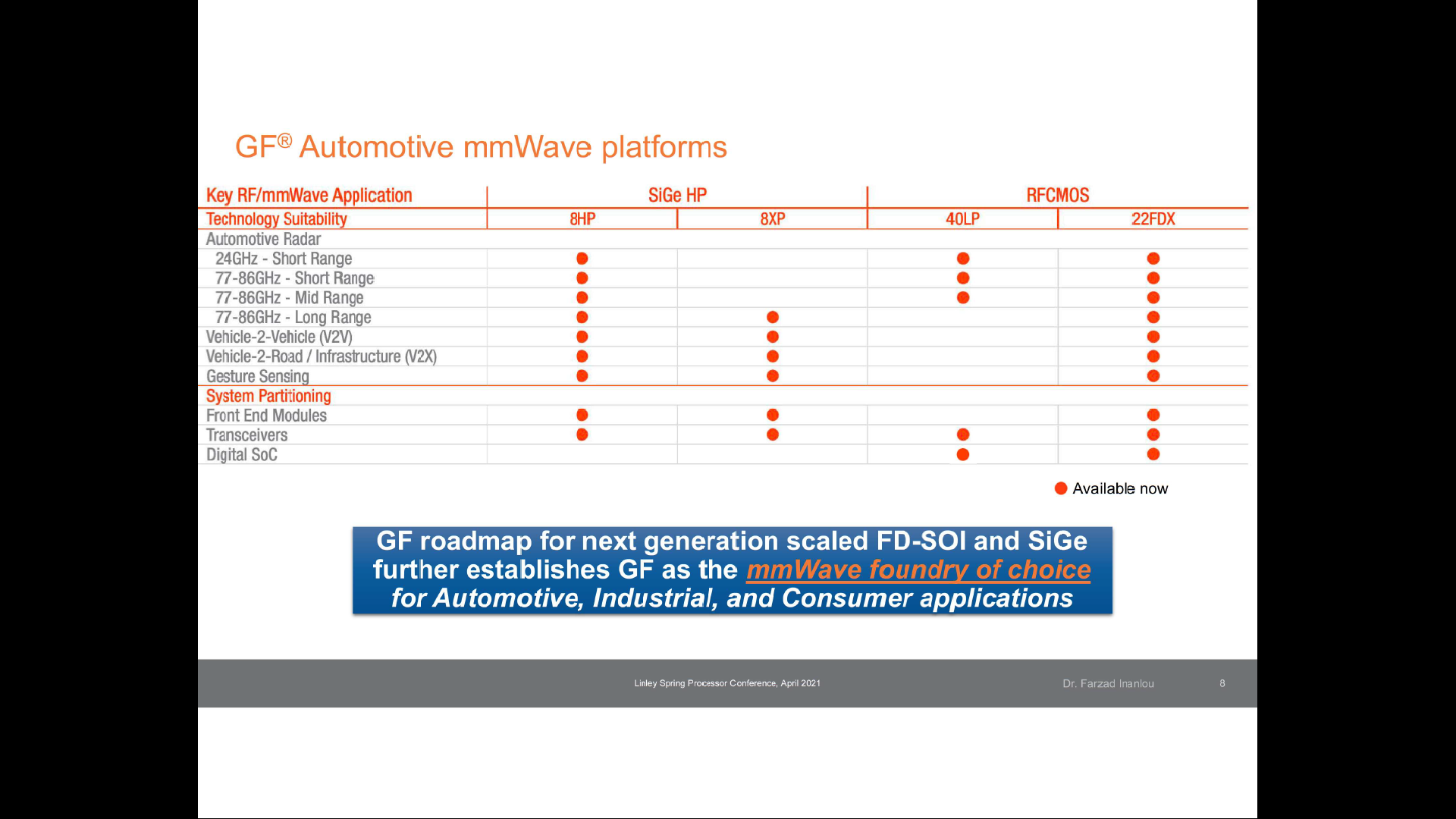 22FDX-based radar sensors deliver higher resolution with less latency than current radar sensors while minimizing total system cost
40nm-based solutions deliver excellent image quality and high reliability under a variety of operating conditions
SiGe-based solutions support longer range of detection along with excellent image quality
Products Enablement
GlobalFoundries has made it easier for any company to design differentiated mmWave radar solutions. Through a range of offerings that include silicon-verified IP and reference designs, product designers are able to easily optimize chips to support ADAS functionality and get their products to market rapidly.
GlobalFoundries 22FDX technology (for example) is suitable for optimally implementing certain ADAS solutions.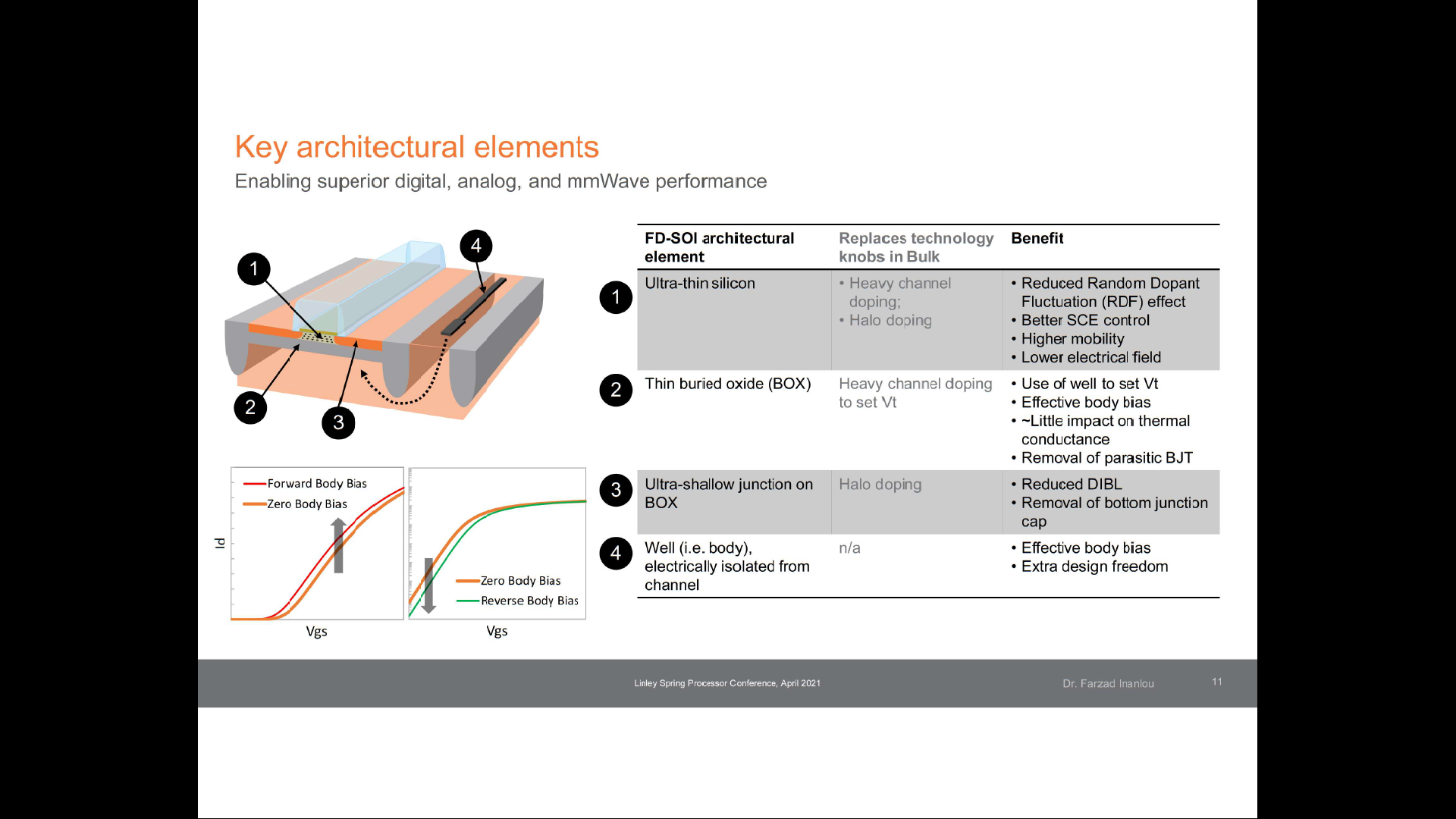 Due to key architectural elements behind the technology (refer to above Figure), 22FDX solution enables (compared to equivalent competitor nodes that use bulk CMOS process)
higher resolution, longer range and sensor miniaturization with maximum performance
40% less power consumption
50% higher Power added efficiency (PAE)
20% smaller chip area
Enabling the Automotive OEMs
GlobalFoundries offers a range of services that minimize automotive certification efforts and speeds time to market. It is the first and only foundry to offer world-class in-house mmWave test capabilities (including 80 GHz test) built on 20 years of RF experience. This makes chip verification easier and the production process faster and more efficient, helping customers increase design efficiency and accelerate time to market.
Summary
In his talk, Dr. Inanlou discusses lot of details of how GlobalFoundries' technology offerings enable semiconductor companies and automotive OEMs to effectively tap into the growth opportunities. He goes into details of what it takes to build a differentiated radar and shares some benchmark performance results of their 22FDX technology against certain 28nm technologies. The talk wraps up with a slide that showcases the breadth and depth of their mmWave radar support. If you are involved in developing products and solutions involving automotive radar, I recommend you register and listen to Dr. Inanlou's entire talk and then explore with GlobalFoundries.
Also Read:
Machine Learning Applied to Increase Fab Yield
Foundry Fantasy- Deja Vu or IDM 2?
A Perfect Storm for GLOBALFOUNDRIES
Share this post via: