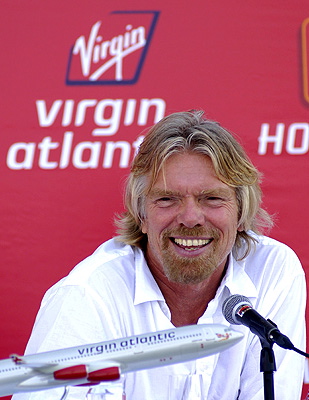 Back in the 1990's, Richard Branson, the legendary Entrepreneur and investor was asked how to become a millionaire, and he allegedly responded, "There's really nothing to it. Start as a billionaire and then buy an airline." I think the same principle can be applied to a large part of the Semiconductor Industry as we witness another major downturn that has been in the works since this summer and cuts across memory, analog and logic vendors. The one true shelter in the storm has been Intel, whose stock saw a major upswing following the September 13[SUP]th[/SUP] announcement by Microsoft that Windows 8 would need an x86 processor to insure backward compatibility – a necessary requirement in the business world. Not surprisingly ARM's stock has declined since then.
Forecasting and controlling for variables can be tricky as anyone can argue that the semiconductor industry could be reflecting the slowdown in Europe or the Thailand Flood that took out 30% of the world's hard drive production. Last week I had the opportunity to meet a number of customers in China focused on the consumer electronics business. It was quite shocking to hear the magnitude of the price drops that have occurred in the memory and microcontroller market since June. The Thailand flood caused DRAM vendors to dump product immediately, not waiting for the PC cutbacks expected in Q1. Wafers were then reallocated to build more Flash and MCUs, which led to price declines there as well. Recent semiconductor forecasts show DRAM down nearly 30% year over year. The bright spots were in x86 processors and NAND flash.
The viewpoint that I have been trying to communicate is much longer term. What should we expect over the next two to four years? At the beginning of 2011, the conventional wisdom (CW) was that Apple's growth in tablets would spill over into other vendors and as a result PCs would see a major slowdown at the expense of ARM suppliers despite Intel communicating to the world that it was significantly upping its Capital Expenditure to nearly $11B to retrofit 4 fabs for 22nm and to build 2 fabs for 14nm. ARM and nVidia's stock raced ahead of the expected tablet boom and the follow on Windows 8 driven "ARM PCs" coming in 2H 2012.
Few analysts thought for a moment to look into the reasoning behind Intel's massive CapEx that was followed by an even greater stock buyback combined with increasing dividend payouts. It turns out that Intel has known for more than a year that Microsoft's Windows 8 was going to have to be split in order to have a light weight O/S for consumer and a heavy duty version for corporate. Furthermore, the data center build out with $4000 Xeon processors and double digit emerging market growth would overcome any PC cannibalization in the Western World due to Tablets. In the end, Otellini could write the checks and still sleep at night.
It is true that Intel would wish to have a competitive tablet processor to close any pathway for ARM to build on its Smartphone success. But from all the presentations that Intel has given this year, it is apparent that they believe they just need to get to 14nm production with Finfets in 2014 and then they will be All Alone with a 4-year process lead. Doors will close on competitors and foundry partnerships will be established – particularly with Apple and probably Qualcomm and one of the large FPGA vendors.
From our current observation point, we can see that Intel has a greater wind at its back today as compared to 12 months ago. The tablet market is Apple's and Amazon's based on a $10 processor. Intel will field a $10 part for the purpose of forcing nVidia, Qualcomm, TI and others to play in the mud. I expect many ARM CPU vendors will re-evaluate the worthiness of playing in the tablet and smartphone markets at such a low price and return on investment.
AMD has fallen off the radar screen in the near term giving Intel sole ownership of the ultrabook market. Intel will look to convert 70%+ of the mobile PC market into ultrabooks because in 18-24 months (after Haswell) they could own it all and diminish nVidia's graphics business that thrives today on attachments to Sandy Bridge.
Finally, in 2011, Intel figured out that the right way to look at tablets and smartphones was as the drivers of the cloud that is built on $4000 Xeon processors. Intel now expects its server and storage business to double in the next 5 years to $20B. I think this is conservative. Regardless, it is rare to hear of a large Fortune 500 company growing an 80%+ Gross Margin business at double-digit rates.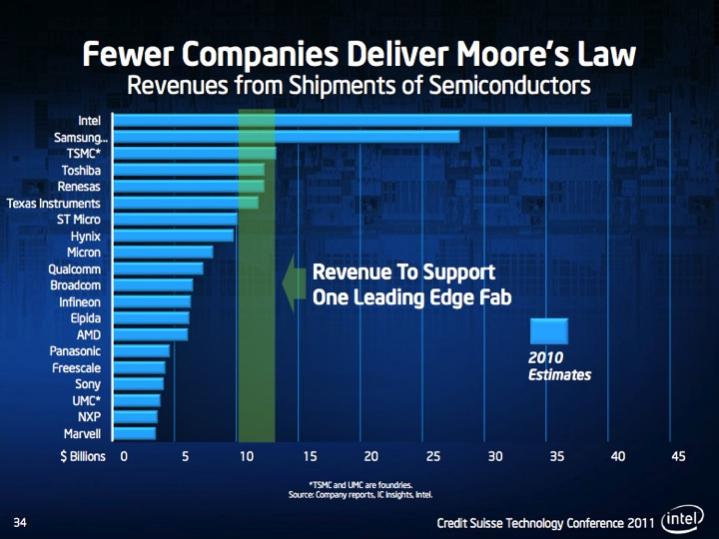 During a Question and Answer segment at the recent Credit Suisse Investors Conference, Paul Otellini was confident as he explained the economics of today's Fabs and the $10B ones coming with 450mm in 2018. The dwindling number of players who are able to afford the price tag and the 4-year process lead with 14nm coming in 2014 should make competitors shudder. The capital-intensive airline business model that Richard Branson spoke about may be about to come to most of the semiconductor industry, with the likely exception of Intel.
FULL DISCLOSURE: I am Long AAPL and INTC

Share this post via: