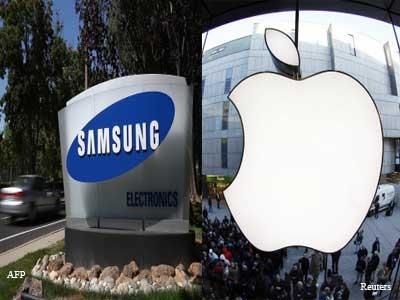 Apple's legal victory over Samsung has been analyzed in thousands of articles and TWEETs since last Friday's announcement and surely more will follow. Most of the commentary has focused on the first order impact to handset manufacturers. It is not entirely clear how it will all settle but there are sure to be secondary ramifications for Semiconductor Suppliers as it becomes the top discussion in the Executive Suites at Microsoft, Intel, Qualcomm, Broadcom, nVidia and others. A great shift in strategy might take place that until now no one could have foreseen.
Apple's legal war is in its early stages and the victory over Samsung is likely to be followed by action against other other Android Vendors. Along with the legal war will be a FUD (Fear Uncertainty and Doubt) Campaign as Apple executives send an army of well trained lawyers to their competitors doorstep with a message that it is time to square accounts with a long term, stiff royalty contract or vacate the Andorid ecosystem. What are the alternatives for handset vendors?
Apple knows it can extract higher payments from the handset vendors than from Google, because in the end Android is FREE and handsets are not. Furthermore, handset makers are working off margins that are not as tight as PCs but are trending that way over time. A carefully structured royalty strategy will put some out of business and consolidate the industry around a few players. Samsung was target #1 because they were the largest supplier of smartphones and the favorite of Carriers looking for a low cost alternative to selling Apple.
In the near term we should expect that handset makers will turn their attention to Microsoft O/S based Smartphones. Handset makers are in a quandary though because they don't know if they will be skinned by Apple and when the skinning takes place. Whether it is a hefty Royalty agreement or a Microsoft O/S Tax, the result in both cases will be significant in terms of a cost adder.
I look for Intel to step in and be a larger supplier of smartphone chips based on being lower cost than nVidia, Mediatek, Broadcom and Qualcomm in 3G solutions. Qualcomm will still have the high terrain with new 4G LTE solutions. Qualcomm wins with 4G LTE baseband no matter who ships. Intel also will align closer with Microsoft this Fall as they promote a high performance story up against Apple's ARM – A6 based iPhone 5 and the A5X based iPADs. Microsoft still has the huge corporate legacy platform to live off of that they will try to use to maintain presence in the tablet space. Look for Microsoft to begin using a razor-razor blade model with tablets where the hardware is FREE with a full load of O/S and Office. In the high end Ivy Bridge based Tablets, Microsoft and Intel will show a significant performance advantage over Apple iPADs and reminding corporate CFO's that they need to tell the CIO that whatever ecosystem is bought, it must meet a 4-5 year ROI. Apple will realize they need to build a much higher performing processor for the tablet than the iphone. Expect a split in their processor roadmap in 2013
Intel and Microsoft's re-found love affair will enable cost reductions for Apple's competitors that lessen Apple's royalty impact but not eliminate it. Apple's victory, in the end is about disrupting the marketplace and causing chaos with handset suppliers and carriers. If it buys Apple 6 months of breathing room, the impact could be tremendous as market share shifts could be dramatic following the introduction of the iPhone 5 in September.
One of the scenarios that I had drawn up earlier this year now appears to be off the table. I expected that Apple would engage with Intel on a foundry agreement in order to outflank Samsung on the cost and performance front. Now Apple will have the freedom to go their own way with TSMC and the question shifts as to whether Samsung will break from their vertically integrated NIH semiconductor model and partner with Intel on x86 based Smartphone and Tablet solutions. This may seem farfetched but the Wintel model has always worked best when there are multiple hardware players fighting it out in the marketplace. Intel and Microsoft both have an interest in having Samsung survive and the Window on x86 in Smartphones and Tablets offers a far broader range of price performance than Windows on ARM. This metric will grow over the next two years as Intel brings Atom to the front of the process line in 2014 at 14nm.
Full Disclosure: I am Long AAPL, INTC, QCOM and ALTR

Share this post via: