Our friends at Threshold Systems have a new class that may be of interest to you. It's an updated version of the Advanced CMOS Technology class held last May. As part of the previous class we did a five part series on The Evolution of the Extension Implant which you can see on the Threshold Systems SemiWiki landing page HERE. And here is the updated course description:
Date:
Feb. 5, 6, 7, 2020
Location:
SEMI Headquarters, 673 South Milpitas Blvd.,
Milpitas, California, 94035, USA
Class Schedule:

Wednesday: 8:30 AM – 5:00 PM
Thursday: 9:00 AM – 5:00 PM
Friday: 9:00 AM – 5:00 PM
Tuition:
$1,895
Course Description:
The relentless drive in the semiconductor industry for smaller, faster and cheaper integrated circuits has driven the industry to the 10 nm node and ushered in a new era of high-performance three-dimensional transistor structures. The speed, computational power, and enhanced functionality of ICs based on this advanced technology promise to transform both our work and leisure environments. However, the implementation of this technology has opened a Pandora's box of manufacturing issues as well as set the stage for a range of manufacturing challenges that require revolutionary new process methodologies as well as innovative, new equipment for the 10/7/5nm nodes and the upcoming 3nm node. This seminar addresses all of these manufacturing issues with technical depth and conceptual clarity, and presents leading-edge process solutions to the new and novel set of problems presented by 10nm and 7 nm FinFET technology and previews the upcoming manufacturing issues of the 5 nm Nanowire.
The central theme of this seminar is an in-depth presentation of the key 10/7/5 nm node technical issues for Logic and Memory, including detailed process flows for these technologies.
A key part of the course is a visual survey of leading-edge devices in Logic and Memory presented by the Fellow Emeritus of the world's leading reverse engineering firm, TechInsights. His lecture is a visual feast of TEMs and SEMs of all of the latest and greatest devices being manufactured and is one of the highlights of the course.
An update on the status of EUV lithography will be also be presented by a world-class lithographer who manages an EUV tool. His explanations of how this technology works, and the latest EUV breakthroughs, are enlightening as they are insightful.
Finally, a detailed technology roadmap for the future of Logic, SOI, Flash Memory and DRAM process integration, as well as 3D packaging and 3D Monolithic fabrication will also be discussed.
Each section of the course will present the relevant technical issues in a clear and comprehensible fashion as well as discuss the proposed range of solutions and equipment requirements necessary to resolve each issue. In addition, the lecture notes are profusely illustrated with extensive 3D illustrations rendered in full-color.
What's Included:
Three days of instruction by industry experts with comprehensive, in-depth knowledge of the subject material
A high quality set of full-color lecture notes (a $495 value), including SEM & TEM micrographs of real- world IC structures that illustrate key points
Continental breakfast, hot buffet lunch, and coffee, beverages, & snacks served at both morning and afternoon breaks
Who is the seminar intended for:
Equipment Suppliers & Metrology Engineers
Fabless Design Engineers and Managers
Foundry Interface Engineers and Managers
Device and Process Engineers
Design Engineers
Product Engineers
Process Development & Process Integration Engineers
Process Equipment Marketing Managers
Materials Supplier Marketing Managers  & Applications Engineers
Course Topics:
1. Process integration. The 10/7nm technology nodes represent a landmark in semiconductor manufacturing and they employs transistors that are faster and smaller than anything previously fabricated. However, such performance comes at a significant increase in processing complexity and requires the solution of some very fundamental scaling and fabrication issues, as well as the introduction of radical, new approaches to semiconductor manufacturing. This section of the course highlights the key changes introduced at the 10/7nm nodes and describes the technical issues that had to be resolved in order to make these nodes a reality.
The enduring myth of a technology node
Market forces: the shift to mobile
The Idsat equation
The motivations for High-k/Metal gates, strained Silicon
Sevice scaling metrics
Ion/Ioff curves, scaling methodology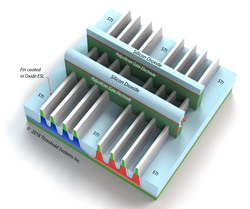 2. Detailed 10nm Fabrication Sequence. The FinFET represents a radical departure in transistor architecture. It also presents dramatic performance increases as well as novel fabrication issues. The 10nm FinFET is the 3rd generation of non-planar transistor and involves some radical changes in manufacturing methodology. The FinFET's unusual structure makes its architecture difficult for even experienced processing engineers to understand. This section of the course drills down into the details of 10nm FinFet structure and its fabrication, highlighting the novel manufacturing issues this new type of transistor presents. A detailed step-by-step 10nm fabrication sequence is presented (Front-end and Backend) that employs colorful 3D graphics to clearly and effectively communicate the novel FinFET architecture at each step of the fabrication process. Attention to key manufacturing pitfalls and specialty material requirements are pointed out at each phase of the manufacturing process, as well as the chemistries used.
Self-Aligned Quadruple Patterning (SAQP)
Fin-first and Fin-last integration strategies
Multiple Vt Hi-/Metal Gate integration strategies
Cobalt Contacts & Cobalt metallization
Contact over Active Gate methodology
Advanced Metallization strategies
Air-gap dielectrics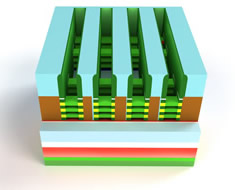 3. Nanowire Fabrication – the 5nm Node. Waiting in the wings is the Nanowire. The advent of this new and radically different 3D transistor features gate-all-around control of short channel effects and a high level of scalability. A detailed process flow of a Horizontal Nanowire fabrication process will be presented that is beautifully illustrated with colorful 3D graphics and which is technically accurate.
A step-by-step Horizontal Nanowire fabrication process flow
Key fabrication details and manufacturing problems
Nanowire SCE control and scaling
Resolving Nanowire capacitive coupling issues
Vertical versus Horizontal Nanowire architecture: advantages and disadvantages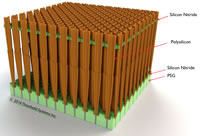 4. DRAM Memory. DRAM memory haS evolved through many generations and multiple incarnations. Despite claims that DRAM memory is nearing its scaling limit, new technological developments keep pushing the scaling envelope to extremes. This part of the course examines the evolution of DRAM memory and presents a detailed DRAM process fabrication flow.
DRAM memory function and nomenclature
DRAM scaling limits
A DRAM process flow
The capacitor-less DRAM memory cell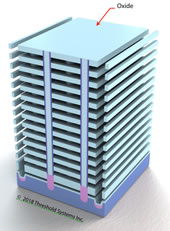 5. 3D NAND Flash Memory. The advent of 3D NAND Flash memory is a game changer. 3D NAND Flash not only dramatically increases non-volatile memory capacity, it will also add at least three generations to the life of this memory technology. However, the structure and fabrication of this type of memory is radically different, even alien, to any traditional semiconductor fabrication methodology. This section of the course presents a step-by-step visual description of the unusual manufacturing methodology used to create 3D Flash memory, focusing on key problem areas and equipment opportunities. The fabrication methodology is presented as a series of short videos that clearly demonstrate the fabrication operations at each step of the process flow.
staircase fabrication methodology
the role of ALD in 3D Flash fabrication
controlling CDs in tall, vertical structures
detailed sequential video presentation of Samsung 3D NAND Flash
Intel-Micron 3D NAND Flash fabrication sequence
Toshiba BICS NAND Flash fabrication sequence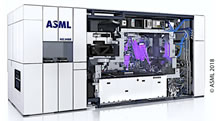 6. Advanced Lithography. Lithography is the "heartbeat" of semiconductor manufacturing and is also the single most expensive operation in any fabrication process. Without further advances in lithography continued scaling would difficult, if not impossible. Recently there have been significant breakthroughs in Extreme Ultra Violet (EUV) lithography that promise to radically alter and greatly simplify the way chips are manufactured. This section of the course begins with a concise and technically correct introduction to the subject and then provides in-depth insights into the latest developments in photolithography. Special attention is paid to EUV lithography, its capability, characteristics and the recent developments in this field.
Physical Limits of Lithography Tools
Immersion Lithography – principles and practice
Double, Triple and Quadruple patterning
EUV Lithography: status, problems and solutions
Resolution Enhancement Technologies
Photoresist: chemically amplified resist issues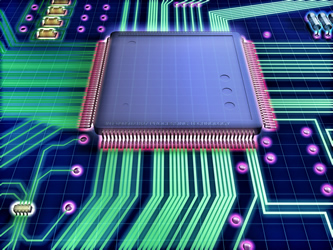 7. Emerging Memory Technologies. There are at least three novel memory technologies waiting in the wings. Unlike traditional memory technologies that depend on electronic charge to store data, these memory technologies rely on resistance changes. Each type of memory has its own respective advantages and disadvantages and each one has the potential to play an important role in the evolution of electronic memory.
This section of the course will examine each type memory, discuss how it works, and what its relative advantages are in comparison with other new memory types.
Phase Change Memory (PCRAM), Cross-point memory; separating the hype from the reality
Resistive RAM (ReRAM) – a novel approach that comes in two variations
Spin Torque Transfer RAM (STT-RAM) – the brightest prospect?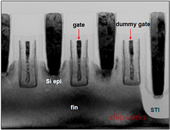 8. Survey of leading edge devices. This part of the course presents a visual feast of TEMs and SEMs of real-world, leading edge devices for Logic, DRAM and Flash memory. The key architectural characteristics for a wide range of key devices will be presented and the engineering trade-offs and compromises that resulted in their specific architectures will be discussed. The Fellow Emeritus representative of the world's leading chip reverse engineering firm will present the section of the course.
How to interpret Scanning and Transmission Electron microscopy images
A visual evolution of replacement gate metallization
DRAM structural analysis
3D FLASH structural analysis
Currently available 14nm/10nm/7nm Logic offerings from various manufacturers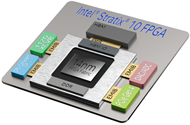 9. 3D Packaging Versus 3D Monolithic Fabrication. Unlike all other forms of advanced packaging that communicate by routing signals off the chip, 3D packaging permits multiple chips to be stacked on top of each other, and to communicate with each other using Thru-Silicon Vias (TSVs), as if they were all one unified microchip. An alternate is the 3D Monolithic approach, in which a second device layer is fabricated on a pre-existing device layer and electrically connected together employing standard nano-dimensional interconnects. Both approaches have advantages and disadvantages and promise to create a revolution in the functionality, performance and the design of electronic systems.
This part of the course identifies the underlying technological forces that have driven the development of Monolithic fabrication and 3D packaging, how they are designed and manufactured, and what the key technical hurdles are to the widespread adoption of these revolutionary technologies.
TSV technology: design, processing and production
Interposers: the shortcut to 3D packaging
The 3D Monolithic fabrication process
Annealing 3D Monolithic structures
The Internet of Things (IoT)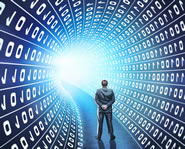 10. The Way forward: a CMOS technology forecast. Ultimately, all good things must come to an end, and the end of FinFET technology appears to be within sight. No discussion of advanced CMOS technology is complete without a peek into the future, and this final section of the course looks ahead to the 5/3.5/2.5 nm CMOS nodes and forecasts the evolution of CMOS device technology for Logic, DRAM and Flash memory.
Is Moore's law finally coming to an end?
New nanoscale effects and their impact on CMOS device architecture and materials
The transition to 3D devices
Future devices: Quantum well devices, Nanowires, Tunnel FETs, Quantum Wires
The next ten years …
Is Moore's law finally coming to an end?
New nanoscale effects and their impact on CMOS device architecture and materials
The transition to 3D devices
Future devices: Quantum well devices, Nanowires, Tunnel FETs, Quantum Wires
The next ten years …

Share this post via: