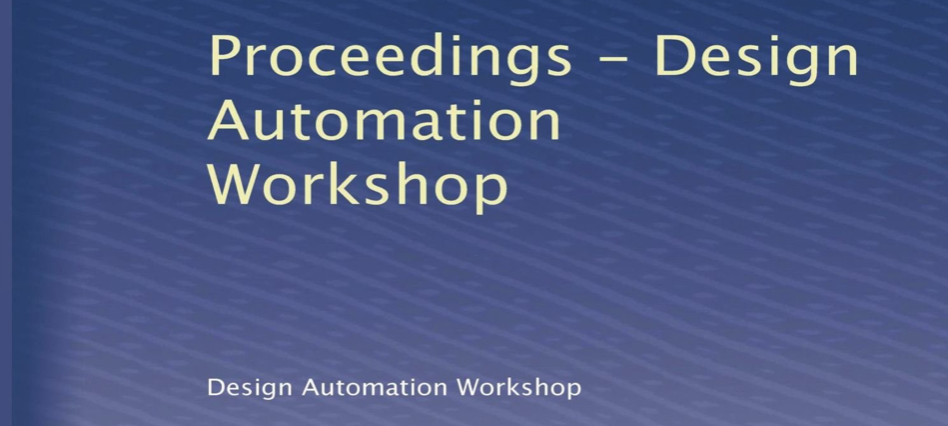 Next year will mark the 58th year for the Design Automation Conference. It's hard to wrap your head around the fact this event dates back to 1964, when rock 'n roll was new, cars were big and computers were even bigger. In its early days, the event was called the Design Automation Workshop. Pictured above is the cover of the very first proceedings. It's no longer available on Amazon unfortunately. Throughout its storied life, DAC has presented some of the most advanced and important innovations that have shaped the technology world around us. The conference began and continues today as a place to present high quality, cutting edge research. Over the years, exhibits were added to showcase the results of this research. More recently, a series of tracks were added that showcase the practitioners view of DAC – design, IP and embedded. I'd like to focus on this part of the conference.

The Designer and IP tracks have been part of the DAC program since 2010. The Embedded track was added last year. Putting on DAC is a huge undertaking and a great deal of the work involved is done by a group of volunteers from industry and academia. Their willingness to give back is truly noteworthy. I recently had a chance to chat with one of those folks – Ambar Sarkar from NVIDIA, who is the chair for the Designer IP and Embedded tracks on the DAC Executive Committee.
Ambar began by explaining the structure of this part of the DAC program. There are front-end and back-end Designer tracks as well as an IP track and an Embedded systems track. Each track contains submitted work as well as special invited sessions. In reality, there is some grey area between front-end/back-end and IP design which is fine. Ambar chairs a committee that helps to sort all this out. You can learn more about the workings of the IP committee in this interview I did with Randy Fish. You can see who's who on the DAC Executive Committee here.  
I spent a bit of time discussing the submitted work portion of these tracks with Ambar. As I mentioned earlier, DAC is a high-profile, prestigious place to present your work. It is highly regarded, and the work presented at DAC is often cited and used broadly in semiconductor and EDA. The Designer, IP and Embedded tracks share this spotlight, but there is an important difference. Submitting a technical paper to the DAC Research track takes a fair amount of work. The final submission includes a technical manuscript and a presentation, with peer-review vetting along the way. The deadline for submitting a technical paper to the Research track has already passed. The deadline is traditionally in November of each year.
In 2020, overall submissions to the Designer and IP tracks rose 15%, continuing a steady three-year rise: 160 paper submissions in 2018, 170 in 2019 and 197 in 2020.  This blog post will provide more information on the 2020 Designer and IP track submission trends.  Ambar said he is confident there will continue to be a rise in submissions in these tracks. 
The requirements for submission to the Designer, IP and Embedded tracks is a bit different. Here, an abstract of approximately 100 words and up to six PowerPoint slides are needed and the submission deadline is later than the Research track.  Submissions are peer-reviewed by a number of industry/domain experts to ensure quality, but the submission process for this part of the conference has been streamlined. In spite of the simpler process, I can tell you the work presented at these tracks receives a lot of attention due to the very high-quality technical content. Over the years, I have been involved in many Designer track and IP presentations and it has been a very rewarding experience.
Consider that the development of new IP along with its software and integrating it into a new SoC is a fundamental innovation engine for the semiconductor industry. The Designer, IP and Embedded tracks provide a spotlight on that work at a very high-profile conference. If you're proud of something you've worked on this past year with a customer or internally at your company, you should definitely consider a submission.  The work is reasonable, and the reward is significant.
Submissions to these tracks are open now.  The deadline for submission is January 20, 2021. Think about what you'd like to present and submit a proposal before the holidays. You'll be notified of acceptance between March 10 and 18, 2021. There are clear instructions on how to submit your work on the DAC website, including a detailed outline for how to develop your six slides. Past companies who presented are also shown there. It's quite an impressive list.  You want to be on that list. Here are the links:
Check it out to learn about the practitioners view of DAC – design, IP and embedded.
Share this post via: