Webinar: Designing Foundry-Compatible SiPh Components and Circuits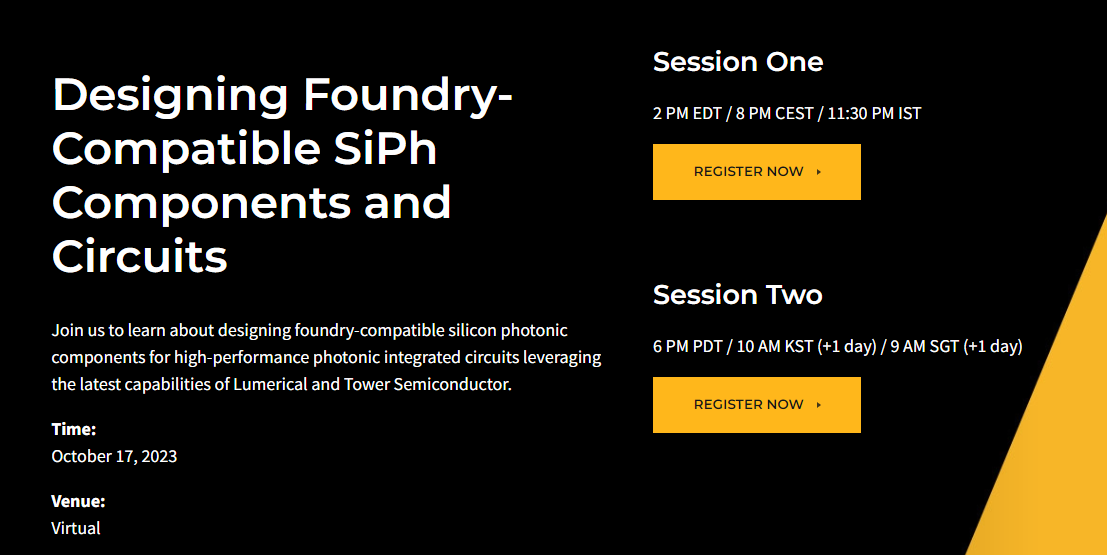 Join us to learn about designing foundry-compatible silicon photonic components for high-performance photonic integrated circuits leveraging the latest capabilities of Lumerical and Tower Semiconductor.
Time:
October 17, 2023
Venue:
Virtual
Session One
2 PM EDT / 8 PM CEST / 11:30 PM IST
Session Two
6 PM PDT / 10 AM KST (+1 day) / 9 AM SGT (+1 day)
About this Webinar
Silicon photonics process technology drives today's rapid innovation in optical fiber communication, automotive LiDAR, Quantum computing, and bio-sensing applications. Key to enabling this is the ability to leverage the tight interaction between design automation, compact models, and process technology to maximize performance and minimize cost and time to market.
Tower and Ansys have partnered for over five years to deliver a photonic integrated circuit (PIC) design enablement platform for Tower's PH18 silicon photonics foundry process. In this webinar, we'll utilize Tower's industry-first 'active process file' to simulate a custom ring-resonator, build a compact model calibrated to measurement data, and demonstrate how to integrate it with components from the foundry PDK (process design kit) to run circuit simulation. Attendees will learn about the latest features in Ansys design tools and the Tower PDK and how they improve performance while reducing design costs for some of the world's most exciting and growing markets.
What You Will Learn
Customize and simulate ring resonators using the foundry process file
Create photonic compact model libraries calibrated with measurement data
Design PICs utilizing a mix of customized components and components from Foundry PDK
See the latest updates in Ansys PIC design tools and Towers PDKs
Who Should Attend
Photonic component and circuit level designers and photonic compact modeling engineers
Speaker
Samir Chaudhry, Sr. Director, Design Enablement, Tower Semiconductor
Khashayar Ghaffari, Application Engineer, Ansys
Share this post via: