I just attended a keynote presentation at SNUG from Aart de Geus, CEO of Synopsys. This event is well attended with some 2,500 people that are learning from the 96 presentations on all things Synopsys, semiconductor. IP, and foundry trends. There are big name sponsors like: GLOBALFOUNDRIES, Samsung, socioeconomic, TSMC, Fujitsu, SMIC, TowerJazz and UMC. India SNUG actually had a bigger attendance than Silicon Valley, and this is the 26th year for SNUG. When you count all 13 SNUG events world wide it comes out to about 10,000 attendees, that's a lot of engineers.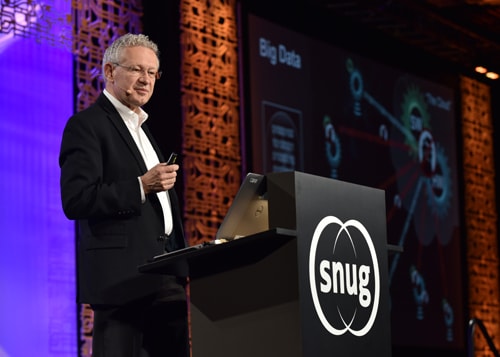 The Technical Committee named their best paper award winner as GLOBALFOUNDRIES and their paper on FD-SOI at 22nm, known as 22FDx. We've blogged quite a bit about FD-SOI here on SemiWiki, and the potential to add lower power and lower costs than planar CMOS technology.
Aart gave another high energy talk and started with the revenue trends for the semiconductor industry showing a 4.4% CAGR. He sees three major industry eras for semiconductors as:
Compute – PC, Internet, Networking, Server, Cloud
Mobility – Phone, Smart Phone, Tablet, Apps
IoT
With IoT there are four possible places to sell products or services:
At the edge
In the fog, between edge and cloud
In the Cloud
The Apps
With sensor-rich IoT devices there are enormous amounts of data being collected, leading to the need for management and analysis, thus Big Data. Security is an immediate issue with IoT devices and in general anything that relies on cloud storage.
For software developers there's an increased awareness to improve quality, security and safety. Is there a way to offer sign-off for software security? Synopsys thinks so, and has acquired companies in this space which produce about $100M in revenues.
Aart prefers to use the phrase "Smart Everything" instead of IoT because it is more descriptive of the general trend that consumers see today in Smart Phones, Smart Cars, Smart Homes, etc.
With IoT there are distinct market segments, like: Wearables, Health, home, city, auto, industrial, finance. In the automotive market there are existing and emerging standards for safety, quality and reliability. Synopsys offers their own IP that has been designed to meet the auto standards. Even DesignWare is growing to include a subsystem to handle all of the sensors typically used in IoT applications.
A popular slide showed the number of IC design starts using Synopsys tools by process node and time, so it's exciting to see 10nm and 7nm designs coming to life so quickly.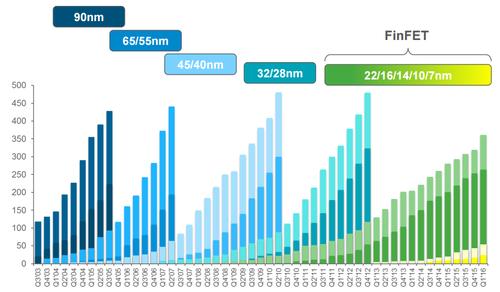 IC Design Starts by Process Node over Time. Source: Synopsys
Following the industry trends, the keynote focused on improvements to specific Synopsys tools for logic synthesis, test, place & route, DRC, LVS, static timing analysis. Synopsys continues to collaborate closely with Eco-system partners like ARM for their processor IP, foundries, and leading-edge systems design companies.
One new development was in the area of Custom IC design, which has historically been a very manual-oriented process. Aart talked about Custom Compiler as a way for transistor-level designers to use a visually assisted automation approach, instead of the older schematic driven layout methods. Internally at Synopsys there are 2500 IC designers, and some of them have started to use Custom Compiler which now provides them with time reductions from 1 hour to just 5 minutes using templates and quick iterations. With FInFET transistors the IC designers certainly need help to deal with the increase in design rules, complexity of transistor fingers, increased amount of parasitic RCL elements.
A new technology called Cheetahwill speed up the VCS simulator on both RTL and gate-level runs from 5X to 30X by exploiting Fine Grain Parallelism. You'll have to wait a while for actual product announcements, so stay tuned.
Synopsys is really trying to stretch the entire process from Silicon to Software by growing into the Software developer space.
In summary, we're in the third wave now where Smart Everything (aka IoT) will drive new semiconductor designs and revenues.
Share this post via: