Today an SoC cannot be without multiple IP blocks integrated together in the most optimal manner. In such an environment, it's natural that interoperability and configurability of an IP get prime considerations to achieve the best PPA (Power, Performance and Area) for the SoC containing that IP. While PPA is a basic criterion to must achieve, it's heartening to see IP providers partnering and going beyond PPA to create interoperable solutions that enable next generation technology and devices.
In the modern electronic world, high resolution displays like UHD (Ultra High-Definition) and 4K requires very high bandwidth, of the order of 16Gbps; the bandwidth requirement keeps growing rapidly with higher resolutions. It's just not possible to keep transmitting video signals at such high bandwidth by using the same old methodology. Synopsysand Hardenthave worked together to develop an innovative Display solution for ultra-high resolution in UHD mobile devices and other next-generation devices utilizing resolution of 4K and beyond. The solution is a combination of Synopsys' DesignWare MIPI DSI Host Controller IPand D-PHY, and Hardent's VESA DSC Encoder IP.
To know more about this, I had a phone conversation with Alain Legault, VP of IP products at Hardent. Alain tells me that the effort to establish a DSC standard for ultra-high resolution technology started in Jan 2013 when VESA(Video Electronics Standards Association) setup the DSC Task Group. The DSC 1.1 was released in July 2014 in collaboration with MIPIwho supports DSC (Display Stream Compression) in DSI (Display Serial Interface) 1.2. Hardent has been a member of the DSC Task Group since it began and is the first to come up with the DSC IP. With Synopsys' MIPI compliant DSI and D-PHY IP,the companies create a complete interoperable Display subsystem.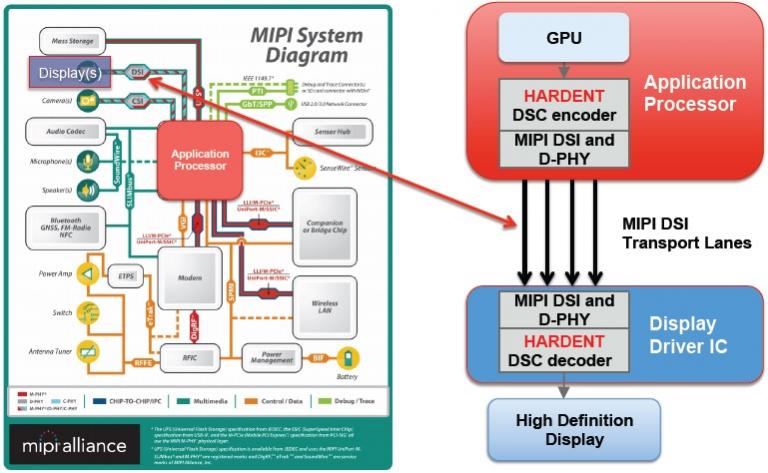 The DSC solution reduces data transmission bandwidth by compressing and transmitting video signals through existing display interfaces for ultra-high resolution. The DSC IP is fully compliant with DSC 1.1 and enables visually lossless video compression between the application processor and the display module inside a mobile device. It reduces the DSI transmission bandwidth by up to 3x, thus requiring smaller frame buffer and lesser transmission lanes for lower pin count. This clearly reduces cost as well as power consumption and electromagnetic interference (EMI). More information about the DSC IP offering can be obtained from the datasheet here.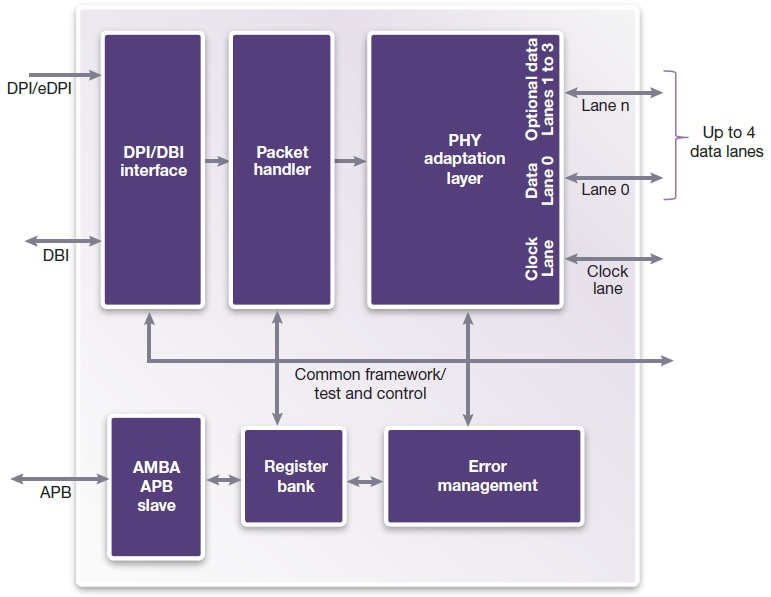 [DesignWare DSI Host Controller IP Block Diagram]
Synopsys provides a fully verified and configurable DesignWare MIPI DSI Host Controller IP that is compliant with the latest MIPI AllianceDSI specification v1.2. It supports all commands defined in MIPI Alliance DCS (Display Command Set) and interfaces with MIPI D-PHYs that support the PHY Protocol Interface (PPI). Along with DesignWare MIPI D-PHY, the host controller provides a complete and interoperable display solution that lessens designers' risks of integrating the MIPI DSI interface into application processors, display bridge ICs and multimedia co-processors. The DesignWare IP supports dual MIPI DSI with VESA DSC 1.1 standard.
Synopsys has been a leading member of MIPI Alliance Display and PHY working groups for several years and has provided MIPI IP with hundreds of design wins to support mobile ecosystem with innovative display interfaces complying with MIPI standards.
On my concern about the quality of the Display subsystem, Alain tells me that it's visually lossless compression. They experimented with thousands of transmitted video images with and without compression and asked a large group of individuals to participate in a formal test to identify any difference between them; no perceivable difference could be found by the participants between the original and the DSC encoded video images. He says, this solution is scalable to target a required display resolution (4K, 5K or 8K) and provides an ecosystem in the mobile market to offer high-definition devices. Leading SoC vendors have adopted this solution. Silicon products based on this display solution are expected to come in the market by the middle of this year.
This Display solution is fully compliant with MIPI and VESA standards and is highly interoperable. Synopsys and Hardent jointly announced the availability of this new solution for next-generation displays in the MIPI Alliance's open day in Seattle. Read the press release here.
Share this post via: