… is now 8 years old, and the money paid for this 10 engineers start-up was considered, at that time, as a "bingo" for Cascade's funders: "In October 2004, the Company completed the acquisition of Cascade Semiconductor Solutions, Inc. (Cascade) for total upfront consideration of $15.8 million and contingent consideration of up to $10.0 million to be paid upon the achievement of certain performance milestones over the three years following the acquisition " (this quote being extracted from the 10K form filled by Synopsys in 2005). Even if we don't know if the $10 million have been paid or not, this deal was a pretty high valuation for a 10 engineers start-up, and their flagship product, the PCI Express (gen-1 at that time) Controller, supporting Root Port, EP, SW and Dual Mode configuration. I am sure that, at that time, some people were laughing about Synopsys and the money spent in this acquisition…

If we have a look at the cumulated revenue generated by PCI Express IP product line from 2005 to 2012, we have to keep in mind that most of these IP have been generated after this acquisition, so we can't simply claim that this initial investment has returned X time the money, but it was clearly a "big bang" explosion ringing PCI Express IP market take off.
This long list of PCI Express Controller, PHY and Verification IP:
Such a port-folio help understanding why Synopsys has generated $133.60 million between 2005 and 2012, or 8 times the money invested into Cascade, leading the company to get 62% market share of the PCIe IP segment last year!

PCIe as a technology is clearly here to stay, and we will certainly use in 2020, on a day to day basis, electronic systems relying on PCI Express in one way or another. If PCI Express technology was initially developed for applications like PC, Server, PC Peripherals or Communication, the technology penetration in Networking, Aerospace, Test Equipment, Imaging or Medical applications also explains Synopsys' success during the last decade. Such a safe way to interconnect IC within the same system or between two completely different applications designed by two different teams, who even don't know which system will be interconnected to their application, in fact the definition of a standard protocol, has no reason to disappear… except obsolescence. To escape obsolescence, a very good way is to keep defining more efficient and fastest version of the protocol: PCIe gen-2, running at 5 gbps and per lane came pretty soon after gen-1 (2.5 Gbps) definition, say in 2007. Now in 2013, PCIe gen-3 running at 8 Gbps is becoming the mainstream, and we can expect to see gen-4 to be defined soon, running at 16 Gbps!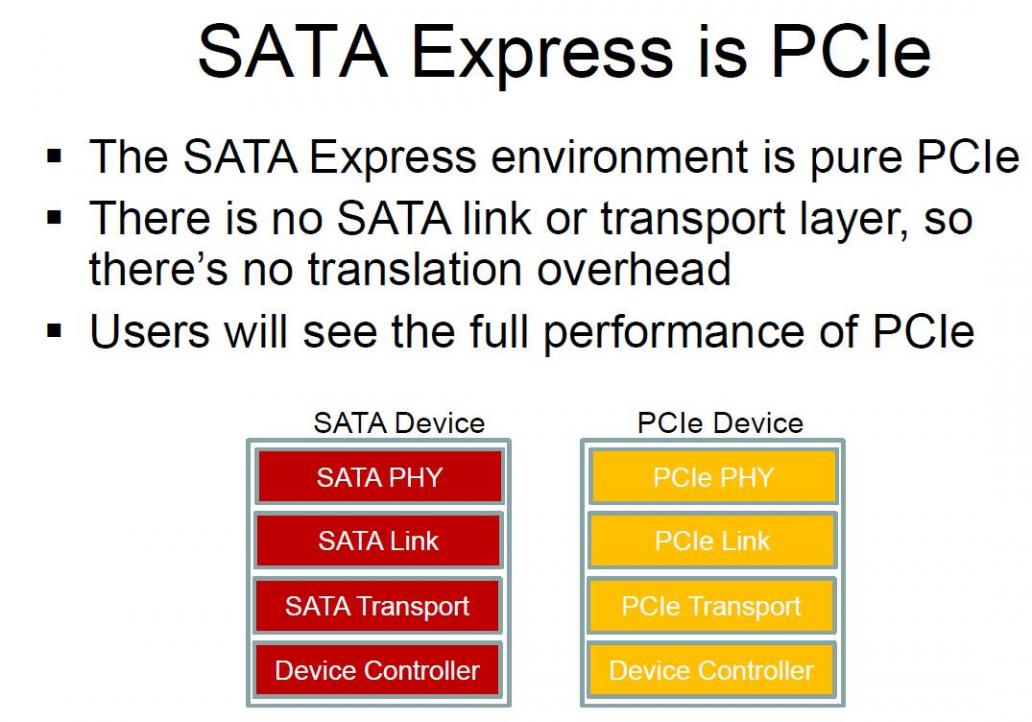 The other way to avoid obsolescence is the pervasion in new segments, and the PCI-SIG has been pretty active recently, as they have defined three new standard extensions:
M-PCIe: Mobile PCI Express will be used with MIPI M-PHY to interconnect IC in a mobile system, like media tablet or smartphone
SATAe: SATA Express will replace SATA to access data stored in HDD, the above picture coming from SATAI/O
NVMe: Non Volatile Memory Express will be used to access data stored in or Solid State Devices (SSD).
So, PCIe technology is here to stay, and the PCIe IP market has found new resources for growth. Now, we can say that the price paid for Cascade acquisition was a cleaver investment made by Synopsys… 8 years ago.
Eric Esteve from IPNEST
lang: en_US
Share this post via: