CES is the preeminent gadget show, and in the LVCC South Hall a wave has been building for some time. It's now the place where chipsets are introduced, and this year saw a wide range of introductions from Atmel, Bosch, Broadcom, Intel (OK, they're still in Central Hall), InvenSense, Marvell, NVIDIA, Qualcomm, Samsung, ST-Ericsson, Tensilica, TI, ViXS, and more.
That list of names has usual suspects and some newcomers innovating with unique IP for processing, transcoding, and sensing to meet the growing demands of a $1T consumer device market, which is quickly spilling into markets like automotive and healthcare. This isn't going unnoticed in the #SemiEDA community – Joe Hupcey III had some interesting comments in his Cadence blog, 2013 CES: Top 4 Trends Benefitting EDA that I wanted to expand on. First, comments on his four trends:
4K TV – the scale of booths from Samsung, Sony, LG, Panasonic, Vizio, and others was massive, and Joe correctly points out that while the TV itself is interesting, the entire content delivery chain needs to be updated to UltraHD. Some of this gear, like set-top boxes, will be high volume. Some of it will be extremely high bandwidth, purpose built head-end gear. All of it will require IP and high-speed verification.
Smart mobile – Sorry, not using Qualcomm's tag line, and this trend may last longer than the career of Maroon 5. There were too many introductions to detail in this post, but there are two subtrends which bode well for co-verification efforts. The first is more processing cores, like the Samsung Exynos 5 with four ARM Cortex-A15 and four Cortex-A7 complete with big.LITTLE handoff. The second is a bit less obvious approach in the NVIDIA Tegra 4, where they harness the 72 GPU cores for computational photography instead of just gaming or video display. Differentiation through interconnect, power management, and data flow should thrive.
Automotive – in a lot of ways, CES is turning into a mini-auto show. As I've mentioned elsewhere, those presumed dead TI OMAP processors are anything but, with the Jacinto 6 on the floor in automotive displays. NVIDIA and Qualcomm had cars in their booths, and there was hard-hitting presence from Audi, Chevy, Ford, Lexus and others in the North Hall. EDA vendors are waist-deep in technology like GENIVI and OPEN because of the explosive growth connected car tech, and the corresponding need for new IP and co-verification with software environments.
Standards-based IP – One of the main things I went to look for at CES was if there was any hope for consolidation among the myriad of short-range wireless standards. Two principles are in play: nearly every home has Wi-Fi, and every phone has Bluetooth. This doesn't bode well for the future of ANT+ or ZigBee. I'm not sure what Apple did to make integration with Bluetooth easier than it was in earlier releases, but the number of devices claiming iOS Bluetooth connection support is suddenly massive. On the wired side, everything is Ethernet, HDMI, and USB. Having robust, verified IP with software for these standards is essential to success now.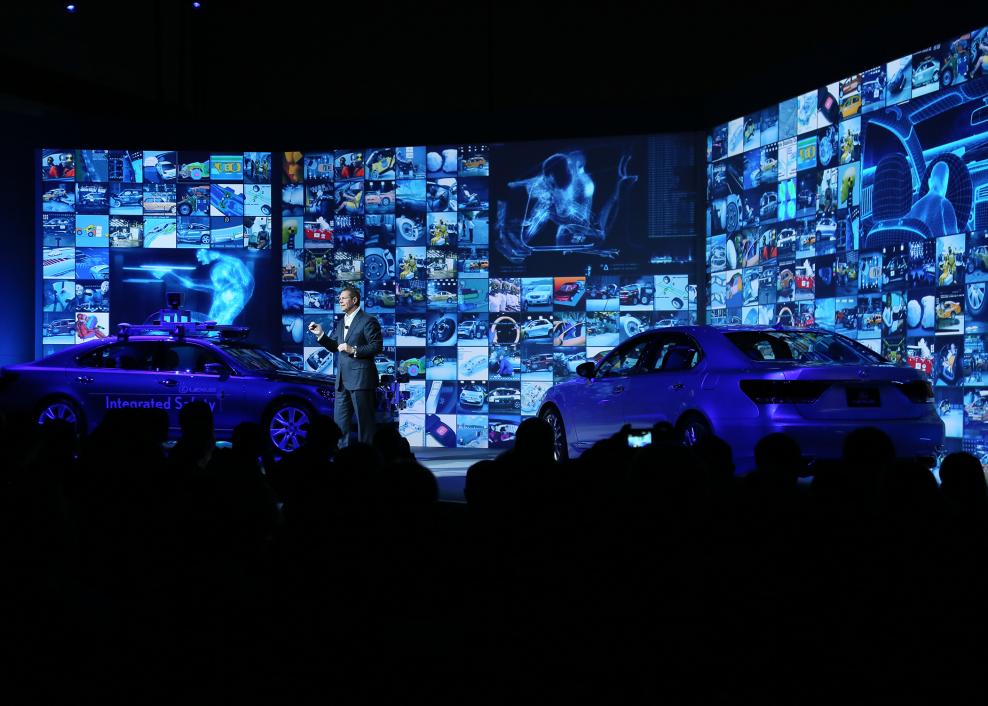 The other point to make to Joe's technology list is an ecosystem comment. Big smart mobile SoC and PC and server processor starts are dwindling – there will likely be fewer, bigger projects at a handful of vendors going forward. However, the list of mid-range SoCs – the "microcontroller on steroids", or application-specific platforms built by OEMs in house – is growing. This is being driven by concepts like sensor fusion, context awareness, and cloud connectivity with big data implications. This could be great news for EDA, since merchant vendors are responding and new companies that used to work at board-level are moving into more chip-level designs.
It's an exciting time for an industry that needs to diversify beyond PCs and smart phones, and the transition is well underway. What do you think of these trends, and are there others of importance for EDA vendors?
Join the CES 2013 discussion HERE, it's the next best thing to being there!

Share this post via: