I've been blogging about EDA and Semiconductor companies using social media to create new ways to talk and listen to engineers, so today I looked at Aldec and how they are using social media. Aldec offers EDA products for: FPGA Simulation, functional verification, emulation, and MIL/Aero verification. Their Home page has six icons with links for social media down in the footer section.




Their social media links open in the same browser window, instead of opening in a new window. I prefer to have links like this open a new window so that my spot at www.aldec.com isn't changed.
LinkedIn
There are 574 followers on the company page and under Recent Updates you'll find something new every few days or so.

The Products page lists 7 total products with a brief intro to each one.
Google+
This one is relatively new for Aldec with only 26 people adding Aldec to their Circles and 72 people giving a plus to their page. Most of the same content here as on LinkedIn, a new post every few days or so.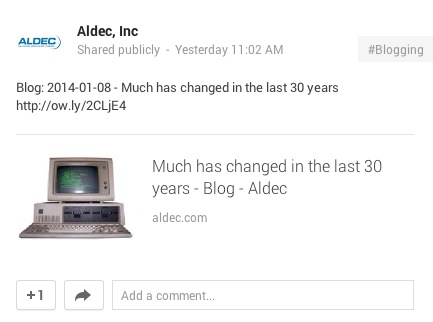 You'll find a handful of Photosbut no Videos posted yet. They probably focus more for Videos by using YouTube instead.
RSS
For geeks like me I add the RSSfeed to my Feedly account, so that I get instant notification of something new like a blog article.

I see new articles at least once per week.
Twitter
If brevity is your thing, then check out the Twitter page with 472 followers. I also admire that Aldec is following 535 people, which means that they care enough to follow and learn what others are tweeting about.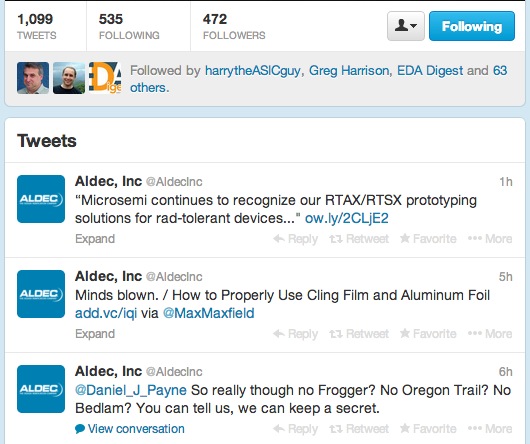 I got into a conversation this morning with Aldec about my first personal computer in 1979, the TRS-80 Model I. My comment started a conversation within just a few minutes, so expect to chat with a real person.
Facebook
With 247 likes this Facebook page has similar content to LinkedIn and the RSS feed.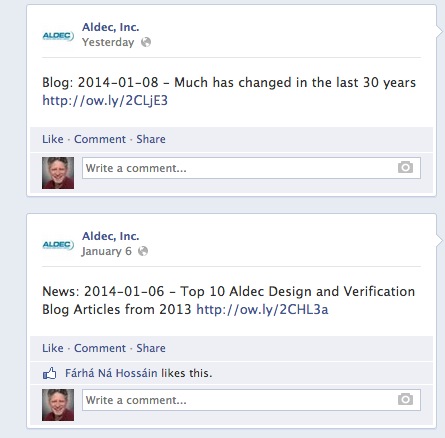 There's a tab for Rewards & Giveaways, however the contest to win a Kindle Fire HD has already ended.
YouTube
166 people have subscribed to the Aldec YouTube channel where you can watch 33 videos so far.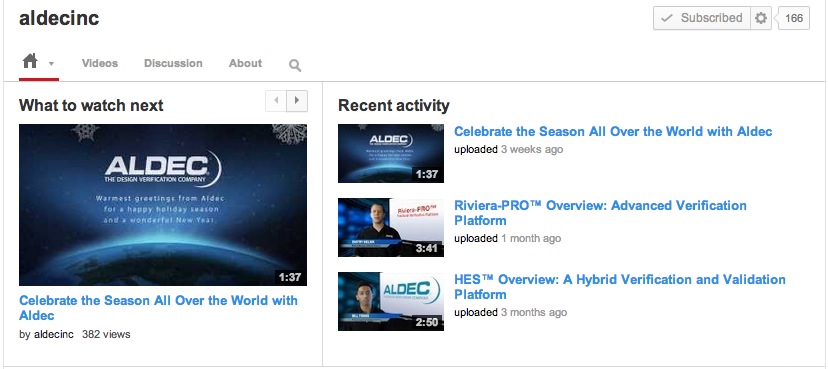 Most of the videos run less than 4 minutes long, and the top three most popular videos are:
Compilation and Simulation in Active-HDL
Block Diagram Editor in Active-HDL
Top 10 Blogs for 2013
To get a feel for what's most popular over the past year, there's a top 10 blog list:

Wait….Did you say HDL Editor?Productivity Boosting Features

Aldec and Xilinx, Partnered for SuccessHW/SW Emulation and Functional Verification of Xilinx FPGA
s

It's no accident that Aldec offers the best VHDL-2008 supportTools, Resources and Training for VHDL Users



DO-254: Insights from a DERAn Interview with FAA Consultant DER, Randall Fulton



Riviera-PRO Enables Class Hierarchy VisualizationFor UVM-Based Verification Environments



Legacy Schematic Designs Giving you a Headache? Retargeting Legacy Designs for New Technology



Verilog-AMS & Multi-Level SimulationAldec and Tanner EDA Bridge Digital and Analog Design Flows



HW Designers: Brush up on your SV with Online TrainingFast Track to SystemVerilog for Verilog Users



Following the Roadmap to Successful TraceabilityMission Possible for DO-254 Compliance

Working Smarter not Harder To Accelerate DSP Design Development
There are several bloggers to read:
Dr. Stanley M. Hyduke, Aldec Founder/CEO
Satyam Jani, Product Manager Software Division
Bill Jason P. Tomas, Product Engineer, Hardware Division
Dmitry Melnik, Product Manager Software Division
Louie De Luna, Aldec DO-254 Program Manager
plus guest bloggers

SemiWiki
We've been blogging about Aldec since April 2012.
Summary
The most popular social media sites for Aldec so far are:
[LIST=1]
LinkedIn
Twitter
Facebook
YouTube
Google+

No matter which channel you prefer, just know that the info is fresh and you can hold a conversation with a real person.

lang: en_US

Share this post via: