Last month India Electronics & Semiconductor Association (IESA) held its Vision Summit at Bangalore in which luminaries from across the semiconductor and electronics industry presented their views about the future of this industry and India's progress. Dr. Walden C. Rhines, Chairman and CEO of Mentor Graphicspresented interesting facts and trends about the semiconductor industry in his keynote speech. Dr. Rhines, a great technologist, strategist and visionary, I admire, particularly talked about what makes India best suited to embrace the fabless opportunity in the overall semiconductor ecosystem. I'm moved by his insight into Indian semiconductor business dynamics, strengths, weaknesses and how he rightfully cites a sustainable opportunity for India to focus upon. So what are the trends? Which segment is gaining traction?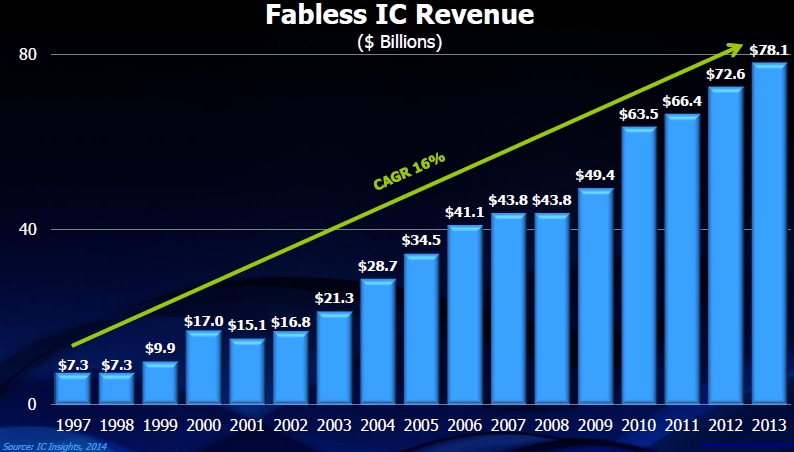 If we look at the semiconductor market, fabless semiconductor design segment is showing the highest growth rate (16% CAGR), 29% of total IC revenue at $78B in 2013. Among top 50 semiconductor companies, 13 are fabless, that includes Qualcomm, Broadcom, AMD and Nvidia at 4[SUP]th[/SUP], 11[SUP]th[/SUP], 13[SUP]th[/SUP] and 16[SUP]th[/SUP] rank respectively. Another interesting fact is that the fabless revenue is highly concentrated with the topmost company garnering 19% and top 5 companies
together making 48% of total fabless revenue.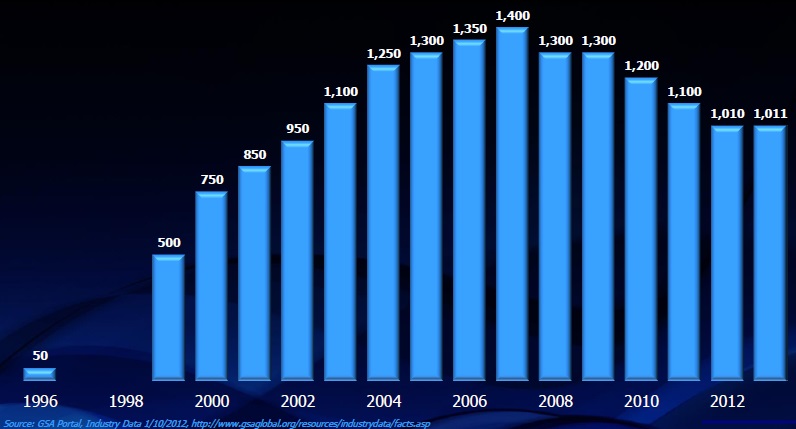 Look at the rise of fabless semiconductor companies with start of the new millennium until 2008 and then moderation. As of today, according to GSA estimate, out of a total of 1284 semiconductor companies 1011 are fabless.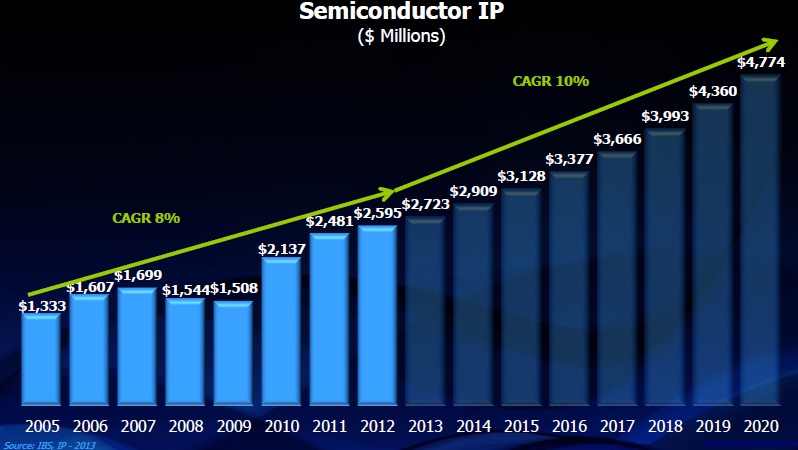 Semiconductor IP (SIP) business is another segment that is seeing consistent growth. Again in this market, revenue is highly concentrated with single topmost company (ARM) taking away the lion's share at 34% and top 5 companies together (ARM, Synopsys, Rambus, Tessera and Imagination) making 73% of the total SIP revenue.Dr. Rhines also talks about rising tape-outs at leading edge technology nodes (28nm and below), however still there is a large opportunity at older technologies (65nm and above) with 43% of IC production. IoT (Internet of Things) was cited to be the catalyst for yet another transformation of semiconductor industry. While that takes time, it's ripe opportunity for India to raise its stake in fabless design and SIP business where it is showing strength. While new fabless start-ups are declining in the west they are growing in India.


Let's look at where India stands in the Fabless Universe. India is among the top 5 semiconductor design locations across the world with 18 of the top 20 U.S. semiconductor companies and 20 European companies having their R&D centers in India. Considering overall semiconductor & electronics, 1031 MNCs have their R&D centers in India. Look at the right side pie chart, a considerable 5.3% of SIP companies are headquartered in India. All this data shows that there is good potential for India to grow in fabless semiconductor business. Dr. Rhines cites an example of Qualcomm on how it started with R&D services and became a fabless powerhouse revolutionizing the wireless communications industry.It was interesting to note from Dr. Rhines slides about the statistics on how the top talent in India is churned through IIT (Indian Institute of Technology) JEE (Joint Entrance Examination). While that is definitely a benchmark in India, I would like to add, there are some other excellent and effective regional engineering colleges in India; there are examples of professionals from some of these colleges who have set examples on the world map.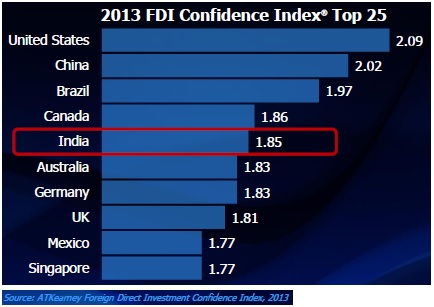 Dr. Rhines goes further citing the young and creative workforce with rising experience levels that makes rapid economic gains for India. It's among top 5 destinations for foreign investments. In 2012, India had $25.5B of FDI (Foreign Direct Investment).There were nice examples of business model innovations. He cited examples of foreign "flagged" Indian companies, e.g. Beceem Communications, Redpine Signals and HelloSoft which have their headquarters in U.S. and design centers in India with the teams working with system architects over virtual networks.


Dr. Rhines then talks about "out-of-the-box" architectural innovations and how Mentor's Veloce2 was developed with collaboration between U.S. and India teams. Its virtual stimulus concept and test bench acceleration were conceived and developed in India. This is a nice example of users and tool developers collaborating in close proximity.The complete set of the keynote slides is posted on IESA website here. My personal opinion as a concluding remark is that India must avail this opportunity in fabless world. It's okay to have a fab, but if there is still close to 45% of IC production in 65nm and above, it may be beneficial to remain fabless because, in my opinion (I may be proved wrong) older fabs can slash fees much faster than gain in ROI on new fab. Of course, one needs to keep advancing towards leading edge technologies.
More Articles by Pawan Fangaria…..
lang: en_US
Share this post via: