There's an old maxim that you can only improve what you measure, so quality experts have been talking about this concept for decades and our semiconductor industry has been the recipient of such practices to such an extent that we can now buy consumer products that include chips with over 5 billion transistors in them. You've probably heard that semiconductor IP vendors can offer you an incredible array of choices: Standard Cells, Memory, Processors, Interconnect, Serial IO, PLL, radios, FPGA, converters, and the list goes on. Lesser known are the specialty IP vendors that have deep analog expertise, and one of them is Moortec Semiconductor. Developers at Moortec have specialists that created three classes of in-chip monitoring blocks for:
Process Monitoring
Voltage Monitoring
Temperature Sensing
Consider the challenge of reaching timing closure on your SoC where two regions of the same chip have different junction temperatures, VDD supply levels and even process corners: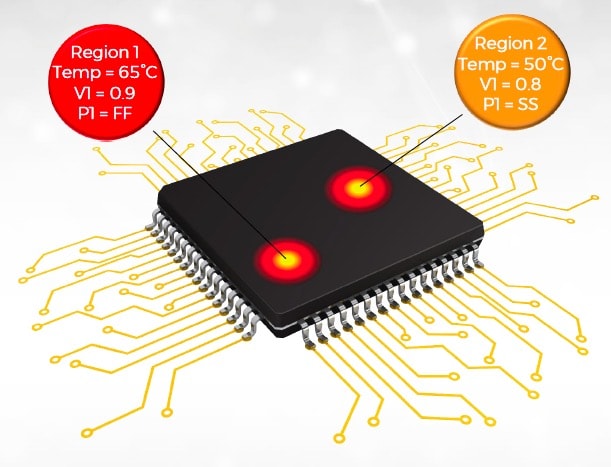 If your design used in-chip monitoring of Temperature and Process, then you could measure the effects and make system-level decisions to mitigate the effects, per design. Let's peek a bit deeper into the specific IP that Moortec offers to monitor Process, Voltage and Temperature: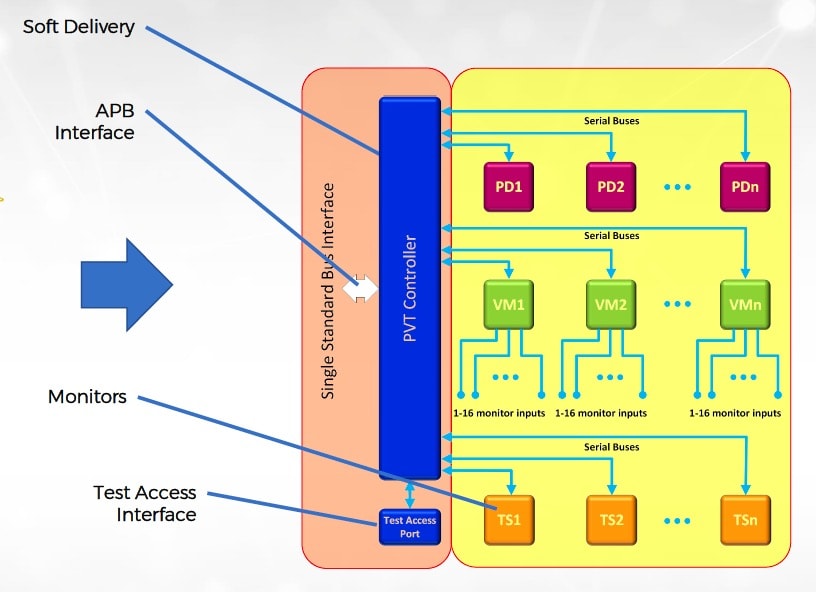 Your chip typically will include multiple sensors at strategic locations in order to measure and control for greatest impact.
Temperature Sensors
The temperature sensor has some impressive specifications that help you know what the junction temperature is across a chip and then take steps to control it:
Accuracy of +/- 3C without calibration, +/- 1C when calibrated
Resolution of 0.06C
An analog test bus for characterization and debug
Interface with APB or an I2C
Self-checking
Different modes for faster sampling: 12-bit, 10-bit or 8-bit
Voltage Monitors
These monitors provide voltage insight for IR drop, core supply, IO supply, and AVS (Adaptive Voltage Scaling). A voltage monitor finds supply events, perturbations and transients. Specifications are:
+/- 1% or +/- 0.6% accuracy
+/- 1mV accuracy on IR drop analysis
Up to 9 channels for 28nm nodes
Up to 16 channels for FinFET nodes
Process Monitors
Local variation across an SoC means that there can me multiple process corners present, per die, so being able to measure the process corner is an essential step. The basic circuit for a process monitor is the ring oscillator, so each process monitor contains multiple delay chains to determine which process corner is dominant. The four application areas for a process monitor include:
Speed binning during characterization
Age monitoring
Critical voltage and timing analysis
AVS
PVT Controller
The blue area shown above is the PVT Controller and your chip only needs one controller which is then connected to multiple PVT instances. Consulting with Moortec you can best understand how many of each instance your specific chip should have, and where to place these IP cells.

Specifications for the PVT Controller are:
Control multiple instances of the Process, Voltage and Temperature monitors across the chip
Temperature & Voltage alarms
Analytics – max, min, sample values
iJTAG access support
The PVT Controller along with monitors enables your engineers to implement:
DVFS (Dynamic Voltage Frequency Scaling)
Clock speed optimization
Power optimization
Silicon characterization
Improve reliability and device lifetime
Foundry Support
The Moortec Embedded In-Chip monitoring Subsystem is available on various foundries and supports advanced node CMOS technologies on 40nm, 28nm, 16nm, 12nm & 7nm.
Contacts
The team at Moortec has built up world-wide distribution partners, showing just how successful their in-chip monitoring IP has become:
UK (Moortec)
UK, Europe (AQT)
Europe (Sythra)
USA (Mark Davitt, Manzanita Semiconductor)
Israel (Amos Technologies Ltd.)
China (OnePass)
Taiwan (Kaviaz)
South Korea (Chipinside)
Japan (Spinnaker Systems)
Russia (Nautech)
Related Blogs
Share this post via: