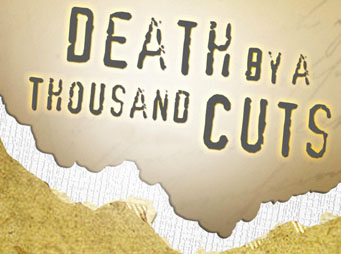 AMAT reported a more or less in line quarter with revenues of $3.75B and Non-GAAP EPS of $0.81 versus street expectation of $0.79 and revenues of $3.71B. Guidance came in well below the street with revenues expected between $3.33B to $3.63B and Non-GAAP EPS from $0.62 to $0.70 versus expectations of $3.66B and $0.77. The company expects memory spend to be significantly lower in 2019 versus 2018 as the industry remains oversupplied.
To make matters worse, the display business will weaken in the second half of the year as TV build outs get pushed into 2020. Display will be down about a third.
WFE spending will be down "significantly". We think the industry is down close to 20% from low $50'sB to low $40's B.
The company talked about "taking steps" which is obvious code for cutting costs and people in the near term. With think this is indicative of the longer term nature of the downturn as the company wouldn't be taking such measures if this were only a couple of quarters.
Doesn't sound like a recovery any time in 2019
Given the combination of not "calling a bottom" plus reduced memory spend throughout the year and on top of that a weakening display sector in the second half, we would be very, very hard pressed to come up with a H2 recovery scenario that many analysts are pushing based on nothing more than wishes and hope. The company remains cautious and offered no evidence that would support any time of positive move in H2.
Dead cat bounce done?
Lam also had a relatively poor outlook yet the stock rallied on "it could have been worse" relief rally. We think the relief rally that has gone on since Lam reported may sputter as investors wake up to the reality that 2019 is a pretty bad, down year for semi equipment. There is only so much deviation from reality that the stock market will support before the "ugly truth" comes back to haunt stock prices.
No positive words on the call
The company was careful to set low expectations, saying that the recovery, when it happens, will be "shallow & gradual" or "slow & gradual". The company used no words or guidance that would support an H2 recovery that bullish analysts have been pushing.
Death of a thousand cuts?
One of our concerns is that even with greatly reduced and controlled expectations, what happens if we continue to reset numbers downward on each earnings call. We could see a scenario where lacking a bottom we continue to cut numbers until one quarter, some unknown time in the future, things get better.
The Stocks
Given the surge in all the stocks since the Lam call, we see no reason to put new money in the names as the outlook is worse than it was a quarter ago, yet the stocks are higher. We still have no bottom. We would look to take money off the table for the short term gains over the past month as investors may let the stocks drift downward until Q1 is reported.
The recent upswing also puts the stocks outside of what we would consider the "cheap range". We remain concerned that even though there eventually will be a recover, the timing is unknown and risks remain of further downside. China remains a significant risk and we don't expect a clean resolution any time soon given recent reports.
About Semiconductor Advisors LLC
Semiconductor Advisors is an RIA (a Registered Investment Advisor),
specializing in technology companies with particular emphasis on semiconductor and semiconductor equipment companies. We have been covering the space longer and been involved with more transactions than any other financial professional in the space. We provide research, consulting and advisory services on strategic and financial matters to both industry participants as well as investors. We offer expert, intelligent, balanced research and advice. Our opinions are very direct and honest and offer an unbiased view as compared to other sources.
Share this post via: