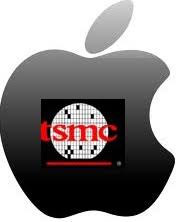 TSMC reported an in line quarter, as expected and also reported down Q1 guidance, also as expected. The only thing some investors may have been caught off guard about is the magnitude of the expected drop, 14%, from $9.4B to $7.35B. This is the largest quarter over quarter drop for TSMC in a very long time. Importantly for TSMC, 7NM was 23% of business, so leading edge remains very solid and 20NM and below was half of all business.
CAPEX is being cut, as we had projected, by several hundred million dollars, probably at least 5% and the cuts may get deeper as time goes along. We expect most of the cuts to be in H1 2019 with H2 2019 left open to see how business recovers.
We have been very clear about the CAPEX cuts and "trickle down" impact from Apple. We were interviewed on Bloomberg TV 10 days ago regarding Apple and had specifically called out TSMC as the most impacted and the overall capex cuts;
Link to Bloomberg TV interview on Apple, TSMC & CAPEX
For any one who was paying attention over the last year this slow down should come as no surprise. We don't expect a large downtick in the stocks as the news should be well expected. It is, none the less, another slug of bad news, in what we expect to be an earnings season of a flow of negative news bites. We think it will be hard to escape the negative flow and likely further downward number revisions.
To be clear we still love TSMC and think they are the greatest foundry ever and right now, the most advanced chip maker. However if demand sucks theres not a lot you can do about it, no matter how good you are. Apple is 20% of TSMC's business and chips for mobile are obviously well beyond that so the impact on TSMC will be significant and it will take a while to work out.
Channel Chokes
The other large problem to keep our eye on is how bloated the channel is given the smart phone slowdown. Our checks indicate there is a lot of unsold product in the pipeline that will take time to work out. A lot of the inventory is likely held as unpackaged wafers, held at lower unfinished goods pricing but represents a lot of chips when they get packaged. This hidden inventory is likely high and will take several quarters or more to work off and even longer while demand is depressed so we wouldn't be holding our breath for a quick bounce back.
Chip equipment companies are likely to be even more negative given that one of their largest and clearly most advanced customers has put the brakes on. While bleeding edge business is likely the least impacted we could still see projects and shipments delayed and pushed out from one quarter into the next as TSMC modulates spending to support their profitability. One thing the industry has become good as is quick adjustments to near term trends and they can put the brakes on quickly. This is one of the supporting reasons for our concern about another down leg for the industry.
AMAT most negatively impacted
If Lam is the house that memory built then AMAT is the house that foundry built. AMAT has had a long and deep partnership with TSMC as their main supplier. To a lesser extent, KLAC and ASML could see some further weakness out of TSMC.
Consumable companies not so defensive as believed
The common wisdom is that consumable companies such as ENTG, CCMP and others who are wafer start driven are more of a "Steady Eddy" type of business , compared to capital equipment providers, except when wafer starts experience the sharpest drop in over ten years as is the case here. Its clear that even the consumable suppliers will get hit as wafer starts slow and inventory of built wafers gets worked off.
The stocks
We don't expect that much of a negative reaction as much of the negative news has already been baked in a while ago. In addition the stocks seem to be building up a downside resistance to all the negative news. We could see individual stocks sell off as they adjust their numbers downward on their respective conference calls as the trickle down continues.
Share this post via: