DAC 2019 will take place in Las Vegas (June 2-6) this year before moving back to San Francisco in 2020 and for the next 5 years. Considering the various rumors about merging the conference, or even the end of DAC, this is a very good news! Not only for Design Automation, but, as we will see, for the IP industry.
In fact, if we look at the exhibitor list for the last DAC, we realize that the number of EDA start-up has declined. This is not a scoop, as this decline has started a while ago, reflecting the fact that the EDA industry is mature and consolidated. The good news is that IP start-up are now replacing EDA start-up as exhibitors, and the exhibition floors are still very busy, but populated by IP companies…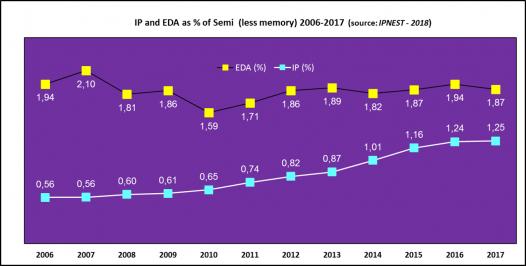 IPnest has made some research about the IP and EDA market evolution in respect with the semiconductor market, from 2006 to 2017. To be noticed, the above graphic (source: IPnest) show IP and EDA value as a percentage of the total semiconductormarket, but less memory. Why removing the memory (DRAM and Flash) market? Just because this market is non-only cyclical but also completely hectic!
The main observation is that the EDA market is almost a constant value, 1.87% in average for the last 10 years, when the IP market is growing, year after year. Obviously, the semiconductor market (less memory) is constantly growing, and EDA is growing as well.
But IP is a growing function of a growing market. In other words, the IP market is growing more than the EDA market. According with IPnest predictions, this will be true for the next 10 years or so, the time it takes for IP externalization to reach an asymptote, like the EDA market did in 2000. IPnest has calculated that the IP Market CAGR 2007-2027 will be 10,4%…
If you translate this data into an industry behavior, there is still room for enough IP market growth to justify the emergence of enough start-up to populate DAC exhibition floors for many years!
Coming back to Las Vegas in June 2019, we -the DAC IP Committee- are in the process of finalizing the various sessions dedicated to IP, invited presentation or panels, like below listed (not exhaustive and preliminary):
AI for Automotive
AI for Datacenter (in the cloud)
Low power AI (for IoT/Edge?)
Low power in advanced nodes
High speed serial data (56/112G, PAM4)
RISC V
Security IP
Functional Safety IP
Verification IP
Foundry Platform IP (Panel)
High performance memory interfaces
As you can see, AI came in first, not really a surprise, and IoT has almost vanished compared with the same list a couple of years ago. As far as I am concerned, I am not surprised by the fact that IoT doesn't generate as mush interest as in 2015 or 2016. IoT is not really one market, but rather a collection of multiple markets (industrial, medical, smart home/city, etc.). Maybe some analysts have dreamed about IoT, thinking that it will be as large as wireless phone… but not IPnest.
There will be fast growing markets in 2020-2030, like automotive or data center, that's why we can see "AI for automotive" and "AI for data center". AI is a technique, not a market, and this technique will be applied to the most demanding market in term of processing power, automotive and data center, as well as in multiple smaller markets, in my opinion…
I expect this 56[SUP]th[/SUP] DAC to be a great event, even more exciting than the 55[SUP]th[/SUP] DAC, at least for people like me working in the IP business. I expect to see many good presentations or panels focusing on IP related topics, and I can tell you that the DAC IP Committee is working hard to select attractive topics, mostly targeting emerging IP or techniques. We are doing our best to make you happy next June!
See you in Las Vegas (and don't worry "What happens in Vegas stays in Vegas"!)
From Eric Esteve from IPNEST
About DAC
The Design Automation Conference (DAC) is recognized as the premier event for the design of electronic circuits and systems, and for electronic design automation (EDA) and silicon solutions. A diverse worldwide community representing more than 1,000 organizations attends each year, represented by system designers and architects, logic and circuit designers, validation engineers, CAD managers, senior managers and executives to researchers and academicians from leading universities. Close to 60 technical sessions selected by a committee of electronic design experts offer information on recent developments and trends, management practices and new products, methodologies and technologies. A highlight of DAC is its exhibition and suite area with approximately 200 of the leading and emerging EDA, silicon, intellectual property (IP) and design services providers. The conference is sponsored by the Association for Computing Machinery (ACM), and the Institute of Electrical and Electronics Engineers (IEEE), and is supported by ACM's Special Interest Group on Design Automation (ACM SIGDA) and IEEE's Council on Electronic Design Automation (CEDA).
Share this post via: