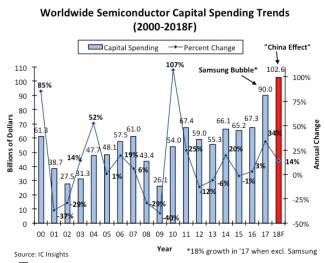 For those who have been paying any attention to the semiconductor industry its no surprise that memory demand and therefore pricing is down from its peak earlier in the year. Its not getting better any time fast.
After several strong years of demand and pricing, which was followed by enormous CAPEX spending we are seeing the standard reverse pattern of the cycle as we are headed back down to low pricing and low demand coupled with low capex. There still may be a few investors, inexperienced analysts and company management who still cling to "its no longer cyclical", "its different this time" and "Santa Claus and the Easter Bunny are real…".
Micron reported both EPS and revenue more or less in line with expectations with Revenues slightly low at $7.91B versus expected $8B and EPS slightly ahead of the expected $2.95 coming in at $2.97.
The big issue that caused the stock to drop after hours was guidance of $5.7B to $6.3B versus expectation of $7.3B. EPS is projected to be $1.75 +- $0.10 versus expected $2.44.
When memory slows down it goes off a cliff without skid marks……
We are somewhat surprised that other analysts did not cut their estimates in front of the quarter as it was obvious that things have been deteriorating for a long time. It was not rational to expect revenues to hold up given a double whammy of lower demand and lower pricing.
Capex was cut by about 12% at roughly $1.25B down. Bit growth in both NAND and DRAM sounds like the low teens in 2019. The company is cutting supply growth to match the reduced bit growth.
The one thing that is different this time is that Micron's financial and cash position is much better and stronger to weather this downturn. The company spoke a lot about managing costs. Buybacks will help support the stock.
The company views this as an "air pocket" that will be short lived, perhaps the first half of 2019 given the underlying strong demand but we would be more cautious about all of 2019 rather than just the first half.
More impact on semi equipment companies
We think that the more negative impact that investors should focus on are the semi equipment companies. Though they may try to downplay the capex cuts as only $1.25B, the reality is that it is obviously much more widespread across the industry than just Micron.
Samsung capex memory spend down 75%??
We have mentioned previously that we have heard discussion of Samsung cutting its memory capex by as much as 75%. Given how much Samsung increased capex over the past couple of years, that level of cut would get them back to a more normal prior level. So the real concern is not Micron's capex cut as Micron never went crazy but rather Samsung's cut as Samsung was spending at way crazy, unsustainable levels.
Capex cuts will not be even- LRCX and AMAT suffer more
Micron made it clear on the call that they will keep up technology spending and slow capacity spending. The simple translation is spending on KLAC and ASML equipment and slowing dep and etch from Lam and Applied Materials. This does not mean EUV as memory uses standard DUV scanners but rather focus on going from 1X to 1Y then 1Z which requires yield management and lithography. Micron said its technology progress and costs were ahead of schedule.
Memory peaked at 84% of Lams business and we won't see those levels again for quite a while
Micron, the stock, is still very cheap
The new estimate of $1.75 is an annual run rate of $7 which suggests the company is trading at roughly a bit over 4 times forward EPS, which is cheap by any standard.
The obvious question is what EPS will really trough at? If we trough at $1 a share per quarter , then we are currently trading at 8 times trough earnings. The next question is could we get below that? Whats the worst case scenario?
Given our guess that weakness lasts at least two quarters and perhaps more, we think $1 a quarter is likely a trough EPS.
Micron has a much better financial position in the current cycle than previous cycles with over $3B in net cash and an ongoing buy back program.
$30 feels like a pretty solid bottom in the near term for the shares of Micron. If the stock were below that we would be more aggressive buyers.
Much as we have seen recently, the after hours knee jerk reaction can sometimes reverse in the following trading day (as we had experienced with AMAT) so we don't think the stock will be down as much as it was after hours.
Equipment stocks
Equipment stocks had a slight recovery only to retest lower levels. We think the Micron news is more negative for equipment companies than perhaps for Micron itself.
Lam remains the poster child or most direct victim of memory issues. We think the equipment companies could see more downside or limited upside as the real prospects of slashed Samsung spending come into view. Its quite clear that Samsungs spending in memory will be down, the only question is how much…..and we think that number is underestimated.
Quarterly outlook into 2019
Q1 is always the weakest quarter for the chip industry. With Chinese new year and a post partum depression after the holidays, memory pricing has historically been at its weakest.
Q2 may be a little better than Q1 but we see no reason for a bounce back.
Q3 2019 seems the earliest we could see any kind of recovery in demand and/or pricing of memory components.
The stocks may bounce along the bottom here for a while as we are in waiting mode.
With the addition of the China sword dangling above our head, upward movement in the near term is going to be very difficult at best.
This years new song….
Sung to the melody of "Baby Its Cold Outside"
Memory chips really can't stay (Baby it's cold outside)
NAND & DRAM prices have gone away (Baby it's cold outside)
This long cycle has been (Been hoping that you'd dropped in)
So very nice (I'll hold your hands they're just like ice)
Investors will start to worry (Beautiful what's your hurry?)
Stock prices haven't found the floor (Listen to the fireplace roar)
So to cash I'd better scurry (Beautiful please don't hurry)
Well maybe just a half a drink more (I'll put some records on while I pour)
Share this post via: