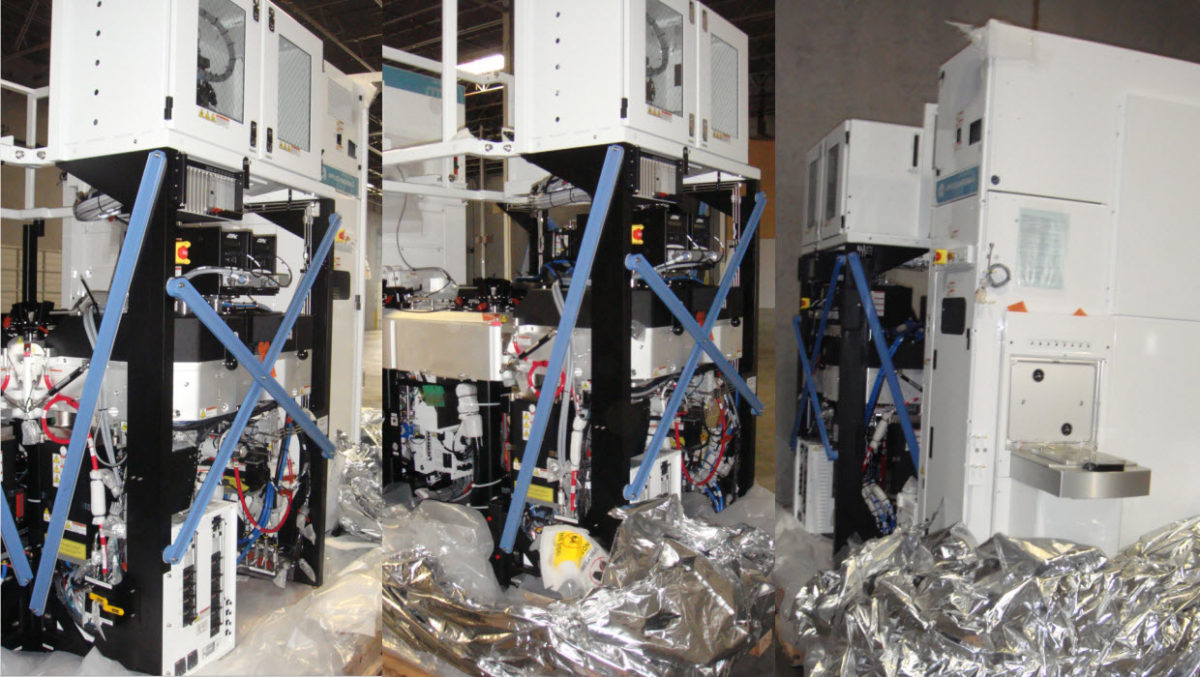 -Strength in trailing tools offsets weak memory resulting in flat
-Order book very volatile but backlog surprisingly still grew
-Trailing edge VS Leading edge = 50/50 – Foundry/logic over 2/3
-Not nearly as bad as Lam but not as good as ASML
AMAT posts good quarter & guide – Flat for three quarters
Applied Materials reported revenue of $6.74B and EPS of $2.03, more or less flat with last quarter, versus street of $6.23 and $1.93. Guidance is for $6.4B +-$400M and EPS of $1.84 +-$0.18 versus current street estimates of $5.86B and $ 1.75 in EPS.
At this point in the industry turbulence, being flattish or slightly down is good performance. We would not complain.
Trailing edge to the rescue
The product mix between leading and trailing edge was roughly 50/50 as continued strength in trailing edge offset what is clearly a very sharp drop in memory as evidenced by Lam Research.
Applied has done a good job of predicting the need for trailing edge tools as it had previously created the ICAPS group to focus on non leading edge. They noted particular strength in implant as we have seen with Axcelis. We would be slightly concerned that Applied may make more headway in trailing edge implant which Axcelis has done very well with as they had less competition than the leading edge. With Applied's renewed focus we could see the competition heat up and Axcelis share may be vulnerable.
In a perverse way, China sales in the trailing edge are somewhat safe from government embargoes. Though we are a little bit curious about how much is truly leading edge as Applied had previously talked about reclassifying some sales to China to to trailing edge to escape the embargo.
Backlog grew overall- fueled by trailing edge
The backlog was clearly very volatile, as we had suggested, with a lot of puts and takes. Takes from memory, replaced by puts in trailing edge. Whereas some others may live off of and reduce their backlog using it as a buffer during rainy season, Applied will also eventually reduce backlog by catching up to customer demand and re-orienting to trailing products. We would expect that there is likely a lot of disturbance in Applied supply chain given the large shift from leading edge to trailing edge.
No handle on recovery timing
As we have heard with others, management was not willing to be specific about any recovery timing other than a vague thought about DRAM improving in the later part of the year.
The memory market is still clearly in a downward trend which doesn't seem to be slowing much. We are still stuck with excess inventory and production creating a poor pricing environment which is the worst we have seen in a very long time.
Management also said that foundry/logic is also weak but clearly not nearly as much as memory. It kind of feels to us like memory could easily be down 40% or so while foundry logic may be down closer to 10% overall. Foundry/logic was over 2/3 of Applied business which is a good mix to have when memory is off as much as it is now.
Patterning product at SPIE
The company mentioned several times a patterning product announcement at the upcoming SPIE show that we will be attending at the end of this month in San Jose. Our guess is that its a new reticle inspection tool to try to resuscitate their flagging sales in this area. Both Applied and KLA have been hurt by Lasertec in reticle inspection and Applied has lost a number of customers in the space.
MKS a $250M hit to Applied
Management pointed out that the data breach impact at MKS on Applied may be as high as $250 which will be made up over time. Probably not very meaningful to Applied but obviously a black eye on an otherwise well run MKS.
We would imagine that all tool makers are probably going to look for stricter controls on their major critical suppliers
The stocks
While Applied was weak during the daily session, it was up about 1% in the aftermarket as the news of flatness was received as better than the down experiences of others.
Obviously 2023 will be a down year overall for the industry but less so for Applied and that's not bad. It doesn't want to make us go out and buy the stock but it may limit potential future downside.
The overall semiconductor rally has run out a bit of steam as reality of earnings has set in. As Applied reports a month behind others there may not be a lot of appetite left to go out and buy a semiconductor stock right now given overall sentiment.
Clearly ASML remains the best performer of the group with Applied and KLA somewhat in the middle with Lam , the memory poster child, as the laggard for obvious reasons.
We don't expect any relief on the China embargo and the CHIPS act is very slow to start even though everyone has announced projects there are many years between project announcements and actual spend.
So we don't see any factors to rescue 2023 from being negative. The bigger question not yet in focus is what 2024 will look like and so far we have no clue nor are any companies guessing.
About Semiconductor Advisors LLC
Semiconductor Advisors is an RIA (a Registered Investment Advisor),
specializing in technology companies with particular emphasis on semiconductor and semiconductor equipment companies. We have been covering the space longer and been involved with more transactions than any other financial professional in the space. We provide research, consulting and advisory services on strategic and financial matters to both industry participants as well as investors. We offer expert, intelligent, balanced research and advice. Our opinions are very direct and honest and offer an unbiased view as compared to other sources.
Also Read:
KLAC- Weak Guide-2023 will "drift down"-Not just memory weak, China & logic too
Hynix historic loss confirms memory meltdown-getting worse – AMD a bright spot
Samsung- full capex speed ahead, damn the downturn- Has Micron in its crosshairs
Share this post via: