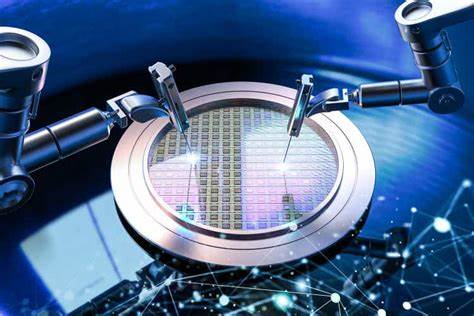 -Business will "drift down" over the course of 2023
-Not just memory is weak- China issue, foundry/logic slowing
-March guide worse than expected (Like Lam)
-Backlog likely saw push outs & cancelations but still long
Good quarter but weak guide
Much as we saw with Lam, KLA reported a beat on the December quarter but a weaker than expected guide on the March quarter as the industry is falling faster than most believe. Revenue came in at $3B with EPS of $7.38 versus street of$2.82 and EPS of $7.10. Guidance was for revenues of $2.35B +-$150M and EPS of $5.22+-$0.70 versus street of $2.55B and $5.89, similar to the miss in guide that Lam also reported
2023 will be H1 weighted
Management said that business would likely drift down through the year. Sounds like projects may have been pushed out and backlog will get reduced as we go through the year .
It obviously takes some time for the high rate of spend to slow.
Backlog still high but will drop
Management said that 45-50% of backlog was over 12 months in length. How stable the backlog is may be open to question as we will see pushes and pulls with more pushes than pulls as schedules get adjusted. While KLA's backlog is second only to ASML they are more vulnerable to push outs and delays or cancellations of quicker turn products.
Its not just memory issues but China and foundry/logic as well
China business looks to be close to cut in half from levels prior to the embargo. While Lam may be the poster child for weak memory, KLA may be more impacted by the China embargo. The weak quarter out of Intel reminds us that foundry/logic is also weak though perhaps not down as sharply as memory or China. This "triple whammy" of memory, China & foundry/logic is obviously impacting all semi equipment makers with different segments impacting each participant differently
Length and depth of down cycle a great unknown
Management did not want to comment on the length or depth of the downturn other than to say that KLA should do better than most of their peers (with the obvious exception of ASML)
As we have said a while ago, we think 2023 is looking a lot like a write off with no real recovery until 2024 at the earliest. While KLA tends to have strong backlog, it could run out if the downturn lasts too long and then results will be a bit less predictable.
Welcome to reality
We think many investors do not believe the industry is in as bad a downturn as actually exists. Many ignored the dire guidance from Lam coupled with the very serious actions taken by the company to reduce costs which obviously wouldn't have been taken unless there was a concern of a prolonged downturn.
While we didn't hear specifically about layoffs from KLA, we are sure that they are selectively cutting expenses as they said they would "stabilize" spending which means reduce. This sounds like although things are not great, they are not as bad as they are at Lam
The stocks
With KLAC adding to Lam's view that 2023 will not only be down but will be H1 weighted with continuing increasing weakness through the year, we are hardly motivated to buy any equipment stock akin to catching a falling knife.
We may see some false rallies as people may think the worst is over or Q1 is the bottom or other falsely optimistic views but we are in the midst of a good, old fashioned down cycle of the sort we haven't seen in quite a while and some lesser experienced investors and analysts have never seen.
The long term secular trends remain as positive as ever but when they will return is anyone's guess. In the mean time we could see this bouncing drift down the bottom of the cycle. Because this down cycle is not caused by a singular event, it is likely that we will need at least two of the three factors to improve before we see things move upward again.
KLA remains a nice house in a declining neighborhood but that doesn't make us feel comfortable.
About Semiconductor Advisors LLC
Semiconductor Advisors is an RIA (a Registered Investment Advisor),
specializing in technology companies with particular emphasis on semiconductor and semiconductor equipment companies.
We have been covering the space longer and been involved with more transactions than any other financial professional in the space.
We provide research, consulting and advisory services on strategic and financial matters to both industry participants as well as investors.
We offer expert, intelligent, balanced research and advice. Our opinions are very direct and honest and offer an unbiased view as compared to other sources.
Also Read:
Hynix historic loss confirms memory meltdown-getting worse – AMD a bright spot
Samsung- full capex speed ahead, damn the downturn- Has Micron in its crosshairs
Lam chops guidance, outlook, headcount- an ugly, long downturn- memory plunges
Share this post via: