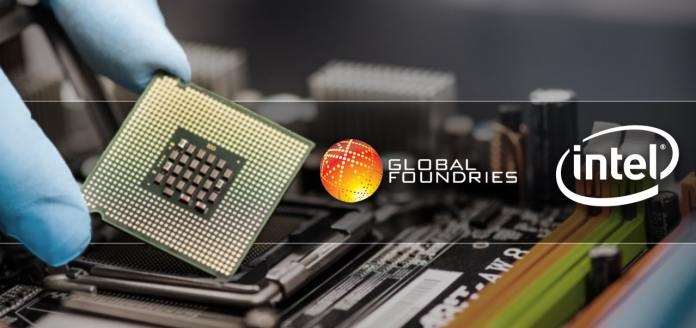 Intel reportedly talking to Abu Dhabi to buy GloFo for $30B
Would jumpstart Intel Foundry but require investment & repair
Avoids IPO risk – Allows Abu Dhabi escape- NY benefits
Doesn't impact near term shortage or market share
Reported by WSJ- Intel in talks to buy GloFo
The Wall Street Journal reported that Intel was in talks to buy Global Foundries for $30B. We have speculated n the past that this would be a good idea on a number of fronts. It would primarily give a second chance to Global Foundries effort at being a player in the foundry business which is widely seen by the industry as a lot less than a success. Abu Dhabi would get a clean, fast, easy exit and get most of its money back if not a tip. Intel would get someone already doing business as a foundry which is something it failed at.
To some extent two failures added together could be a success…
Nothing changes in the near term
This does nothing much to fix the near term chip shortages, nor would we see a real impact for quite some time. It does however accelerate Intel's plans to be in the foundry business as GloFo obviously has a complete business structure in place that could be levered. This could cut years off of the effort needed by Intel and more importantly gives Intel a group that is more customer driven than its past foundry effort which failed in part due to its lack of understanding of how to service foundry customers.
Gives Intel a bigger Global footprint
Intel would obviously pick up Malta NY, Dresden Germany and Singapore. While none of the capacity is leading edge it does give Intel a good slug of middle of the road and trailing edge capacity which is where a lot of the current shortages are. Also important is that these locations are places where Intel currently has little to no presence. This means little to no duplication.
$30B would be an appropriate valuation
If we added up the costs of all the fabs Intel is getting, the new cost would likely be well in excess of $30B but in the condition they are today and as tailing edge capacity the value is clearly less. The real value is more in the fact that it is an operating foundry business that Intel does not need to build over a multi year period with a multi billion dollar investment. So in essence this is a time value of money especially given the near term value.
Intel will have to invest a lot of money to get the fabs running in a better manner. Abu Dhabi turned off the gusher flow of money and turned it down to a trickle of barely enough to keep the fabs running when it decided it wanted out of the failed investment. Intel would likely have to spend many times the paltry $1b/year scheduled for Malta.
Get GloFo back in the race or not? That is the question
Perhaps one of the more interesting questions is what Intel would do with GloFo, specifically Malta. Would they operate it as is as a middling factory of trailing edge or would they dump money into it to try and get it back into the Moore's Law race. Would they essentially just use the GloFo foundry business infrastructure to give a leg up to leading edge fabs built in Arizona while keeping Malta to supply chips for dishwashers, toys and cars.
The answer is not clear. Malta may be too far gone and too old to get back in the race. It may be a lot easier to start with a clean slate in Arizona.
Malta does have a lot of the physical infrastructure needed but GloFo got rid of all the advanced people. There is infrastructure available to replace the two EUV tools that were sold off but its likely that it doesn't have enough for a current start of the art fab.
Unless Intel can come up with a quick and relatively low cost upgrade it is likely that Malta will remain trailing edge.
Its also unclear if Intel would proceed with GloFo's recently announced new $4B Asian fab. We would bet not as Intel likely needs to focus resources on Arizona.
Abu Dhabi gets a good exit
AbuDhabi has clearly wanted to exit this investment as it has been a lot less than successful. The most recent effort is a planned IPO. The risk we see is that while things look good right now due to the shortage in which you can charge any ridiculous price you want for chips, the longer term model of competing as a trailing edge fab against a tidal wave of cheap Chinese capacity is not quite that bright nor profitable.
So while it may be easy to sell off part of the $30B valuation to investors enthralled with the current chip shortage it may not be so easy for Abu Dhabi to get the rest of their money out a couple of years from now when the market gets back to its normal hyper competitive self.
If I were Abu Dhabi I would easily take a quick and clean exit now rather than taking risk for an upside down the road.
Dealing Direct
We find it interesting that the WSJ article suggested that Intel was dealing directly with Abu Dhabi, as management has clearly been focused on an IPO PR campaign for some time now complete with all sorts of high level support.
AMD not hurt
Some have noted that some of AMD's chips are made by GloFo and there was a recent agreement for more. If AMD's competitor owned GloFo that would complicate matters but we think it wouldn't be all that bad as TSMC makes all of the bleeding edge MD parts while GloFo would only make the trailing edge parts which could easily be made elsewhere.
We also wonder if the AMD agreement was just more IPO window dressing
TSMC not impacted
The combination of Intel & GloFo would have little impact on TSMC. Intel will still be forced to give its advanced chip production to TSMC. TSMC's better than 50% marketshare will not likely change at all.
When the shortage abates, TSMC could get more aggressive with trailing edge pricing and hurt Intel's acquired GloFo capacity but we se little reason for them to do that as it would hurt their profitability as well.
Intel does get some new technology and markets
When GloFo announced its euphemistically called "pivot" away from the leading edge and the Moore's law race it moved into some unique corners and hiding places in the industry that it could potentially dominate and hide from the mainstream CMOS technology capacity Tsunami coming from China.
SOI and communications became a focus as well as other specialty applications. We view this as a positive add for Intel as this could be parts of the market that it overlooked as not being big enough or not worthy of their time but are becoming more important.
We increasingly like Pat Gelsinger
It is clear that Pat Gelsinger is just what Intel needed. Big, bold, out of the box thinking for a company that got way too stodgy and complacent. He is taking on huge responsibility and risks but the reward is getting Intel back to leadership.
We wholeheartedly agree with the moves he is making. We would very easily trade a $9B memory fab for a $30B foundry every day. Intel is right to get out of memory and right to buy GloFo if it wants to be serious about being a foundry player
The Stocks
While we think that buying GloFo would be a super long term move the near term financials will get even uglier.
We had warned investors that Intel would have to "Triple Spend" ( 1-catch TSMC, 2-Build foundries 3-pay TSMC to build chips) Now if you add GloFo into the equation Intel will have to "Quadruple spend" by adding the costs to fix up and take on GloFo.
Intel is going to be hemorrhaging money at a geyser-like rate. Not to mention the $30B acquisition cost……
We see no real reason to own Intel in the near term and will have plenty of time to get into the stock as the positive results will take quite a lot of time.
GloFo's margins will not be that great and will take down Intel's margins a bit, especially when the shortage is over, so don't look for this to be a hugely accretive transaction.
We highly endorse the move… Just not the stock right now….
We see little impact on other chipmakers and perhaps a small amount of positive for equipment makers stocks as it likely means incremental capital spending benefiting tool makers
Also Read:
Silicon Photonics Solutions Address Bandwidth, Reach, and Power Challenges
Enabling Silicon Technologies to Address Automotive Radar Trends and Requirements
Machine Learning Applied to Increase Fab Yield
Share this post via: