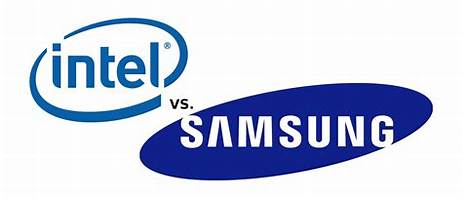 Now that Intel is back in the foundry business, and with the Tower Semiconductor acquisition they are definitely back in the foundry business, Samsung will be the biggest foundry loser here.
You can break the IDM foundry business into two parts: First, and foremost, the NOT TSMC Business. Second is the the Better PPA (Power/Performance, Area) Business.
The semiconductor industry wants multiple sources, it's a natural business reaction and has very good merit. Take Intel and AMD for example. It wasn't long ago that AMD had single digit market share and that was the NOT Intel Business. Today AMD has double digit market share and that now includes the Better PPA Business.
With foundries everyone wants second and even third source manufacturing options and that is why chip companies like Qualcomm and Nvidia send business to Samsung. It's not just reducing risk, it's PPA and wafer availability. Today though Samsung mostly rides the NOT TSMC Bus.
Now that Intel is back in the foundry business Samsung is facing a formidable challenge. All of Samsung's missteps will now bare increased scrutiny and as long as Intel executes their IDM 2.0 strategy Samsung Foundry is in serious trouble.
The IDM foundry business is an interesting story. In fact, IDMs founded the foundry business when they leased out fab space in the 1970s when business was slow. Then came the pure-play foundries in the 1980s who did not compete with their customers, the fabless companies, and the rest as they say is semiconductor history.
Fabless: The Transformation of the Semiconductor Industry
Samsung entered the foundry business with Apple 15+ years ago. The first Apple ASIC (iPod) was actually done by fabless ASIC vendor eSilicon and the volumes were drastically underestimated so eSilicon profited greatly. In 2006 Steve Jobs went to Intel CEO Paul Otellini and pitched the iPhone in hopes of getting a manufacturing agreement. Paul did not share Steve's vision and passed on the deal:
"We ended up not winning it or passing on it, depending on how you want to view it. And the world would have been a lot different if we'd done it. The thing you have to remember is that this was before the iPhone was introduced and no one knew what the iPhone would do. At the end of the day, there was a chip that they were interested in that they wanted to pay a certain price for and not a nickel more and that price was below our forecasted cost. I couldn't see it. It wasn't one of these things you can make up on volume. And in hindsight, the forecasted cost was wrong and the volume was 100x what anyone thought."
As a result, not only did Intel miss the mobile market, they missed the opportunity of being a world class foundry like TSMC is today.
Apple then went to Samsung which produced the first A4 SoC for the iPhone 4 using the Samsung 45nm process. The A5 SoC was also 45nm. Back then we named processes different so it was not unusual to reuse a process so all was well and the iPhone dynasty had begun. The A6 was Samsung 32nm and the A7 was Samsung 28nm.
Unfortunately, Samsung showed their true IDM colors by competing directly with Apple and even borrowed some Apple IP. The result was Apple filing more than 50 legal actions around the world which would ultimately be settled for billions of dollars in Apple's favor.
For the A8 (iPhone 6) Apple turned to TSMC 20nm. The iPhone 6 was one of the better smartphones (I had one). Unfortunately, when Apple turned to FinFETs TSMC could not supply enough chips so they also used Samsung 14nm for the A9. Apple was back to TSMC for the A9x and there on after.
Apple absolutely did change the foundry business by writing some really big checks, accounting for 20+% of TSMCs annual revenue, but also for the yearly process cadence. Rather than taking big risky steps TSMC did yearly half nodes matched with the yearly fall iProducts launch. This allowed them to perfect double patterning before adding FinFETs, introduce partial EUV before going to full EUV, and many other process innovations. It's called yield learning for a reason.
Now Samsung and Intel both follow the half node process methodology and you can thank Apple for that, absolutely.
Which brings us back to the recent Samsung missteps. Samsung did VERY well at 14nm getting a piece of the Apple business and many other customers including Qualcomm. Globalfoundries also licensed Samsung 14nm for their Malta fab and has done quite well with it so Samsung 14nm customers are far reaching. Unfortunately, 10nm was not so kind to Samsung with single digit yields at launch time. Samsung was forced to ship good die instead of wafers causing Qualcomm and others to miss market windows and customer commitments.
Samsung did a much better job at 7nm but now we are hearing about a serious unreported yield problem at 5nm. In fact, there is a formal investigation inside Samsung:
"The company's management suspects a forgery of the report on the release of microcircuits by the Samsung Semiconductor Foundry division. Information about the production of 5-, 4- and 3-nm products is now being verified…"
Samsung also recently had an environmental incident in Texas that wasn't reported until more than 3 months after the fact which reflects badly on the Samsung safety monitoring systems.
"While it is unknown how much waste entered the tributary, Watershed Protection Department (WPD) staff found virtually no surviving aquatic life within the entire tributary from the Samsung property to the main branch of Harris Branch Creek, near Harris Branch Parkway…."
Not good considering Samsung wants to expand in Texas:
Bottom line: If chip designers are to decide between Intel and Samsung as a second source to TSMC, Samsung will be the biggest loser. If Intel provides competitive PPA to TSMC and Samsung with GAA processes, as Pat Gelsinger has promised, then the IFS decision gets even easier, absolutely.
Also read:
Intel Evolution of Transistor Innovation
The Intel Foundry Ecosystem Explained
Intel Discusses Scaling Innovations at IEDM
Share this post via: