It should come as no surprise that S2C would step out in front with a high-density FPGA prototyping hardware platform for users who would like to scale to large numbers of FPGAs and high performance.  That's exactly what they have done with their new Prodigy Logic Matrix family of FPGA prototyping products that S2C announced in December.  S2C has been in the FPGA prototyping business now for over almost two decades and has been a leader in high-quality hardware and complete solutions FPGA prototyping.  Other large EDA suppliers have FPGA prototyping systems that support large numbers of FPGAs, but they're encumbered by the supplier's own ideas about optimal FPGA connectivity and compatibility with their other proprietary EDA tools such as emulation – often with a cost of lower prototyping performance.  S2C's new Logic Matrix family is architected for maximum flexibility without presumptions about FPGA interconnect or design flow – just an unencumbering assumption that the user may have their own innovative ideas about optimal FPGA interconnect to achieve the highest prototyping performance and utility.

Each Logic Matrix comes with 8 FPGAs and is easily mounted in a 42U server rack – and up to 8 Logic Matrix may be loaded into a single standard server rack supporting up to 64 FPGAs per rack.  Scaling to even more FPGAs may be accomplished by connecting multiple server racks – a project for seasoned FPGA prototyping veterans with a vision for prototyping multi-billion gate chip designs.  The Logic Matrix LX1 is available now and sports the relatively mature Xilinx Virtex UltraScale VU440 FPGAs with an estimated prototyping capacity of 240 million usable ASIC gates.  The Logic Matrix LX2 will follow in Q2 of 2021 and will use the newer Xilinx UltraScale+ VU19P, upping the estimated prototyping capacity to 392 million usable ASIC gates.
The Logic Matrix board format is open with plenty of connectors for all levels of interconnect – FPGA to FPGA on each Logic Matrix, Logic Matrix to Logic Matrix within a server rack, and rack to rack connections.  The 8 FPGAs are surrounded by high-pin count Samtec connectors for single ended I/O or LVDS pairs (64 connectors), high-performance Samtec connectors (8 connectors), and mini-SAS connectors (80 connectors).
Sc2 EDA Logix MatrixS2C also made mention in the Logic Matrix family announcement of two other pieces of their high-density prototyping solution that are "soon to be released" – RTL partitioning and what S2C calls hierarchical connectivity to address local, Logic Matrix-to-Logic Matrix and rack-to-rack interconnect.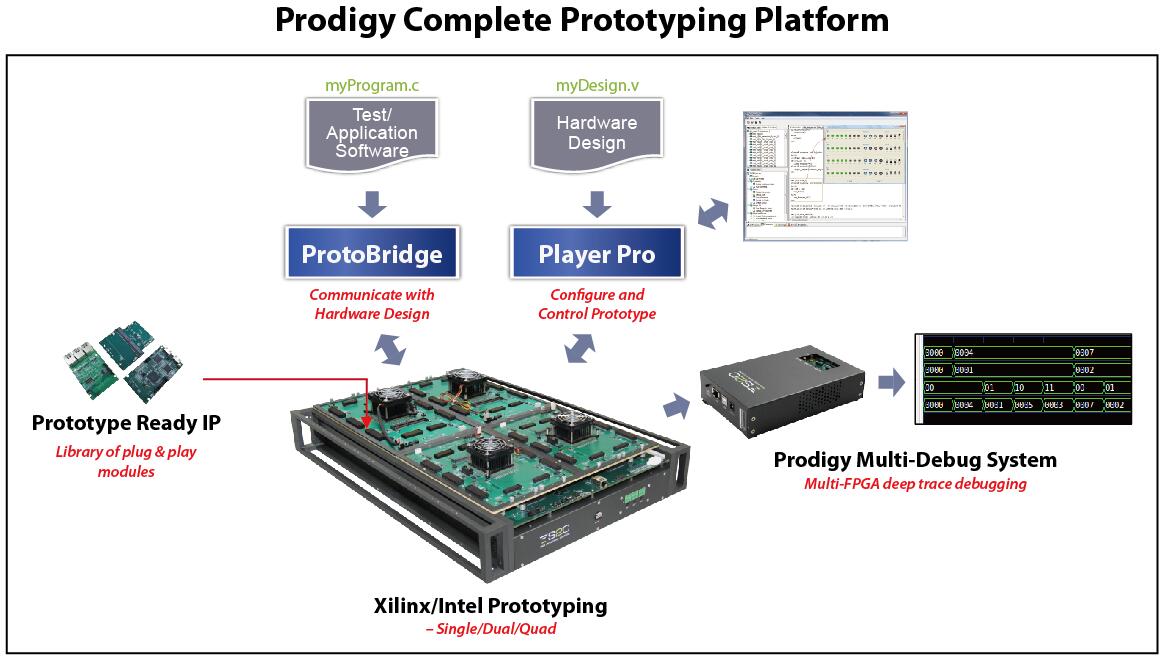 S2C's other prototyping productivity tools may be paired with the Logic Matrix, including ProtoBridge and the MDM Debug Module.  ProtoBridge is a PCIe to AXI interface between the FPGA prototype and a host PC for stimulating the prototype with high-speed (1GB/s) software-modeled transactions, video streams, or other streams of stimulus.
MDM is S2C's multi-FPGA Debug Module that offers multi-FPGA signal viewing in a single viewing window.  MDM comes with external hardware that provides 8GB of trace waveform storage without consuming user memory.
To round out S2C's complete prototyping solutions with Logic Matrix, S2C offers a rich library of what it calls Prototype Ready IP – Daughter Cards that plug-and-play with the Logic Matrix to speed the creation of the prototyping environment around the FPGA prototype.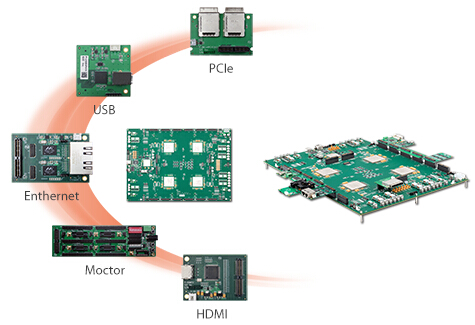 Prototype Ready IP
S2C is a worldwide leader of FPGA prototyping solutions for today's innovative designs.  S2C was founded in 2003 by a group of Silicon Valley veterans with extensive knowledge in ASIC emulation, FPGA prototyping, and SoC validation technologies.  The Company has been successfully delivering rapid SoC prototyping solutions since its inception.  S2C provides:
Rapid FPGA-based prototyping hardware and automation software
Prototype Ready™ IP, interfaces and platforms
System-level design verification and acceleration tools
With over 400 customers and more than 2000 systems installed, S2C's focus is on SoC/ASIC development to reduce the SoC design cycle. Its highly qualified engineering team and customer-centric sales force understands our users' SoC development needs. S2C systems have been deployed by leaders in consumer electronics, communications, computing, image processing, data storage, research, defense, education, automotive, medical, design services, and silicon IP. S2C has offices and distributors around the globe including the US, UK, Israel, China, Taiwan, Korea and Japan.
Also Read:
Prototyping with the Latest and Greatest Xilinx FPGAs
S2C Announces 300 Million Gate Prototyping System with Intel® Stratix® 10 GX 10M FPGAs
Webinar: Hyperscale SoC Validation with Cloud-based Hardware Simulation Framework
Share this post via: