S2C is a leading global supplier of FPGA prototyping solutions for today's innovative SoC and ASIC designs, now with the second largest share of the global prototyping market. S2C has been successfully delivering rapid SoC prototyping solutions since 2003. With over 500 customers, including 6 of the world's top 15 semiconductor companies, our world-class engineering team and customer-centric sales team are experts at addressing our customer's SoC and ASIC verification needs. S2C has offices and sales representatives in the US, Europe, mainland China, Hong Kong, Korea and Japan.
Why is prototyping important?
FPGA prototyping is the method to prototype SoC and ASIC designs on FPGAs for hardware verification and early software development.
Running an SoC design on FPGA prototype is a reliable way to ensure that it is functionally correct. A single prototyping platform can provide verification for hardware, firmware, and application software design functionality before the first silicon pass.
Time-to-market (TTM) is reduced from FPGA prototyping: After the design process, FPGAs are ready for production, while standard cell ASICs take more than six months to reach production.
Early software development: Rather than waiting for the first silicon to come back, SoC design houses can leverage the FPGA prototype's superior performance to start developing and validating their software. Such parallel software development can significantly shorten the design cycle by six to nine months.
Prodigy™ Complete Prototyping Solutions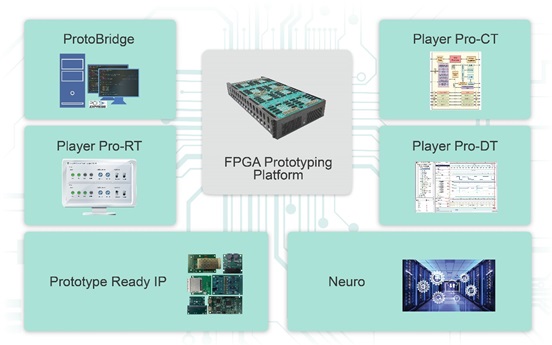 S2C's Prodigy Complete Prototyping Solutions addresses the need for a comprehensive solution that operates at any functional design stage, with any design size, and across multiple geographical locations. All of these capabilities are available on-demand and remotely accessible at all times. The Prodigy Prototyping Platform features:
Shortened design to FPGA mapping time
Leading multi-FPGA deep trace debug
Vast library of 90+ daughter cards to meet a variety of interface needs
The most scalable/flexible architecture for designs of various sizes, applications and stages
The Prodigy Complete Prototyping Solutions consists of the following products:
For more information, please visit www.s2inc.com or contact marketing@s2ceda.com
Share this post via: