As the months of 2020 passed by, I started noticing more and more people sporting what looked like fashionable ear accessories. I'm of course referring to True Wireless Stereo (TWS) earbuds. With the rapid increase in online meetings due to social distancing requirements, it appeared that adoption of TWS earbuds was even faster than during the prior years. It was hard to believe that just a little more than four years ago, people had pushed back when Apple dropped support for the headphone jack in favor of their branded version of wireless earbuds (marketed as AirPods). My curiosity was piqued. I wanted to learn what was in store not just for the earbuds market but for the broader product category called Hearables, under which earbuds fall into. The term Hearables was introduced in April of 2014 simultaneously by Apple in the context of their acquisition of Beats Electronics and by product designer and wireless applications specialist Nick Hunn in a blogpost about a wearable technologies internet platform. Interestingly, the initial description for hearable technology seems to have come from a company called Valencell back in 2006. Valencell described it as a wearable ear-worn multimedia platform for health monitoring, entertainment, guidance and cloud-based communications.
Following is a summary of what I learned about the Hearables market, size, projected growth, players and market trends as well as opportunities that exist for semiconductor companies to offer valuable solutions to this market.
Market Size: According to Allied Market Research, the global hearables market size was valued at $21.90 billion in 2018 and is projected to reach $93.90 billion by 2026, growing at a CAGR of 17.2% from 2019 to 2026.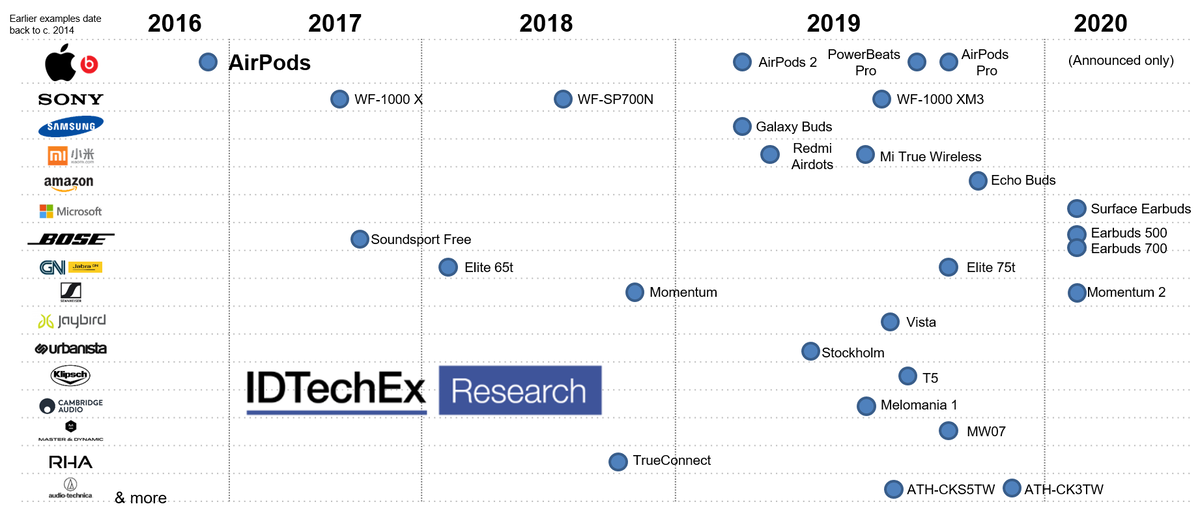 There are many players not captured in the above chart, some of whom are:
Starkey, Bragi, Doppler, Miracle-Ear, Valancell, Earin AB, Eargo, AKG, Audio-Technica, Edifier, Xiaomi, Amoi, QCY, and Anker Innovations.
Market Trends: An article titled "Hear come the Hearables", published in the IEEE Spectrum magazine is a very interesting read and provides scientific insights into the foundational elements for the next wave of devices. The author of this article is Poppy Crum, Chief Scientist at Dolby Laboratories and an adjunct professor at Stanford University. In her article, she explains that the following data can be effectively accessed through the ears.
Heart rate
Blood oxygen levels
Movement
Temperature
Eye movements
Skin resistance
Stress hormone levels
Brain electrical activity
Vagus nerve stimulation
Note: Vagus nerve is the tenth cranial nerve, extending from its origin in the brainstem through the neck and the thorax down to the abdomen. It carries extensive range of signals from the digestive system and organs to and from the brain.
The market can be expected to offer human friendly solutions that incorporate augmented reality (AR) and IoT as applicable to immerse the user and bring a level of personal experience that has not been possible before. The next wave is going to include advanced devices that fit in our ears and leverage artificial intelligence (AI), robotics and IoT, all without interfering with our usual daily activities. The devices would be capable of recognizing one's physiological, physical and emotional status and propose/trigger actions in response to that status.
Concerns:
Adverse long-term effects on hearing ability due to daily, prolonged use
EMF radiation exposure during to daily, prolonged use
The above types of concerns are not new. Will the next wave of devices increase these health risks?
Challenges: Maximizing battery life of these devices.
Opportunities for Semiconductor Companies:
The market opportunity for Hearables devices is big and so is the opportunity for semiconductor solutions to help implement these devices. But given the highly competitive device market with so many players, there is tremendous time to market and cost pressures.
Those semiconductor companies who are able to provide cost-effective, ultra-low power solutions to enable these devices will stand to gain a large market share. The Hearables market was an early adopter of near-threshold voltage (NTV) design techniques for its promise of ultra-low power benefit. But NTV designs have historically been difficult to implement for reliable operation.
Opportunity #1: Provide easy and cost-effective way to implement NTV designs for reliable operation. One approach may be via semiconductor IP blocks and supporting software drivers. The IP should be able to adapt the chip power usage based on real time performance needs. The solution should be programmable to the minimum energy point and still be able to step up to process user input at real time speeds.
Opportunity #2: Leverage NTV technology for energy harvesting by converting motion energy into electrical energy, thereby prolonging battery life of the hearable device.
ARM capitalized on the mobile market with its low power RISC processor cores. Similarly, an entity that enables an ultra-low power solution could capitalize on the Hearables market that is projected to rapidly grow to ~$94 billion in just a few years.
Share this post via: