Recently, Sonics and ARM entered into an agreement whereby ARM licensed a significant portion of Sonics' patent portfolio. Sonics, Inc. is one of the leading providers of connectivity IP often referred to as network-on-chip, or NoC. ARM is the leading provider of processor intellectual property (IP). The potential scope of their relationship is huge:
"A broad IP ecosystem is critical for the successful deployment of SoCs," said Tom Cronk, executive vice president and general manager, Processor Division, ARM. "The agreement to license Sonics' interconnect patents and to support Sonics on their next-generation interconnect and low power management is an important step in strengthening the ecosystem. Sonics and ARM have a clear vision for the future of IP technology, which we look forward to realizing together."
Most of the leading edge designs today consist of these two components (processors and NoC) plus other modules including memories and various specialized blocks for interfaces (e.g., USB, LVDS) and data processing (e.g., motion estimation). From an architectural perspective, the processor and NoC choices are probably the most critical decisions a chip architect needs to make. That ARM and Sonics are so obviously interested in cooperating with each other is significant and fortuitous for their customers and the industry in general.
While the formal announcement did not contain any financial information, it did indicate that a large number of patents were licensed to ARM – 138 patents. Recent deals in this area usually value patents in the range of $200k to $700k per patent (e.g.,MIPS-Imagination, Google-Motorola, Nortel Patents). While these more public deals involved large corporate sellers, it is reasonable to estimate that ARM paid at least somewhere in the low end of this range or slightly less. So the deal must have been for more than $20M.
The future collaboration between the companies would seem to be focused on power management. Sonics has been investing in the development of advanced power management solutions that will leverage the NoC's knowledge of interconnect traffic and SOC activity to more efficiently manage power domains. ARM's collaboration with Sonics on this initiative seems to indicate that ARM believes that Sonics' approach has merit. Given that ARM's processors dominate the handheld marketplace power management is a huge issue. See the picture below to see a typical tablet SOC's various power domains and how the NoC is well positioned to aid in managing power. If Sonics can use their relationship with ARM and their strength in NoC to bring about better power solutions for these devices this relationship will clearly deliver value to their mutual customers and position Sonics for significant growth in the years to come.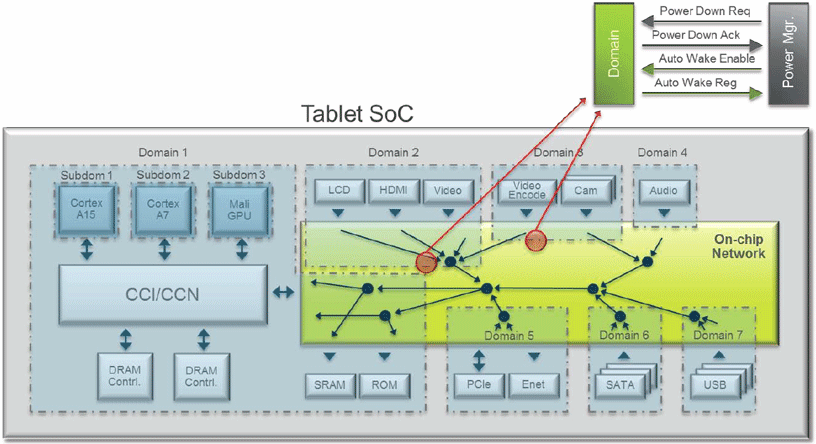 DAC does not seem to be a place to meet with NoC companies, though Sonics is sponsoring the "Kickin' it up in Austin" vents at DAC. However, Sonics is attending the Multicore Developers Conference this month if you'd like to meet them.
Sonics, Inc. is the leader of system IP for cloud-scale SoCs. As a pioneer of network-on-chip (NoC) technology, Sonics offers SoC designers one of the world's largest portfolios of system IP for mobile, digital entertainment, wireless and home networking. With a broad array of silicon-proven IP, Sonics helps designers eliminate memory bottlenecks associated with complex, high-speed SoC design, streamline and unify data flows and solve persistent network challenges in embedded systems with multiple cores. Sonics has more than 138 patent properties to date and has enabled its customers to ship more than two billion chips worldwide. Founded in 1996, Sonics is headquartered in Milpitas, Calif. with offices worldwide. For more information, please visit www.sonicsinc.com, www.sonicsinc.com/blog, and follow us on Twitter at http://twitter.com/sonicsinc.

Share this post via: