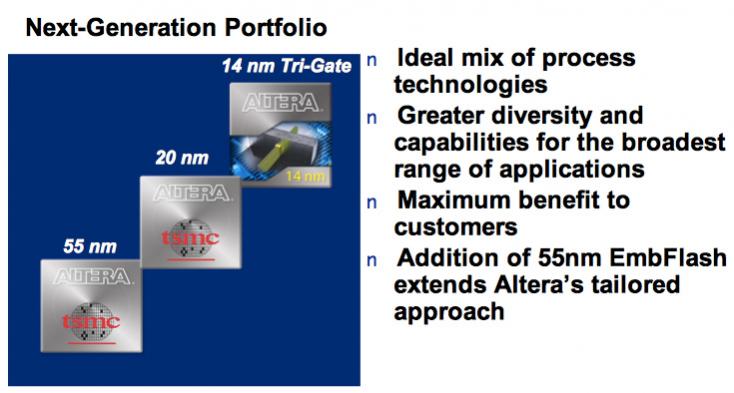 Vince Hu of Altera presented us her at the GlobalPress Electronics Summit on their process roadmap. Since just a month or two ago they announced that Intel would be their foundry at 14nm, everyone wanted to get a better idea of what was really going on.
At 28nm, Altera use 2 processes, TSMC 28HP (for high end Stratix-5 devices) and TSMC 28LP for mid-range, low-cost devices.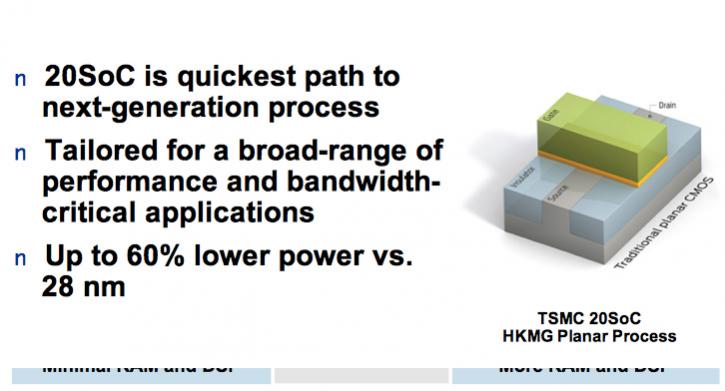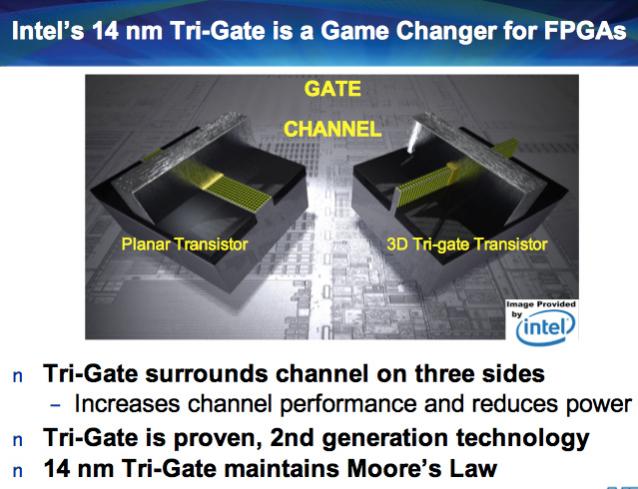 The next generation will use 3 processes. At 20nm their partner remains TSMC. TSMC's 20nm is a planar process (FinFET starts at 14nm). At 14nm their foundry is Intel, with their TriGate process (their name for FinFET) which they will use for the highest performance devices. And they will also use TSMC's 55nm process with embedded flash to make hybrid devices that are a bit like a PLD and a bit like and FPGA.
One interesting thing Vince said, just as an aside, was that 20nm will be lower power, higher performance and lower cost. Since there have been a lot of rumors that TSMC 20nm may not be cheaper than 28nm, that was an interesting datapoint. Altera will be announcing products here later this year.
So we started to ask questions.
Microprocessors? ARM is a great partner, at 20nm we are committed to ARM. What about 14nm? Is Intel going to manufacture ARM? Is Altera going to put Atoms on FPGAs? Too soon to comment but there may be an announcement soon. So my guess would be that Intel isn't going to be building ARMs into Altera arrays and some sort of Altera/Intel processor deai will be announced in the future.
What about TSMC's 14nm FinFET process? When that is available is Altera going to use it? Not discussing at this point.
How about 3D? TSV? Not ready to talk about it yet.
Vince, master of the cryptic remark, did say they are looking at what comes after, especially in the cost-sensitive space. They may even look at process technologies that are already out today. My guess would be that they might design lower cost arrays into 28nm once 28nm is no longer leading edge and wafer costs drop.
So FinFET is focused on Intel but they remain committed to TSMC. ARM is a strong partner but it remains to be seen what that means at 14nm. The future is a bit murky out there.
Share this post via: