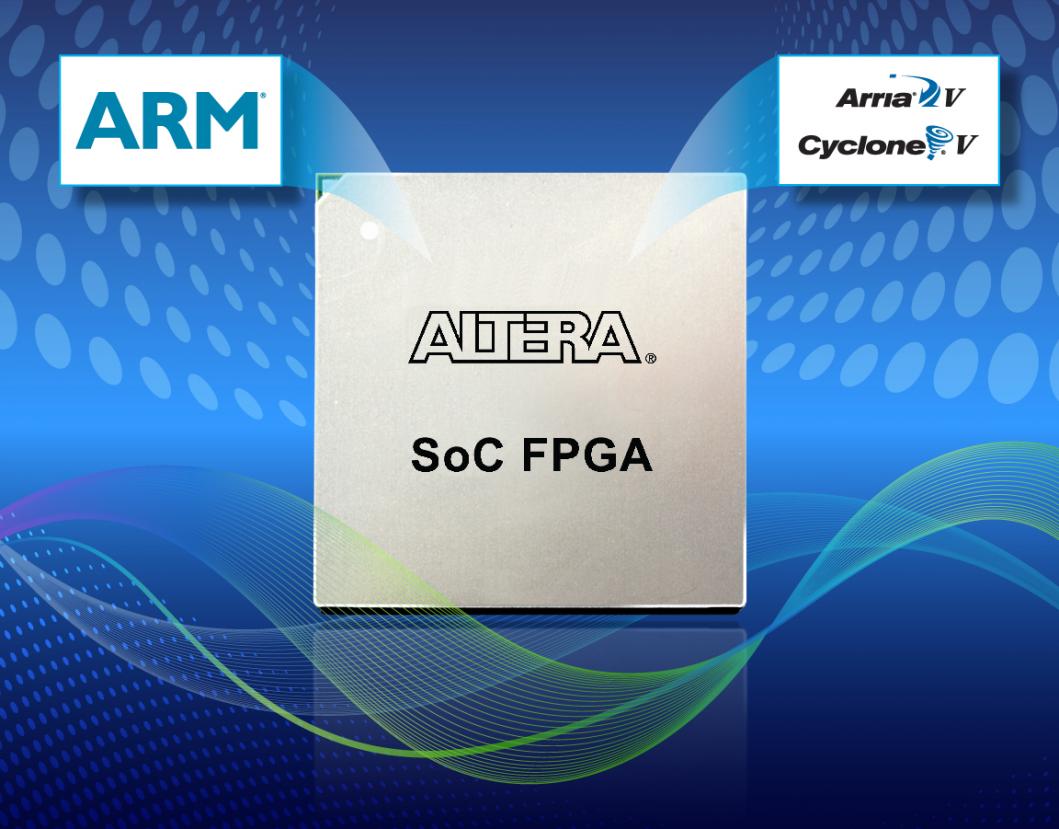 At the annual Linley Processor Conference this past week a number of chip vendors proposed a raft of new networking solutions directed at solving today's bandwidth issues. Perhaps the overall highlight of the conference was the recognition by Keynote Speaker Linley Gwennap of the shift that is taking place towards ARM based solutions. As part of the conference, Xilinx and Altera presented in the afternoon of the first day in a session entitled "Implementing Networking Functions by Programming Both Logic and Processors." While Xilinx stuck to the theme and presented a variety of networking solutions utilizing the full array of their 28nm FPGAs, Altera decided to play along with the ARM architecture momentum storyline as they detailed the benefits of their SOC FPGAs as they transition from 28nm down to 20nm. There were subtle hints at current capabilities and what can be expected out in time. All around us we are witnessing platform transitions and the SOC FPGA is another one to watch closely as it can be as dramatic as the x86 PC platform to ARM based mobiles.
A couple weeks ago Texas Instruments announced that they were pulling out of the mobile ARM smartphone and tablet race to focus its OMAP on embedded and wireless base stations. Essentially there are too many chip competitors attempting to capture a market that outside of Samsung and Apple is too small to support the likes of Qualcomm, nVidia, Mediatek, Broadcom, Intel and TI. The embedded market on the other hand is still controlled by a multitude of 8 and 16 bit proprietary MCU architectures with Renesas capturing 30% of the market. ARM's push in this market with its 32 bit cores has shown success with Atmel, TI and ST Microelectronics but it is early in the game. Many of the above are just now shipping products at 90nm.
Xilinx and Altera's foray into the embedded markets with ARM based FPGAs will likely be much more successful than past attempts based on the fact that they have stretched their process lead to three nodes and the fact that end customers are finally recognizing that a jump to 32 bits is the right thing to do long term. Both companies have implemented a dual core ARM-9 processor with the full complement of L1 and L2 caches, DDR2 and DDR3 controllers, networking functions, USBs and Flash controllers. All of the above are hardened for faster performance (800MHz) and smaller area. For performance hungry markets like automotive, the new chips will be a welcome sight.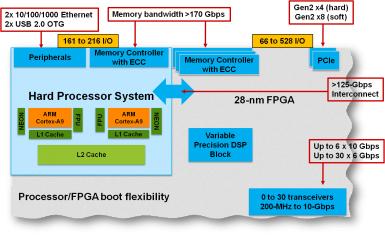 Altera's pitch was to communicate to the industry that the 28nm architecture will be passed forward to 20nm with a performance boost of up to 50% and up to 30% lower in power. Also, given that the ARM complex will shrink, the programmable logic gate count will increase by up to 6X. Therefore customers can carry forward their software and IP while taking advantage of better performance and economics. In addition, Altera mentioned that they will also offer the ability to create custom package solutions whereby the FPGA SOC is stacked with other ASICs or Memory.
If one circles back to the opening comments by Linley Gwennap, where he describes the current state of the industry as one that is dominated by Freescale's PowerPC at 50% share and MIPs and x86 at a combined 45% while ARM is just getting started then we can see that the timing of the ARM based SOC FPGA is on track with the transitions that are taking place with the other networking chip vendors. A likely outcome of this ARM transition is that SOC FPGAs, with their leading edge serdes and process technology will end up serving as a prototyping and product vehicle for the other vendors who now are the storehouses for many man years of networking. The ARM processors will operate in the control plane while the programmable logic allows the creation of high performance, custom data paths and packet processing. Therefore there is much more to this story that we will likely see play out over time.
Full Disclosure: I am Long AAPL, QCOM, ALTR, INTC

Share this post via: